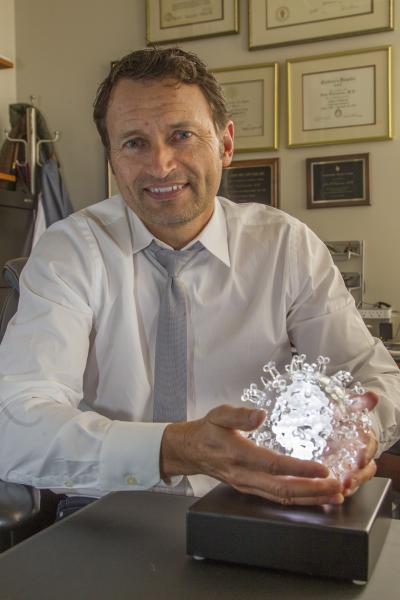 MEMPHIS, Tenn. – The New England Journal of Medicine published research results on Aug. 21 from a clinical trial of a drug shown to safely reduce the viral load and clinical illness of healthy adult volunteers intranasally infected with respiratory syncytial virus (RSV).
Le Bonheur Children's Hospital and the University of Tennessee Health Science Center researcher Infectious Disease Specialist John DeVincenzo, MD, is lead author of this study.
RSV is the most common cause of lower respiratory tract infections in young children in the United States and worldwide. It hospitalizes 125,000 children in the United States each year, and was the cause for 1.5 million outpatient visits, according to the Centers for Disease Control and Prevention (CDC). DeVincenzo and his fellow researchers have been part of virtually every experimental therapeautic advancement, developmental pathway and antiviral therapy created to tackle the virus in the past 15 years. Learn more about his research at http://www.lebonheur.org/for-providers/physician-publications/delivering-on-a-promise/spring-2014/index.dot.
"No effective antiviral treatment currently exists for RSV, which is the leading cause of severe childhood respiratory infections, and is extremely dangerous for babies and children," said DeVincenzo. "We were pleased that our study, for the first time, shows that the infection caused by the RSV virus can be effectively reduced after the infection has started. This is also the first time to prove that once we reduce the amount of virus in a patient, they begin to feel better very quickly. The next step is to explore clinical trials in naturally infected patients."
The challenge study of Gilead Sciences Inc.'s GS-5806, an investigational oral RSV fusion inhibitor, achieved primary and secondary endpoints of lower viral load, improvements in total mucus weight and symptom diary score compared to placebo. Volunteers in the study were given the oral drug after being infected with RSV using the experimental challenge model. The model is based on a clinical isolate from an infant hospitalized with RSV bronchiolitis which can be safely used to infect adults, and that was developed by DeVincenzo in 2007 to test proof-of-concept antivirals.
###
The New England Journal of Medicine article and corresponding information can be found here:
Original Article: http://www.nejm.org/doi/full/10.1056/NEJMoa1401184
Editorial: http://www.nejm.org/doi/full/10.1056/NEJMe1407467
Perspective: http://www.nejm.org/doi/full/10.1056/NEJMp1408554
DeVincenzo also serves as medical director of the Molecular and Viral Diagnostics Laboratories at Le Bonheur Children's Hospital and also serves as a professor of Pediatrics and professor of Microbiology, Immunology, and Biochemistry at the University of Tennessee College of Medicine.
About Le Bonheur Children's Hospital
Le Bonheur Children's Hospital in Memphis, Tenn., treats more than 250,000 children each year in a 255-bed hospital that features state-of-the-art technology and family-friendly resources. Nationally recognized, Le Bonheur is ranked by U.S. News & World Report as a Best Children's Hospital. Serving as a primary teaching affiliate for the University Tennessee Health Science Center, the hospital trains more pediatricians than any other hospital in the state. For more information, please call (901) 287-6030 or visit lebonheur.org. Follow us on Twitter at twitter.com/lebonheurchild or like us on Facebook at facebook.com/lebonheurchildrens.
About the University of Tennessee Health Science Center
As Tennessee's only public, statewide, academic health system, the mission of the University of Tennessee Health Science Center (UTHSC) is to bring the benefits of the health sciences to the achievement and maintenance of human health, with a focus on the citizens of Tennessee and the region, by pursuing an integrated program of education, research, clinical care, and public service. Offering a broad range of postgraduate and selected baccalaureate training opportunities, the main UTHSC campus is located in Memphis and includes six colleges: Allied Health Sciences, Dentistry, Graduate Health Sciences, Medicine, Nursing and Pharmacy. UTHSC also educates and trains cohorts of medicine, pharmacy and/or allied health students -- in addition to medical residents and fellows -- at its major sites in Knoxville, Chattanooga and Nashville. Founded in 1911, during its more than 100 years, UT Health Science Center has educated and trained more than 56,000 health care professionals in academic settings and health care facilities across the state. For more information, visit http://www.uthsc.edu.
---
Journal
New England Journal of Medicine