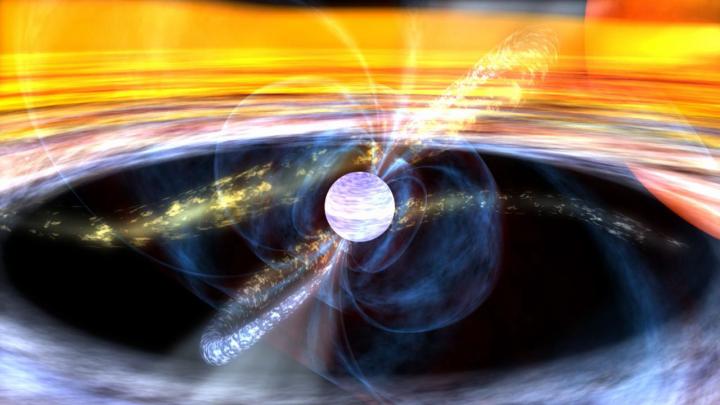 The public is invited to a free talk called "The Star That Ate Manhattan: Studying Neutron Stars from the International Space Station," with Dr. Zaven Arzoumanian in the Pickford Theater, third floor, Madison Building, Library of Congress, Washington, D.C., on Tuesday, Oct. 17 from 11:30 a.m. to 12:30 p.m. EDT.
Dr. Zaven Arzoumanian is a research astrophysicist and the deputy principal investigator for the Neutron Star Interior Composition Explorer (NICER) mission at NASA's Goddard Space Flight Center, Greenbelt, Maryland. He will describe NASA's NICER mission, an International Space Station payload devoted to studying neutron stars -- the physics governing their interiors, their emissions, and their evolution.
"Neutron stars crush more mass than the Sun into a ball about as wide as Manhattan Island in New York," said Arzoumanian, "And they can rotate as fast as the blade of a kitchen blender. Neutron stars are the strongest magnets known, emit a wide range of light across the electromagnetic spectrum, and are the densest objects in the universe we can observe directly. Many are observed as 'pulsars,' appearing to flash regularly as their spin sweeps beams of light across our skies."
Launched June 3, 2017, on an 18-month baseline mission, NICER will help scientists understand the nature of the densest stable form of matter located deep in the cores of neutron stars using X-ray measurements.
NICER will also perform the first demonstration of spacecraft navigation using pulsars as natural beacons.
The Library of Congress maintains one of the largest and most diverse collections of scientific and technical information in the world. The Science, Technology and Business Division provides reference and bibliographic services and develops the general collections of the library in all areas of science, technology, business and economics.
The Library of Congress is the nation's oldest federal cultural institution and the largest library in the world and holds nearly 151.8 million items in various languages, disciplines and formats. The library serves Congress and the nation both on-site in its reading rooms on Capitol Hill and through its award-winning website.
For inquiries about this or upcoming talks at the Library of Congress, the public can contact the library's Science, Technology and Business Division at 202-707-5664. ADA accommodations should be requested five business days in advance at 202-707-6382 (voice/tty) or ada@loc.gov.
The lecture will be later broadcast on the library's webcast page and YouTube channel "Topics in Science" playlist.
For more information contact Stephanie Marcus at 202-707-1212 or smar@loc.gov or visit: http://blogs.loc.gov/inside_adams/
For directions, visit: http://www.loc.gov/visit/maps-and-floor-plans/
For more information about NICER, visit: http://www.nasa.gov/nicer
For more information about Dr. Arzoumanian, visit:
https://science.gsfc.nasa.gov/sed/bio/zaven.arzoumanian-1
###
---