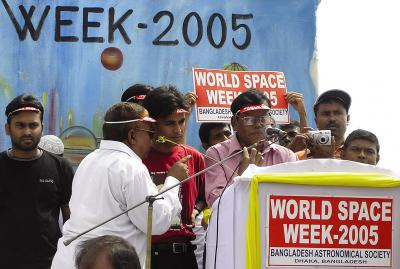 The latest country to join the International Year of Astronomy 2009 initiative is the People's Republic of Bangladesh. This is a particularly welcome addition to the growing worldwide project since one of its aims is to promote astronomy and develop astronomical networks in developing countries.
Mr. F. R. Sarker the General Secretary of the Bangladesh Astronomical Society is the Chair of the Bangladesh IYA2009 National Node and explains why he and his country are participating in the International Year of Astronomy 2009: "The IYA2009 is a historic event which will offer unique opportunities for the people of Bangladesh to learn more about the incredible developments in the field of astronomy."
The International Year of Astronomy 2009 projects and activities aim to help millions of people worldwide to rediscover their place in the Universe through the day and night time sky, and thereby engage a personal sense of wonder and discovery. The International Year of Astronomy 2009 represents the largest coordinated effort of professional and non-professional astronomers in history for popularising astronomy. The President of the International Astronomical Union (IAU) Catherine Cesarsky says: "We are delighted that the International Year of Astronomy 2009 gives a chance to the astronomers from the IAU member countries to reach out to the rest of the world and share the new knowledge and excitement of today's astronomy"
Mr. F. R. Sarker adds: "Although being a developing country, Bangladesh has a large number of space enthusiasts, perhaps more than anywhere else in the world. The Bangladesh Astronomical Society aims to let 200,000 people observing the night sky through telescopes during 2009. On 22 July, 2009 a total solar eclipse will be visible on northern part of Bangladesh, this will be one of the most memorable celestial events in the history of the country. Our hope is that IYA2009 will enable Bangladesh to establish a large optical observatory in Chittagong to explore the mysteries of the Universe."
The International Year of Astronomy 2009 will be a global celebration of astronomy and its contributions to society and culture, highlighted by the 400th anniversary of the first use of an astronomical telescope by Galileo Galilei. In addition to the 100 countries already involved in the IYA2009, 14 organisations are involved. Well over 140 countries and many organisations are expected to participate in the initiative in 2009.
###
For more information about the International Year of Astronomy 2009 please visit the website at http://www.astronomy2009.org/
---