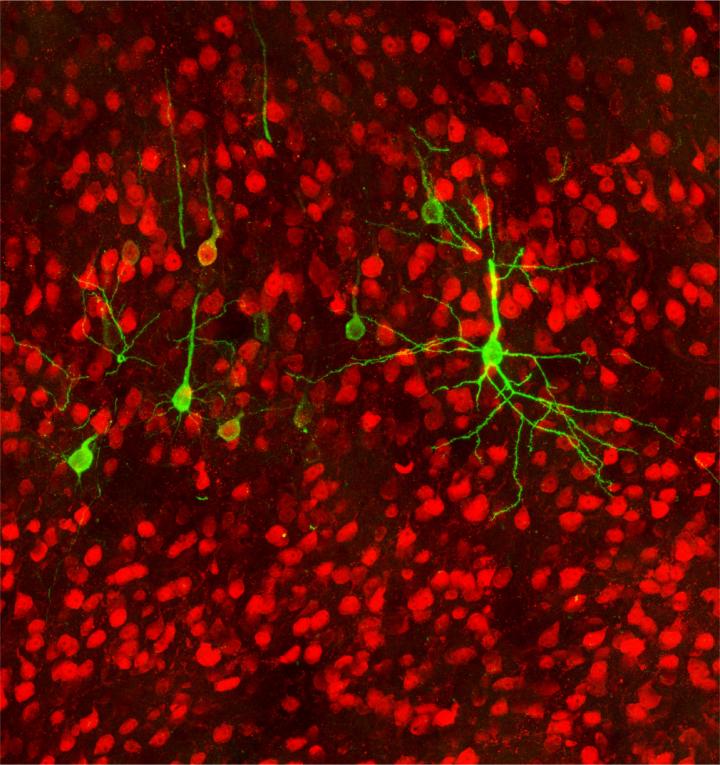 PITTSBURGH, May 18, 2020 - Neuroscientists at the University of Pittsburgh Brain Institute have traced neural pathways that connect the brain to the stomach, providing a biological mechanism to explain how stress can foster ulcer development.
The findings, published this week in the Proceedings of the National Academy of Sciences, build a scientific basis for the brain's influence over organ function and emphasize the importance of the brain-body connection.
Until now, research exploring the gut-brain interaction has largely focused on the influence of the gut and its microbiome on the brain. But it's not a one-way street -- the brain also influences stomach function.
"Pavlov demonstrated many years ago that the central nervous system uses environmental signals and past experience to generate anticipatory responses that promote efficient digestion," said Peter Strick, Ph.D., Brain Institute scientific director and chair of neurobiology at Pitt. "And we have long known that every increase in unemployment and its associated stress is accompanied by an increase in death rates from stomach ulcers."
To find brain regions that control the gut, Strick and his coauthor David Levinthal, M.D., Ph.D., assistant professor of gastroenterology, hepatology and nutrition at Pitt, used a strain of rabies virus to track connections from the brain to the stomach.
After being injected into the stomach of a rat, the viral tracer made its way back to the brain by hopping from neuron to neuron -- using the same trick that rabies virus uses to infiltrate the brain after entering the body through a bite or scratch -- to reveal the brain areas that exert control over the stomach.
Strick and Levinthal found that the parasympathetic -- "rest and digest" -- nervous system pathways trace back from the stomach mostly to a brain region known as the rostral insula, which is responsible for visceral sensation and emotion regulation.
"The stomach sends sensory information to the cortex, which sends instructions back to the gut," Strick said. "That means our 'gut feelings' are constructed not only from signals derived from the stomach, but also from all the other influences on the rostral insula, such as past experiences and contextual knowledge."
In contrast, the sympathetic -- "fight or flight" -- pathways of the central nervous system, which kick in when we're stressed, predominantly trace back from the stomach to the primary motor cortex, which is the seat of voluntary control over the skeletal muscles that move the body around.
Identifying these neural pathways that connect the brain and stomach could provide new insights into common gut disorders.
For example, Helicobacter pylori infection typically triggers ulcer formation, but descending signals from the cerebral cortex could influence the bacteria's growth by adjusting gastric secretions to make the stomach more or less hospitable to invaders.
These insights also could change clinical gastroenterology practice. Knowing that the brain exerts physical control over the gut gives doctors a new way to approach bowel problems.
"Several common gut disorders, such as dyspepsia or irritable bowel syndrome, might not get better with current treatments," said Levinthal, who also is a gastroenterologist at UPMC. "Our results provide cortical targets that will be critical for developing new brain-based therapies that might be helpful for our patients."
###
This work was supported by National Institutes of Health grants P40 OD010996, R01 AT010414 and K08 DK101756; U.S. Army Research Office Multidisciplinary University Research Initiative grant W911NF-16-1-0474; and a grant from the DSF Charitable Foundation.
To read this release online or share it, visit https://www.upmc.com/media/news/051820-pnas-brain-to-stomach [when embargo lifts].
About the University of Pittsburgh School of Medicine
As one of the nation's leading academic centers for biomedical research, the University of Pittsburgh School of Medicine integrates advanced technology with basic science across a broad range of disciplines in a continuous quest to harness the power of new knowledge and improve the human condition. Driven mainly by the School of Medicine and its affiliates, Pitt has ranked among the top 10 recipients of funding from the National Institutes of Health since 1998. In rankings recently released by the National Science Foundation, Pitt ranked fifth among all American universities in total federal science and engineering research and development support.
Likewise, the School of Medicine is equally committed to advancing the quality and strength of its medical and graduate education programs, for which it is recognized as an innovative leader, and to training highly skilled, compassionate clinicians and creative scientists well-equipped to engage in world-class research. The School of Medicine is the academic partner of UPMC, which has collaborated with the University to raise the standard of medical excellence in Pittsburgh and to position health care as a driving force behind the region's economy. For more information about the School of Medicine, see http://www.medschool.pitt.edu.
About UPMC
A $21 billion health care provider and insurer, Pittsburgh-based UPMC is inventing new models of patient-centered, cost-effective, accountable care. The largest nongovernmental employer in Pennsylvania, UPMC integrates 89,000 employees, 40 hospitals, 700 doctors' offices and outpatient sites, and a more than 3.7 million-member Insurance Services Division, the largest medical insurer in western Pennsylvania. In the most recent fiscal year, UPMC contributed $1.2 billion in benefits to its communities, including more care to the region's most vulnerable citizens than any other health care institution, and paid $587 million in federal, state and local taxes. Working in close collaboration with the University of Pittsburgh Schools of the Health Sciences, UPMC shares its clinical, managerial and technological skills worldwide through its innovation and commercialization arm, UPMC Enterprises, and through UPMC International. U.S. News & World Report consistently ranks UPMC Presbyterian Shadyside on its annual Honor Roll of America's Best Hospitals and ranks UPMC Children's Hospital of Pittsburgh on its Honor Roll of America's Best Children's Hospitals. For more information, go to UPMC.com.
Contact: Erin Hare
Mobile: 412-738-1097
E-mail: HareE@upmc.edu
Contact: Ashley Trentrock
Mobile: 412-529-9092
E-mail: TrentrockAR@upmc.edu
---
Journal
Proceedings of the National Academy of Sciences