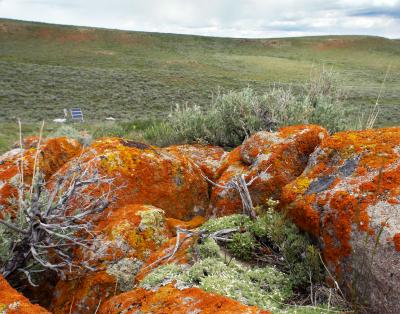 WOODS HOLE, MA—The vast sagebrush landscapes of the western United States are one of the largest ecosystems in North America. Long, cold winters and hot, dry summers characterize these cold desert ecosystems and create bone-dry soils during seasonal droughts. New research published this week from MBL (Marine Biological Laboratory) senior scientist Zoe Cardon, John Stark (Utah State University), and their two former students, sheds light on how desert plants gain nutrients they desperately need—even in the driest circumstances.
For the last nine years, Cardon and Stark have worked in northern Utah's seasonally dry sagebrush steppe where the sagebrush's deep root systems serve as conduits for water from deep, moist soil to extremely dry surface soil, even during the depths of drought. This "hydraulic lift" of soil water, through plant roots as pipes, has been detected in many seasonally dry ecosystems of the world. Water moves through roots upward from deep moist soil and is deposited in shallow parched soil at night, only to be taken up again by plant roots the following morning to support leaf function. Scientists have hypothesized that beyond enhancing water availability to plants, hydraulic lift might also play a role in delivering nutrients to plants by keeping the microbes responsible for decomposition and nutrient cycling hydrated, if only at night. Enhanced nutrient availability linked to hydraulic lift, however, had never been documented in the field.
To test the idea, Cardon and Stark conducted field experiments in a remote area of mature sageland near Utah's Bear Lake, where the ecosystem's productivity is limited by both water and nitrogen availability. With the help of nearly a dozen student and volunteer field technicians, the team hauled large water tanks, solar panels, a half-mile of irrigation tubing, and other equipment needed to set up their wilderness test plots.
Using a new gas-based labeling technique they developed specifically for tracing nitrogen cycling in very dry soil, they measured microbial nutrient cycling and availability of nitrogen to the sagebrush. "Existing techniques used liquid, which would have interfered with our experiment," says Stark.
Through two hot summers, the team monitored the sagebrush and discovered hydraulic lift stimulated microbial activity and more than doubled the plants' uptake of nitrogen from the surrounding surface soil at exactly the time they were flowering and setting seed.
"It's a fascinating nutrient acquisition system relying on tiny amounts of water released from plant roots into dry soil at night," explains Cardon. "That tiny flow of water is sustaining soil microbial community activity in the moistened sleeve of soil around sagebrush roots, and the microbes' activities are the natural recycling system making nutrients available to the plants at exactly the time they are flowering and setting seeds." Though microbes seem "high and dry" in surface soils in late summer, hydraulic lift delivers sips of sustaining water to fine roots and rhizosphere microbes, potentially supporting improved sagebrush seed set and even plant productivity in this nitrogen and water-limited ecosystem.
The scientists are now continuing the research at the MBL's Research Greenhouse in Falmouth, Mass, where they are looking at the gene expression in the microbial communities around sagebrush roots that are carrying out the hydraulic lift and exploring how those communities respond to alternating periods of drier and wetter soil around sagebrush roots carrying out hydraulic lift. Greater understanding of hydraulic lift, the researchers say, could aid scientists and growers in finding ways to protect crops from the effects of prolonged drought.
"Microbes house the molecular machines that sustain life on Earth, recycling the nutrient building blocks that plants need to grow," says Cardon. "Given how many billions of humans there are now on the planet, and how many more there will soon be, understanding the natural plant-microbe recycling systems that have evolved over the last 400 million years may well help humanity maintain the food, fuel, and wood production systems on which we depend."
The results of the hydraulic lift experiment with sagebrush, the first investigation of its kind, are published in the November 4, 2013, online Early Edition of Proceedings of the National Academy of Sciences by Cardon, Stark, Patrick Herron (University of Connecticut), and Jed Rasmussen (University of Iowa). The team's research was supported by the National Science Foundation and the U.S. Department of Energy.
###
Citation: Cardon ZG, Stark JM, Herron PM, Rasmussen JA. Sagebrush carrying out hydraulic lift enhances surface soil nitrogen cycling and nitrogen uptake into inflorescences. PNAS, published online November 4, 2013, doi: 10.1073/pnas.1311314110
The Marine Biological Laboratory (MBL) is dedicated to scientific discovery and improving the human condition through research and education in biology, biomedicine, and environmental science. Founded in Woods Hole, Massachusetts, in 1888, the MBL is a private, nonprofit institution and an affiliate of the University of Chicago.
---
Journal
Proceedings of the National Academy of Sciences