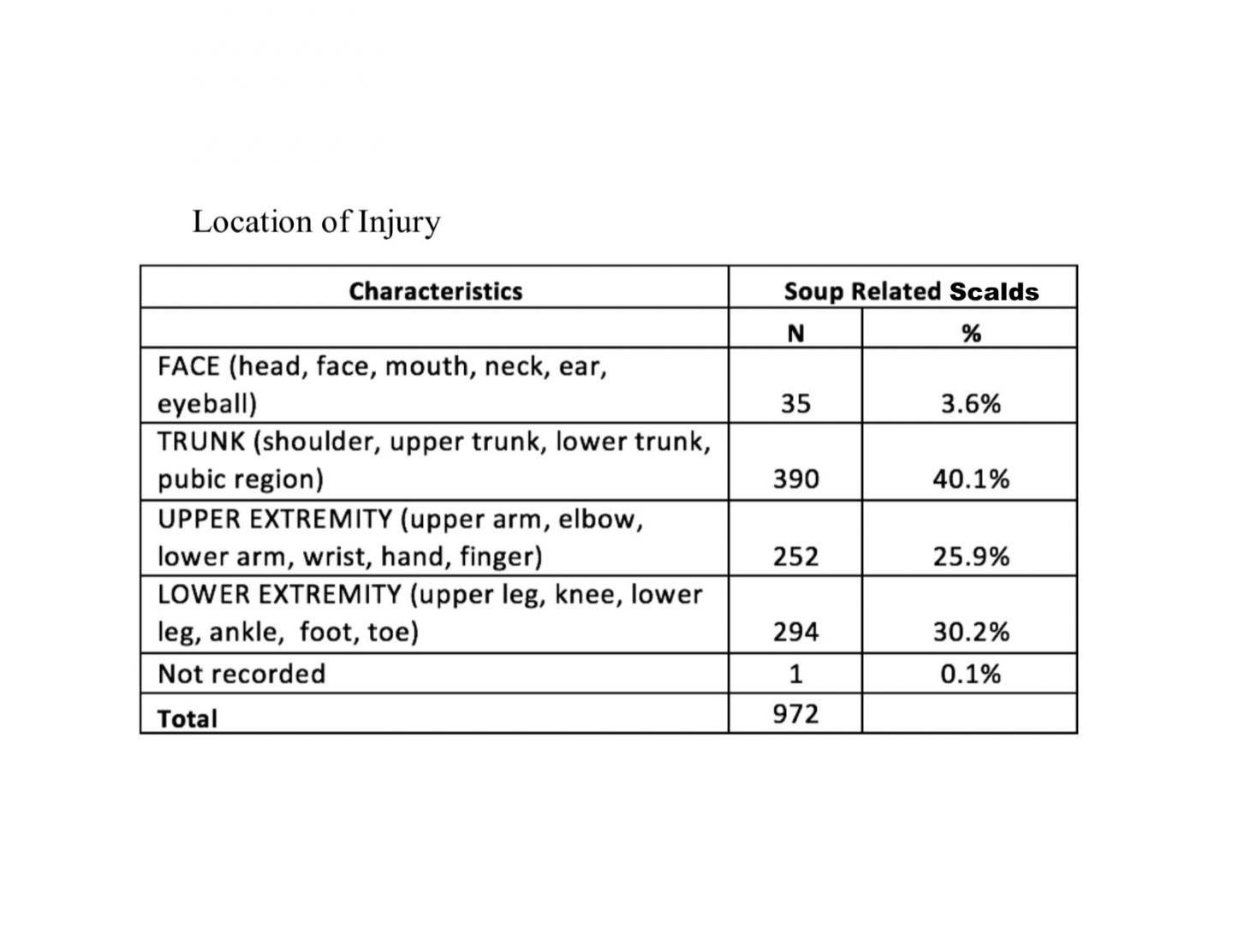 ORLANDO, Fla. - Microwavable instant soup products cause at least two out of every 10 scald burns that send children to emergency departments each year, according to new research being presented at the American Academy of Pediatrics (AAP) 2018 National Conference & Exhibition.
An abstract of the study, "Instant Soup Scald Injuries in Children," will be presented on Monday, Nov. 5, at the Orange County Convention Center in Orlando, Fla.
"Scald burns are a major cause of preventable injury among children, and our research found that instant soup spills are responsible for a large number of these painful burns," said Courtney Allen DO, FAAP, a Pediatric Emergency Medicine Fellow at Emory University.
The researchers examined National Electronic Injury Surveillance System data from 2006 to 2016 to identify pediatric patients whose scald burns were caused by either microwavable instant soup, instant noodles, cup of soup, or water for making instant soup. They determined scald burns related to instant soups and noodles affect more than 9,500 children annually between ages 4 and 12 years.
The peak age for instant soup spill injuries, Dr. Allen and her colleagues determined, was 7 years old. They also found that the most commonly burned area of the body was a child's torso, comprising 40 percent of the injuries. Roughly 57 percent of the children burned were female.
"Instant soups and noodles in prepackaged cups and bowls may seem simple to prepare just by adding water and microwaving them," Dr. Allen said. "But once they're heated up they become a dangerous burn risk. Caregivers need to closely supervise younger children who might otherwise get hurt if cooking for themselves."
In addition, Dr. Allen said, the food product industry may consider structural changes to packaging to prevent injuries as well - making them more difficult to tip over, for example.
Dr. Allen will present an abstract of the study, available below, between 5:10 and 6 p.m. in the Plaza International Ballroom at the Orange County Convention Center in Orlando.
In addition, Dr. Allen will be among highlighted abstract authors available during an informal Media Meet-and-Greet session Saturday, November 3, from 1:00 to 1:45 p.m. EST in room W208AB of the Orange County Convention Center (Press Office).
Please note: only the abstract is being presented at the meeting. In some cases, the researcher may have more data available to share with media, or may be preparing a longer article for submission to a journal.
###
The American Academy of Pediatrics is an organization of 67,000 primary care pediatricians, pediatric medical subspecialists and pediatric surgical specialists dedicated to the health, safety and well-being of infants, children, adolescents and young adults. For more information, visit http://www.aap.org. Reporters can access the meeting program and other relevant meeting information through the AAP meeting website at http://www.aapexperience.org/
Abstract Title: Instant Soup Scald Injuries in Children
Courtney Allen
Atlanta, GA, United States
BACKGROUND & OBJECTIVE Scald burns are a major cause of preventable injury in the pediatric population. Prior studies have estimated that each year approximately 100,000 children sustain scald burns because of spilled food and beverages in the United States. Microwaveable instant soups have been previously identified as one source of scald burns. The objectives of this study are to quantify the risk of these injuries in pediatric patients and to describe the patient characteristics, mechanisms of injury and injury patterns in pediatric patients sustaining scald injuries from instant soup products. METHODS The National Electronic Injury Surveillance System (NEISS) database was queried from January 2006 - December 2016 for cases of scald burns in patients ages four to twelve years. Data extracted included age, sex, race, ethnicity, body location of injury, case narratives, and disposition from the ED. A single author reviewed all case narratives to identify additional cases that involved the transport of instant soups from microwaves. Instant soups were defined as those specified in the case narrative as: "instant soup," "instant noodles," "cup of soup," or water for making soup. Location of scald injuries was grouped by region as face, trunk, upper extremity or lower extremity. RESULTS During the 11-year period, there were a total of 4,518 cases of scald burns identified in the NEISS dataset, yielding a national estimate of 9,521 cases per year in the United States in this age group. On review of case narratives, there were 972 (21.5%) cases related to instant soup burns. The mean patient age was 7.22 years (median 7 years, mode 4 years); 43.1% were male. Patient race was specified in 747 cases; of these black was the most commonly reported race (N = 365, 48.8%). The most common location of injury was the trunk comprising 40.1% of the injuries. Most cases (90.4%) were treated and released from the ED visit and there were no recorded fatalities.
CONCLUSION In this large, national dataset, instant soup injuries accounted for over 20% of scald burns. Younger children from 4 to 7 years were the most commonly injured, and the most commonly injured body region was the trunk. Further investigation of the risk of instant soup-related scald burns in pediatric patients could lead to targeted injury prevention strategies including changes in product design and educational outreach to caregivers.
---