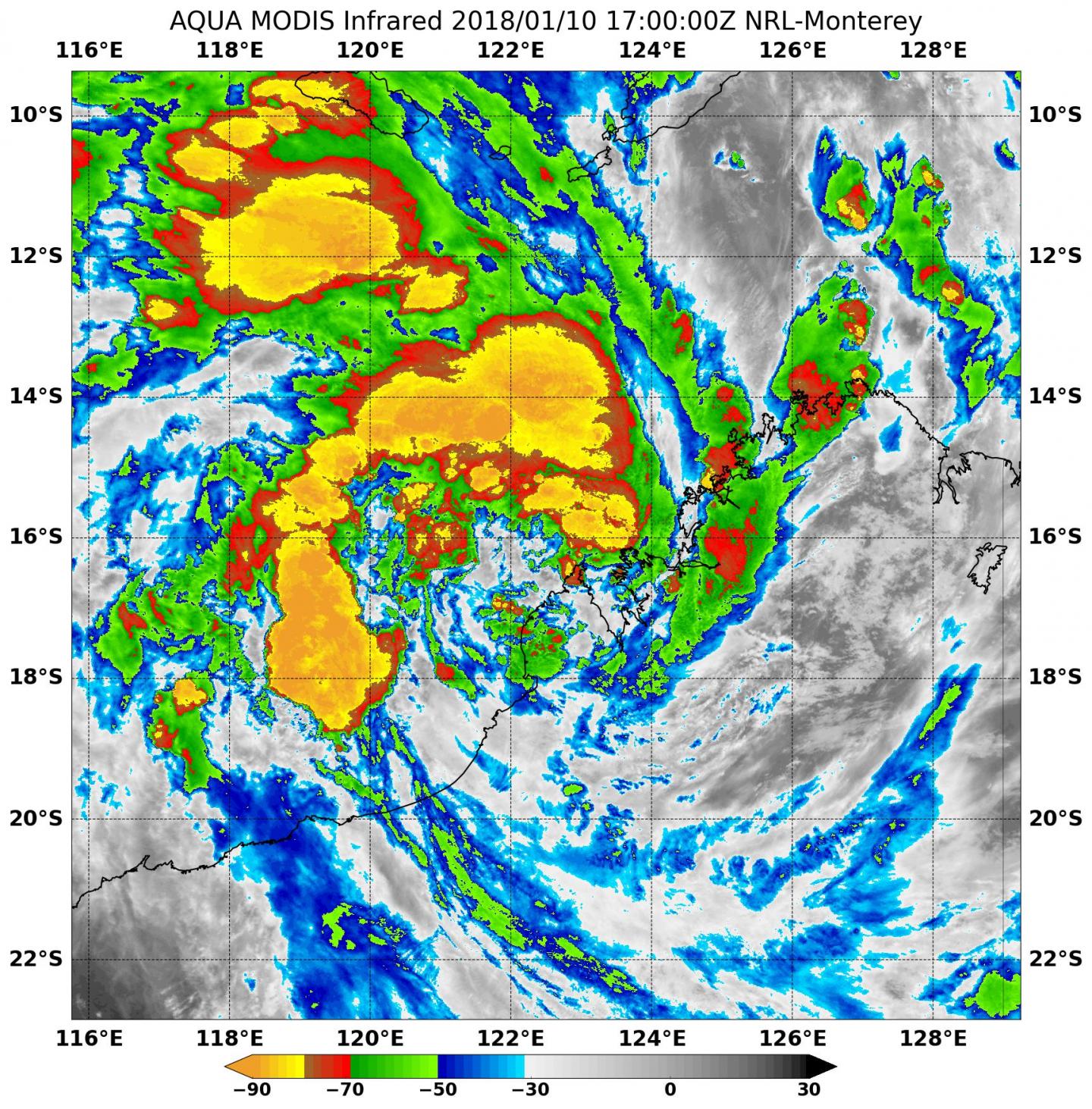 Tropical Depression 5S was consolidating just offshore Cape Leveque, Western Australia when NASA's Aqua satellite gathered temperature data that showed the strongest part of the depression remained over water.
At 10 a.m. EST (1500 UTC) on Jan. 9, Tropical Cyclone 5S formed with maximum sustained winds near 30 knots (34.5 mph/55.5 kph). It was centered near 16.2 degrees south latitude and 122.4 degrees east longitude. That's about 109 nautical miles north of Broome, Australia. It was moving to the west at 2 knots (3.3 mph/3.7 kph).
At that time, the highest reported wind observation in the region from Adele Island reporting sustained winds of 29 knots (33 mph/53.7 kph).
Because Tropical Depression 05S (05S) was hugging the coast, the Australian Bureau of Meteorology posted warnings and watches. Warning Zone was in effect from Cape Leveque to Pardoo Roadhouse, including Broome as well as remaining inland parts of the far western Kimberley. A Watch Zone in effect ranged from Pardoo Roadhouse to Whim Creek, including Port Hedland, as well as remaining inland parts of the northeast Pilbara, including Marble Bar and Telfer.
At 12 p.m. EST (1700 UTC) on Jan. 10, the Moderate Resolution Imaging Spectroradiometer or MODIS instrument that flies aboard NASA's Aqua satellite provided a look at temperatures of 05S's cloud tops. MODIS found the lowest cloud top temperature is about minus 90 degrees Celsius (minus 130 degrees Fahrenheit) in a band of thunderstorms stretching from west to north of the center and over the open waters of the Southern Indian Ocean. These storms were the strongest storms within the depression and have the capability to produce heavy rainfall.
The Joint Typhoon Warning Center forecast notes "over the next 48 hours 05S will remain just offshore over the warm open water and with favorable upper-level conditions is forecast to quickly consolidate and intensify to 55 knots. Near 10 a.m. EST (1500 UTC) on Jan. 12, Tropical Cyclone 05S is expected to make landfall east of Port Headland and begin to dissipate.
###
---