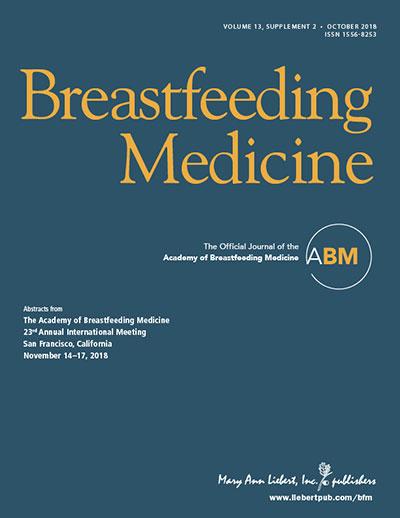 New Rochelle, NY, October 23, 2018-- A new systematic review of the literature not only confirmed that breastfeeding for as short as 1-4 months can have a protective affect against high blood pressure in women, but that lactation also can protect women across an extended follow-up of years to decades. Among 15 studies reviewed that had longer-term follow-up, 67% of those evaluated for elevated blood pressure--and 100% of the studies that assessed for an outcome of hypertension--showed a protective association with lactation, as reported in an article published in Breastfeeding Medicine, the official journal of the Academy of Breastfeeding Medicine published by Mary Ann Liebert, Inc., publishers. Click here to read the full-text article free on the Breastfeeding Medicine website through November 23, 2018.
The article entitled "Effect of Lactation on Maternal Hypertension: A Systematic Review" was coauthored by Eliana Bonifacino, MD and Jennifer Corbelli, MD, Montefiore Hospital, Pittsburgh, PA; Eleanor Schwartz, MD, University of California Davis Medical Center, Sacramento; Hyejo Jun, MD, Health Center for Women, Saint Paul, MN; and Charles Wessel, University of Pittsburgh, PA.
The researchers found that, compared to the studies with short-term follow-up, those that included longer durations of follow-up were more likely to show a positive association with breastfeeding.
"Once again, it is confirmed that breastfeeding provides major health benefits not only to the infant but, also, no less so, to the nursing mother," says Arthur I. Eidelman, MD, Editor-in-Chief of Breastfeeding Medicine.
###
About the Journal
Breastfeeding Medicine, the official journal of the Academy of Breastfeeding Medicine, is an authoritative, peer-reviewed, multidisciplinary journal published 10 times per year in print and online. The Journal publishes original scientific papers, reviews, and case studies on a broad spectrum of topics in lactation medicine. It presents evidence-based research advances and explores the immediate and long-term outcomes of breastfeeding, including the epidemiologic, physiologic, and psychological benefits of breastfeeding. Tables of content and a sample issue may be viewed on the Breastfeeding Medicine website.
About the Publisher
Mary Ann Liebert, Inc., publishers is a privately held, fully integrated media company known for establishing authoritative peer-reviewed journals in many promising areas of science and biomedical research, including Journal of Women's Health, Childhood Obesity, and Pediatric Allergy, Immunology, and Pulmonology. Its biotechnology trade magazine, GEN (Genetic Engineering & Biotechnology News) was the first in its field and is today the industry's most widely read publication worldwide. A complete list of the firm's 80 journals, books, and newsmagazines is available on the Mary Ann Liebert, Inc., publishers website.
---
Journal
Breastfeeding Medicine