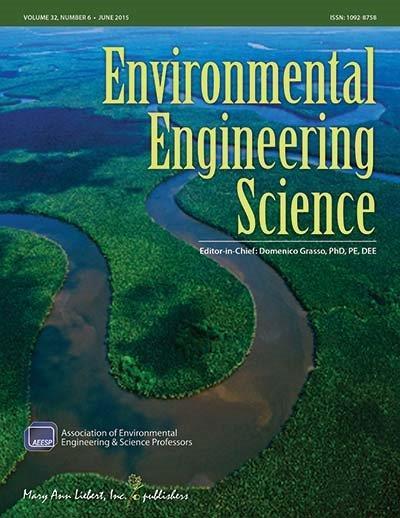 New Rochelle, NY, July 22, 2015--When unsafe levels of lead are found in drinking water, the culprit has typically been lead pipes or lead-containing brass and bronze fittings, but in a new study researchers clearly show that lead present in the zinc coating of galvanized steel pipes can be a very significant long-term source of lead in water. Copper piping installed upstream of a galvanized steel pipe can worsen lead release from the steel's zinc coating, according to the study published in Environmental Engineering Science, a peer-reviewed journal from Mary Ann Liebert, Inc., publishers. The article is available free on the Environmental Engineering Science website until August 22, 2015.
In "Lead Release to Drinking Water form Galvanized Steel Pipe Coatings," Brandi Clark, Sheldon Vaughn Masters, and Marc Edwards, Virginia Tech, Blacksburg, VA, analyzed water samples from homes with galvanized steel pipes in several cities across the U.S. In some cases the lead levels were greater than 100 µg/L. In simulated laboratory tests the concentration of lead in water found through galvanized steel pipes reached a maximum of 172 µg/L, which is more than 10 times the action level set by the U.S. Environmental Protection Agency.
"The Edwards' laboratory is well known for uncovering risks associated with concentrations of lead in urban water supplies," says Domenico Grasso, PhD, Editor-in-Chief of Environmental Engineering Science and Provost, University of Delaware. "This latest important paper from this research group has identified galvanized pipes as a potentially significant source of lead."
###
About the Journal
Environmental Engineering Science, the official journal of the Association of Environmental Engineering and Science Professors, is an authoritative peer-reviewed journal published monthly online with Open Access options. Publishing state-of-the-art studies of innovative solutions to problems in air, water, and land contamination and waste disposal, the Journal features applications of environmental engineering and scientific discoveries, policy issues, environmental economics, and sustainable development including climate change, complex and adaptive systems, contaminant fate and transport, environmental risk assessment and management, green technologies, industrial ecology, environmental policy, and energy and the environment. Tables of content and a sample issue may be viewed on the Environmental Engineering Science website.
About the Publisher
Mary Ann Liebert, Inc., publishers is a privately held, fully integrated media company known for establishing authoritative peer-reviewed journals in many promising areas of science and biomedical research, including Industrial Biotechnology, Sustainability: The Journal of Record, and Environmental Justice. Its biotechnology trade magazine, Genetic Engineering & Biotechnology News (GEN), was the first in its field and is today the industry's most widely read publication worldwide. A complete list of the firm's 80 journals, newsmagazines, and books is available on the Mary Ann Liebert, Inc., publishers website.
About the Association
The Association of Environmental Engineering and Science Professors (AEESP) is made up of professors in academic programs throughout the world who provide education in the sciences and technologies of environmental protection. The mission of AEESP is to assist its members in the development and dissemination of knowledge in environmental engineering and science. AEESP seeks to strengthen and advance the discipline of environmental science and engineering by providing leadership, promoting cooperation amongst academics and others within and outside the discipline, and serving as a liaison between its membership and other professional societies, governmental agencies, industry and nonprofit organizations.
---
Journal
Environmental Engineering Science