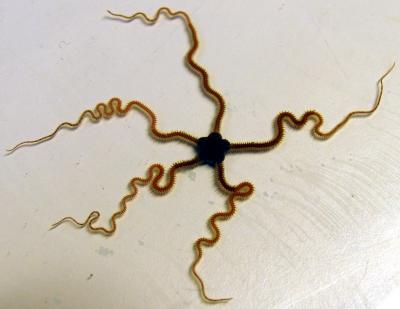 Scientists at the Royal Swedish Academy of Sciences Kristineberg Marine Research Station are using the brittlestar as a new model for studying stem cells, allowing them to do experiments that avoid the ethical issues associated with human and vertebrate research. The brittlestar, Amphiura filiformis, is a close relative of the starfish and can regenerate lost arms in a matter of weeks. Sam Dupont and Mike Thorndyke are presenting their latest work on Friday 7th April at the Annual Meeting for the Society for Experimental Biology [session A8].
"What is really amazing is that the nervous system starts to be functional only a few days after the beginning of regeneration", says Dr Sam Dupont, "It is a more realistic model for stem cell biology because we can study the cells in the living organism, not just in culture in the lab."
The researchers are particularly interested in studying the recovery of the nervous system which could have possible applications in the future for understanding and treating neurodegenerative diseases. Using the brittlestar as a model is particularly useful as it is more closely related to vertebrates than previous models with extensive regeneration capabilities such as Hydra.
###
---