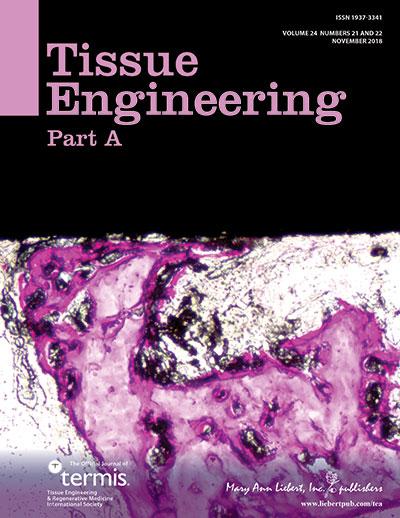 New Rochelle, NY, December 10, 2018--A team of researchers developed a novel model of partial bladder outlet obstruction (pBOO) in female swine and used this model to show that even after inducing severe urinary outlet resistance and damage to the bladder, they could achieve significant improvements in bladder capacity through bladder reconstruction using acellular bi-layer silk fibroin (BLSF) grafts. The BLSF matrices supported the growth of new tissue with contractile properties, as described in a study published in Tissue Engineering, Part A, peer-reviewed journal from Mary Ann Liebert, Inc., publishers. Click here to read the article free on the Tissue Engineering website until January 10, 2019.
The article entitled "Augmentation Cystoplasty of Diseased Porcine Bladders with Bi-layer Silk Fibroin Grafts" was coauthored by Joshua Mauney, PhD, Boston Children's Hospital and Harvard Medical School, Boston, MA, and a team of researchers from those institutions and Veterans Affairs Boston Healthcare System, West Roxbury, MA, Brigham and Women's Hospital, Boston, and The University of Massachusetts, Boston.
The severe pBOO swine had a 61% decline in bladder compliance compared to the start of the study. By 3 months after the tissue engineering/reconstruction, bladder capacity and compliance had increased significantly (79+19% and 171+75%), compared to baseline values, respectively. The BLSF scaffolds were made from aqueous silk fibroin solutions derived from Bombyx mori silkworm cocoons.
"Robust preclinical research models can be as important as the development of tissue engineered therapies themselves in making these technologies a clinical reality," says Tissue Engineering Co-Editor-in-Chief Antonios G. Mikos, PhD, Louis Calder Professor at Rice University, Houston, TX. "The disease model and bi-layer silk fibroin grafts presented in this article may enable a quicker, more effective clinical pathway to treating partial bladder outlet obstruction."
###
Research reported in this publication was supported by the National Institutes of Health under Award Numbers 5R21EB020860 and P41 EB002520. The content is solely the responsibility of the authors and does not necessarily represent the official views of the National Institutes of Health.
About the Journal
Tissue Engineering is an authoritative peer-reviewed journal published monthly online and in print in three parts: Part A, the flagship journal published 24 times per year; Part B: Reviews, published bimonthly, and Part C: Methods, published 12 times per year. Led by Co-Editors-in-Chief Antonios G. Mikos, PhD, Louis Calder Professor at Rice University, Houston, TX, and John P. Fisher, PhD, Fischell Family Distinguished Professor & Department Chair, and Director of the NIH Center for Engineering Complex Tissues at the University of Maryland, the Journal brings together scientific and medical experts in the fields of biomedical engineering, material science, molecular and cellular biology, and genetic engineering. Leadership of Tissue Engineering Parts B (Reviews) and Part C (Methods) is provided by Katja Schenke-Layland, PhD, Eberhard Karls University, Tübingen and John A. Jansen, DDS, PhD, Radboud University, respectively. Tissue Engineering is the official journal of the Tissue Engineering & Regenerative Medicine International Society (TERMIS). Complete tables of content and a sample issue may be viewed on the Tissue Engineering website.
About the Publisher
Mary Ann Liebert, Inc., publishers is a privately held, fully integrated media company known for establishing authoritative peer-reviewed journals in many promising areas of science and biomedical research, including Stem Cells and Development, Human Gene Therapy, and Advances in Wound Care. Its biotechnology trade magazine, GEN (Genetic Engineering & Biotechnology News), was the first in its field and is today the industry's most widely read publication worldwide. A complete list of the firm's 80 journals, books, and newsmagazines is available on the Mary Ann Liebert, Inc., publishers website.
---