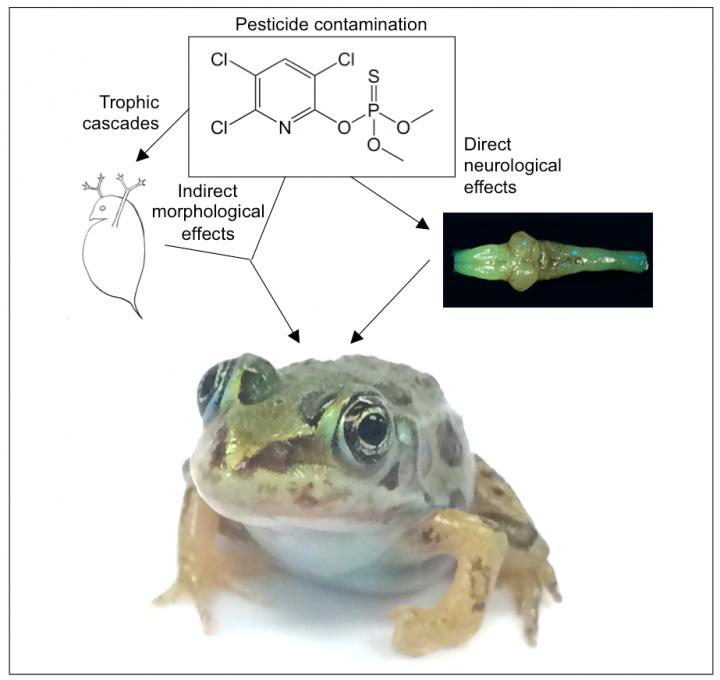 New research published in Environmental Toxicology & Chemistry reveals that low doses of a commonly used pesticide potentially harm the Northern Leopard frog by inhibiting their brain development.
The pesticide chlorpyifos, which has been used since 1965 in both agricultural and non-agricultural areas, had clear effects on Northern Leopard tadpoles' neurodevelopment, even in situations where the pesticide did not cause a decline in the amphibians' food source.
"Organophosphorous pesticides contaminate surface waters throughout the U.S. exposing both animals and humans to these chemicals, often at very low, presumably innocuous levels. However, this study demonstrates that exposure to these contaminants, even at these low concentrations, impacts vertebrate neurodevelopment," said lead author Sara McClelland, of Duquesne University, in Pittsburgh.
###
Additional Information
Link to Study: https://onlinelibrary.wiley.com/doi/10.1002/etc.4240
About Journal
The Society of Environmental Toxicology and Chemistry (SETAC) publishes two journals: Environmental Toxicology and Chemistry (ET&C) and Integrated Environmental Assessment and Management (IEAM). Environmental Toxicology and Chemistry is dedicated to furthering scientific knowledge and disseminating information on environmental toxicology and chemistry, including the application of these sciences to risk assessment. Integrated Environmental Assessment and Management focuses on the application of science in environmental decision-making, regulation, and management, including aspects of policy and law, and the development of scientifically sound approaches to environmental problem solving. Together, these journals provide a forum for professionals in academia, business, government, and other segments of society involved in the use, protection, and management of the environment for the enhancement of ecological health and human welfare.
Environmental Toxicology and Chemistry is interdisciplinary in scope and integrates the fields of environmental toxicology; environmental, analytical, and molecular chemistry; ecology; physiology; biochemistry; microbiology; genetics; genomics; environmental engineering; chemical, environmental, and biological modeling; epidemiology; and earth sciences. ET&C seeks to publish papers describing original experimental or theoretical work that significantly advances understanding in the area of environmental toxicology, environmental chemistry and hazard/risk assessment. Emphasis is given to papers that enhance capabilities for the prediction, measurement, and assessment of the fate and effects of chemicals in the environment, rather than simply providing additional data. The scientific impact of papers is judged in terms of the breadth and depth of the findings and the expected influence on existing or future scientific practice. Methodological papers must make clear not only how the work differs from existing practice, but the significance of these differences to the field. Site-based research or monitoring must have regional or global implications beyond the particular site, such as evaluating processes, mechanisms, or theory under a natural environmental setting.
About Wiley
Wiley is a global leader in education and scholarly research. Our online scientific, technical, medical, and scholarly journals, combined with our digital learning, assessment and certification solutions help universities, learned societies, businesses, governments and individuals increase the academic and professional impact of their work. For more than 210 years, we have delivered consistent performance to our stakeholders. The company's website can be accessed at http://www.wiley.com.
---
Journal
Environmental Toxicology and Chemistry
DOI