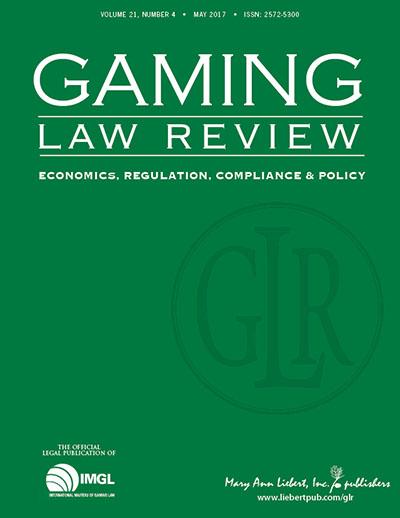 New Rochelle, NY, March 24, 2017--The increasingly popular cash-out feature in online sports betting is a game-changer, but instead of just giving gamblers more control over their bets, it may increase the risk of problem gamblers losing control over their wagers. What regulators and policymakers can do to protect gambling consumers from potential harm caused by this new type of betting are explored in an article published in Gaming Law Review, a peer-reviewed journal from Mary Ann Liebert, Inc., publishers. The article is available free on the Gaming Law Review website.
The article entitled "'Cashing Out' in Sports Betting: Implications for Problem Gambling and Regulation" is coauthored by Hibai Lopez-Gonzalez and Mark Griffiths, Deusto University, Spain and Nottingham Trent University, U.K. The authors examine the rising popularity of cash-out features in online sports betting platforms and how cashing out is transforming sports betting from a discontinuous to a continuous form of gambling. It allows bettors to withdraw their bets while an event, such as horseracing or a soccer match, is still underway to ensure at least some gains or minimize losses.
"Keeping up with new products being offered in the marketplace remains a challenge for regulators and those concerned with problem gambling," says Sue Schneider, Editor-in-Chief of Gaming Law Review. "This primer not only explains this new concept, but also takes a look at whether it offers an additional addiction risk for the gambler. It offers a commentary on how best to view the 'cash-out' option and evaluate the consequences of its entry into the market."
###
About the Journal
Gaming Law Review: Economics, Regulation, Compliance, and Policy is the only authoritative peer-reviewed journal covering traditional land-based, Internet, and wireless gaming law in one of the fastest growing economic leisure industries. Led by Editor-in-Chief Sue Schneider, eGaming Brokerage, the Journal provides the latest developments in legislative, regulatory, and judicial decisions affecting gaming around the world, including state, federal, and tribal developments in the U.S., as well as coverage of economic issues associated with the exponential growth of casinos and gaming practices. Complete tables of content and a sample issue may be viewed on the Gaming Law Review: Economics, Regulation, Compliance, and Policy website.
About the Publisher
Mary Ann Liebert, Inc., publishers is a privately held, fully integrated media company known for establishing authoritative peer-reviewed journals in many promising areas of science, biomedical research, and law, including Election Law Journal and Biotechnology Law Report. Its biotechnology trade magazine, GEN (Genetic Engineering & Biotechnology News), was the first in its field and is today the industry's most widely read publication worldwide. A complete list of the firm's 80 journals, books, and newsmagazines is available on the Mary Ann Liebert, Inc., publishers website.
---