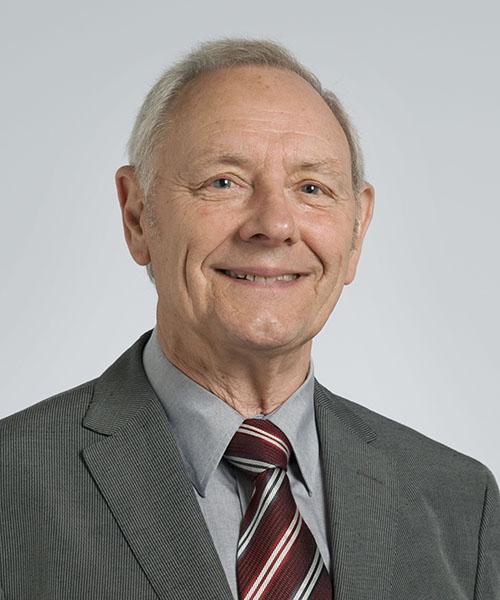 EDINBURGH, Scotland (May 31, 2017) - Michael Stanton-Hicks, MBBS, Dr.Med.(Düs), FFARCS (FRCA), FCAI (HON), ABPM, FIPP, has been called a giant in the management of complex regional pain syndrome. Today the International Neuromodulation Society is naming him its fourth Giant of Neuromodulation during its 13th World Congress.
"Dr. Stanton-Hicks is revered throughout the neuromodulation community," commented INS President Timothy Deer, MD. "Beneath his mild and gentlemanly demeanor is a deeply held passion and dedication to the field and the betterment of patients' lives. His extensive contributions have bridged simultaneous advances in neurostimulation and a growing understanding of chronic pain and complex regional pain syndrome."
Complex regional pain syndrome (CRPS) is a rare but debilitating condition that is considered one of the best indications for neurostimulation. Regarding Dr. Stanton-Hicks' career, Dr. Deer said, "in a way, he was in the right place at the right time." His early career influences focused his attention on the treatment challenge of CRPS. He later became a role model at the Cleveland Clinic for newer physicians who specialize in pain management.
Dr. Stanton-Hicks' interest in CRPS began in the 1970s. He completed postgraduate training in anesthesia in 1968, and joined the faculty of the University of Washington in 1970. The chairman of anesthesiology was Dr. John J. Bonica. A pioneer in pain medicine, Dr. Bonica had encountered many cases of CRPS I and II in the thousands of WWII veterans he treated from the Pacific Theater while he was chief of anesthesia at Madigan Army Hospital at Fort Lewis in Tacoma. Before leaving Washington in 1975, Dr. Stanton-Hicks met Dr. Yoshio Hosobuchi, a neurosurgeon who had done early work in the use of neurostimulation of the central nervous system for chronic pain.
Dr. Stanton-Hicks gained more experience with neuromodulation in 1987 at the University of Mainz, where he had hands-on experience implanting infusion pumps. In 1988, he joined the Cleveland Clinic. There, worked for five years with Sam Hassenbusch, MD, and they undertook a large number of spinal and peripheral nerve stimulation procedures for chronic neuropathic and CRPS pain.
Up until then, he said, CRPS had continued to be a large part of his endeavors:
"After leaving U of W, Dr. Robert Boas, a New Zealander, and I developed a multidisciplinary pain clinic--actually based on that which had been established by John Bonica in Washington--at the University of Massachusetts in Worcester. It was the first clinic of its kind in New England. There were a lot of CRPS patients. After 10 years, I assumed a position responsible for developing a multidisciplinary pain clinic at the Johannes Gutenberg University of Mainz in Germany, where, in 1988, the first meeting to discuss the problem of CRPS and its diagnosis was held. This was convened in a small castle, "Schloss Rettershof". Some 30 clinicians and basic scientists of many disciplines deliberated on the taxonomy, criteria for diagnosis and how to advance this knowledge in different countries.
"We made our material available to the International Association for the Study of Pain (IASP), which was the starting point for establishing the Special Interest Group: Pain and the Sympathetic Nervous System and a series of subsequent scientific meetings that changed the name from reflex sympathetic dystrophy (RSD) to complex regional pain syndrome (CRPS). This catalyzed basic and clinical science around the world that is yielding enormous amounts of information regarding the nature of this condition--a pathophysiology that now includes autonomic dysfunction, immune dysfunction, autoimmunity, movement disorder, and probable genetic overtones."
That period also produced new medical societies concerned with pain and neuromodulation. He recalled those origins:
"The North American Neuromodulation Society (NANS) actually began with two separate physician specialties, namely, neurosurgery and anesthesia/pain. With the therapeutic limitations of regional anesthesia, yet widespread familiarity with the entire spine and head and neck, anesthesiologists who worked with chronic pain patients rapidly took to the application of spinal cord stimulation that was much more effective on a long-term basis. Two anesthesiologists, Ballard Wright, MD and Barry Schwartz, MD had already formed a society they called "The Neuraxial Pain Society" in 1993. Shortly before, in 1989, the International Neuromodulation Society was formed by a group of neurosurgeons, neurologists, vascular medicine specialists and cardiologists.
"After being approached by Dr. Wright to join their society, Sam Hassenbusch, who was already in discussions with the new INS about forming an American chapter, and I set about organizing an initial meeting that would end up being the springboard for a nascent NANS. This was in 1994. I already had some experience in the development of two societies, the American Society of Regional Anesthesia and the World Institute of Pain, so I felt I was on familiar ground with NANS and for my sins I was elected its first president. It was probably the momentum gained through the earlier INS activity that carried through to keep everyone on target."
Dr. Stanton-Hicks shifted from full staff to a consultant role at the Cleveland Clinic in 2011, helping guide a newer generation of clinicians with advice on patient care and the incorporation of neuromodulation and interventional therapies towards this goal. Looking ahead to the future of neuromodulation, he said he foresees an expansion of indications beyond pain, to include improvement in organ function and body systems.
"Neuromodulation will become less invasive," he predicted, "and will be increasingly targeted with the use of viral transport, stem cells and ontological approaches. Issues such as tolerance will disappear due to technological advances as our understanding of the central nervous system expands, the list of indications will grow, and the technical advances will expand exponentially." He adds, "There is an increasingly strong argument for the utility of neuromodulation systems based on their cost-effectiveness and therapeutic efficacy that will transcend traditional pharmacological therapies."
###
About the International Neuromodulation Society
The nonprofit International Neuromodulation Society presents up-to-date information about the full breadth of neuromodulation therapies through an interactive
website
, its journal
Neuromodulation: Technology at the Neural Interface
, annual regional meetings, and its
biennial world congress
.
About Neuromodulation
Neuromodulation therapy, sometimes referred to as bioelectric medicine or electroceuticals, is one of medicine's fastest-growing fields, driven by rising neurological disease in an aging population, and the need for non-pharmacological approaches to manage symptoms. The first use of spinal cord stimulation (SCS) to treat chronic pain of neuropathic origin was reported in 1967 by C. Norman Shealy, M.D., Ph.D. Neuromodulation devices, such as SCS and deep brain stimulation systems, leverage technology developed for cardiac pacemakers and cochlear implants to re-balance neural activity. Neuromodulation therapies help relieve chronic pain or restore function. Existing and emerging devices operate through targeted application of electrical, magnetic, chemical, or optical stimulation. Current or emerging neuromodulation therapies address deficits in vision, hearing, breathing, mobility, grasp or gait, motor function, mood, memory, and digestion.
---