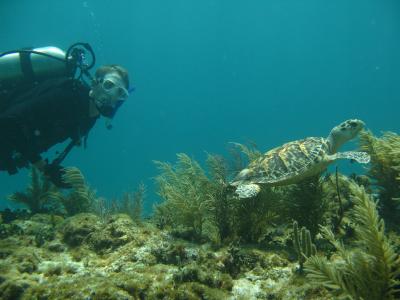 MIAMI -- February 6, 2012 – An unprecedented five graduate students at universities in Florida have been awarded scholarships as winners of the Guy Harvey Scholarship Award, recognizing their outstanding achievement in marine science research.
Among the winners of a $5,000 scholarship is University of Miami (UM) Rosenstiel School of Marine & Atmospheric Science graduate student Sean Bignami for his studies of how the changing chemistry of marine waters as a result of ocean acidification might affect the early development of large marine fish. His work uses mahi mahi and cobia as case studies. Bignami is co-advised by newly appointed UM Marine Biology and Fisheries chair Dr. Su Sponaugle and Dr. Robert Cowen.
Bignami plans to dedicate much of his research to sharing the results of his studies with decision-makers to ensure marine resources are managed increasingly effectively. He has been actively involved in teaching marine science to teachers and students, and for the last two years has worked with the "Science Made Sensible" outreach program. This effort pairs UM graduate students in science, math and engineering disciplines with middle school science teachers to provide students with more hands-on learning experiences.
"Communication is often not the strongest of a scientist's skill set, at least not when considering the general public's need for information to be delivered in a simple way that highlights its application to everyday life," Bignami wrote in his scholarship application. "Reaching the public at a young age may be the most important way to instill love and appreciation for the ocean and the services it provides."
The scholarship, established in 2010 through a partnership between Florida Sea Grant and the Guy Harvey Ocean Foundation, recognizes students at Florida universities whose research focuses on novel strategies for improving sustainable management of large marine fish and sharks.
"Originally, the Guy Harvey Foundation had planned on providing two scholarships," says Florida Sea Grant director Karl Havens. "However, when they saw the high quality of applicants, the foundation was tremendously generous in deciding to support the research of five students.
Since the award was established three years ago, $24,000 in scholarships has been given to six students at Florida universities. Recipients also receive a certificate designed and signed by well-known marine wildlife artist and conservationist Guy Harvey.
The other four scholarship recipients included, Felipe Carvalho and Sarah Stephens, University of Florida; M. Laura Habegger, University of South Florida; and Kier Smith, Florida Atlantic University.
###
About the University of Miami's Rosenstiel School
The University of Miami is the largest private research institution in the southeastern United States. The University's mission is to provide quality education, attract and retain outstanding students, support the faculty and their research, and build an endowment for University initiatives. Founded in the 1940's, the Rosenstiel School of Marine & Atmospheric Science has grown into one of the world's premier marine and atmospheric research institutions. Offering dynamic interdisciplinary academics, the Rosenstiel School is dedicated to helping communities to better understand the planet, participating in the establishment of environmental policies, and aiding in the improvement of society and quality of life. For more information, please visit www.rsmas.miami.edu.
---