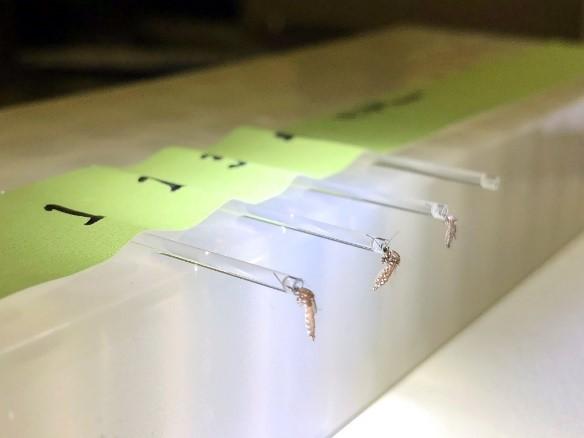 Over the last five years, Zika virus has emerged as a significant global human health threat following outbreaks in South and Central America. Now, researchers reporting in PLOS Neglected Tropical Diseases have shown that invasive mosquitoes in California -- where cases of Zika in travelers have been a regular occurrence in recent years -- are capable of transmitting Zika.
Zika virus (ZIKV) is a mosquito-transmitted flavivirus that has been known for more than a half century, but recently gained attention after it began spreading through South America and was confirmed as a cause of Guillain-Barre syndrome and congenital Zika syndrome in infants. Several species of Aedes mosquitoes have been confirmed as vectors of ZIKV in the lab. But studies have also suggested that mosquitoes of the same species from different regions may have different competencies as vectors.
In the new work, Lark Coffey and Chris Barker of the University of California, Davis, USA, and their research teams infected Californian Aedes aegypti, Culex tarsalis, and Culex quinquefasciatus with three different strains of ZIKV-- one from a 2015 Puerto Rico outbreak, one from a Brazil outbreak in 2015, and an ancestral strain from Malaysia in 1966. Each mosquito was allowed to feed on an infected mouse and was then followed to determine if it could transmit ZIKV.
No ZIKV was detected in the saliva of either Culex mosquito species 14 and 21 days after infection. However, 85 to 90 percent of the Aedes mosquitoes had ZIKV RNA in their saliva, for all strains of the virus. Transmission rates were similar between viruses. On average, mosquitoes infected with the Malaysian strain of ZIKV had the highest levels of viral RNA.
"Understanding the mosquito species that vector ZIKV is important for estimating regional outbreak potential and for informing local mosquito control strategies," the researchers say. "Vector control efforts targeting ZIKV should remain focused on reducing urban Aedes populations."
###
In your coverage please use this URL to provide access to the freely available article in PLOS Neglected Tropical Diseases: http://journals.plos.org/plosntds/article?id=10.1371/journal.pntd.0006524
Citation: Main BJ, Nicholson J, Winokur OC, Steiner C, Riemersma KK, et al. (2018) Vector competence of Aedes aegypti, Culex tarsalis, and Culex quinquefasciatus from California for Zika virus. PLOS Neglected Tropical Diseases 12(6): e0006524. https://doi.org/10.1371/journal.pntd.0006524
Funding: Primary funding for this work was provided by Abt Associates and a consortium of vector control districts in California: Coachella Valley, Orange County, Greater Los Angeles County, San Gabriel Valley, West Valley, Kern, Butte County, Tulare, Sacramento-Yolo, Placer, and Turlock. Olivia Winokur and Chris Barker also acknowledge financial support from NASA Health and Air Quality grant NNX15AF36G, and Chris Barker and Lark L. Coffey acknowledge funding support from the Pacific Southwest Regional Center of Excellence for Vector-Borne Diseases funded by the U.S. Centers for Disease Control and Prevention (Cooperative Agreement 1U01CK000516). Part of this work was supported by start-up funds provided to Lark L. Coffey by the Pathology, Microbiology and Immunology Department in the School of Veterinary Medicine at UC Davis. Excluding Abt Associates, the funders had no role in study design, data collection and analysis, decision to publish, or preparation of the manuscript.
Competing Interests: The authors have declared that no competing interests exist.
---
Journal
PLoS Neglected Tropical Diseases