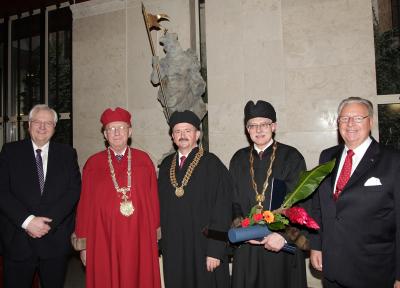 The distinction was awarded to Prof. Neugebauer at the personal recommendation of the Dean of the Mechanical Engineering Faculty at the Czech Technical University in Prague. Prof. Neugebauer has had good relations with TU Prague for some time: for years, he has promoted collaboration with the Fraunhofer Institute for Machine Tools and Forming Technology IWU in Chemnitz and Dresden, facilitated the exchange of students during their practical training semesters, and initiated cooperative ventures with industry. He was awarded the distinguished honorary doctoral degree for his service on 21 January 2014. In remarks by Prof. František Hrdlička, Dean of the Faculty of Mechanical Engineering, Prof. Neugebauer is being honored especially in recognition of his scientific achievements, such as advanced development of production engineering for machine tools and forming technology, as well as for the application of new materials and technologies, as exemplified by innovations in mechatronic systems. His designs and technologies have led to considerable advancement of industrial applications. He has decisively influenced production lines in the automotive industry through his focus on efficient utilization of resources in production environments. In addition, his involvement with the development of Applied Research at the Technical University in Prague is meritorious service recognized by the honorary doctoral degree.
About Professor Reimund Neugebauer
Prof. Reimund Neugebauer has been President of the Fraunhofer-Gesellschaft since October 2012. In 1991, he received the concurrence of the Management Board to found the Fraunhofer Research Institution for Machine Tools and Forming Technology in Chemnitz, which was promoted to a full Fraunhofer Institute just two years later. He has been full Professor of Machine Tools and Forming Technology at Technische Universität Chemnitz since 1993. He also founded the Institute for Machine Tools and Production Processes IWP there and has been its Director since 2000. In addition, he was Dean of the Faculty for Mechanical Engineering from 2003 until 2006. At the same time, he directed the IWU from 1992 to 2012.
Prof. Reimund Neugebauer is a member of numerous national and international scientific societies and associations, including the German National Academy of Science and Engineering (acatech) and is a Fellow of the International Academy for Production Engineering (CIRP). He was President of the German Academic Society for Production Engineering (WGP) from 2010 to 2011. He received an honorary doctoral degree from Moscow State University of Technology "STANKIN" in 2003, an honorary doctoral degree from Brno University of Technology in 2007, from the Technische Universität München in 2012, and from Stellenbosch University in South Africa in 2013. He was awarded the Order of Merit First Class of the German Federal Republic in 2005 and Order of Merit from the State of Saxony in 2012.
###
---