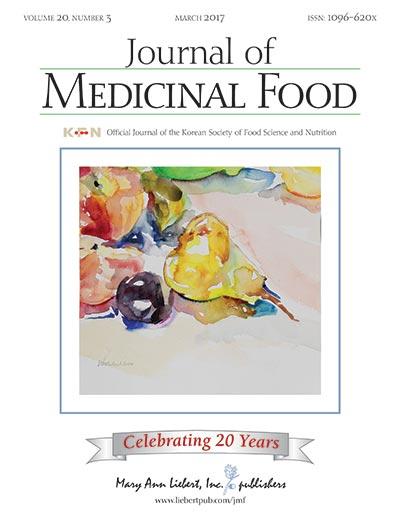 New Rochelle, NY, April 11, 2017--A new study that measured metabolite levels over time in starved rat liver cancer cells showed that treatment with a form of alpha-lipoic acid (LA) inhibited glucose uptake and glycolysis, and led to decreased cellular glucose production from non-carbohydrate sources, which may help explain how the naturally occurring R enantiomeric form of LA (R-LA) promotes the death of hepatoma cells. Researchers supported their findings with measurements of amino acid metabolism and lactic acid production in R-LA and untreated hepatoma cells, as reported in Journal of Medicinal Food, a peer-reviewed journal from Mary Ann Liebert, Inc., publishers. The article is available free on the Journal of Medicinal Food website until May 11, 2017.
LA is a powerful antioxidant and R-LA is an essential cofactor in cellular energy metabolism. Naoko Ikuta, Seiichi Matsugo, and coauthors from Graduate School of Medicine, Kobe University, Kanazawa University, and CycloChem Bio Co. (Kobe), Japan, and University of Kiel, Germany, demonstrated that concentrations of the amino acids glycine, threonine, and serine, were significantly lower in R-LA treated rat hepatoma cells compared to in untreated cells or cells treated with the D-enantiomeric form of LA (D-LA). This indicates down-regulation of the Thr-Gly-Ser pathways and associated inhibition of gluconeogenesis from protein sources, as described in the article entitled "Time Course Effect of R-Alpha-Lipoic Acid on Cellular Metabolomics in Cultured Hepatoma Cells."
###
About the Journal
Journal of Medicinal Food is an authoritative, peer-reviewed, multidisciplinary journal published monthly online with open access options and in print. Led by Editors-in-Chief Sampath Parthasarathy, MBA, PhD, Florida Hospital Chair in Cardiovascular Sciences and Interim Associate Dean, College of Medicine, University of Central Florida, and Yangha Kim, PhD, Ewha Womans University, Seoul, South Korea, the Journal publishes original scientific research on the bioactive substances of functional and medicinal foods, nutraceuticals, herbal substances, and other natural products. The Journal explores the chemistry and biochemistry of these substances, as well as the methods for their extraction and analysis, the use of biomarkers and other methods to assay their biological roles, and the development of bioactive substances for commercial use. Tables of content and a sample issue may be viewed on the Journal of Medicinal Food website.
About the Publisher
Mary Ann Liebert, Inc., publishers is a privately held, fully integrated media company known for establishing authoritative peer-reviewed journals in many promising areas of science and biomedical research, including The Journal of Alternative and Complementary Medicine and Cannabis and Cannabinoid Research. Its biotechnology trade magazine, GEN (Genetic Engineering & Biotechnology News), was the first in its field and is today the industry's most widely read publication worldwide. A complete list of the firm's 80 journals, books, and newsmagazines is available on the Mary Ann Liebert, Inc., publishers website.
---
Journal
Journal of Medicinal Food