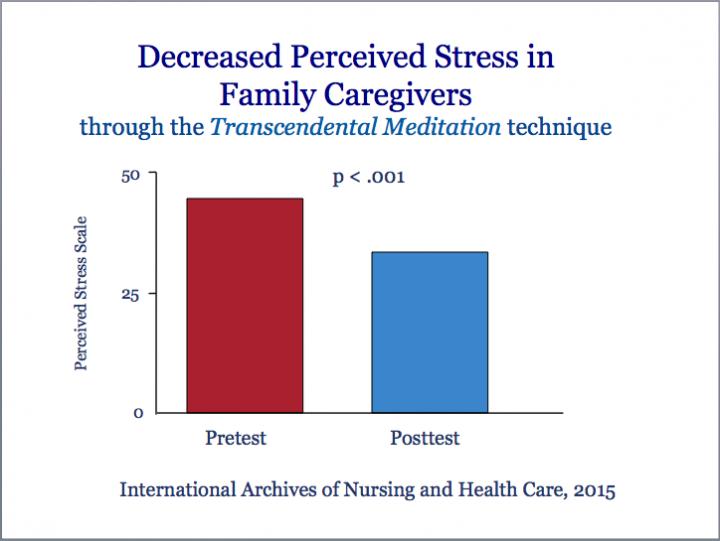 It has been estimated that over 20% of the U.S. population has served as an unpaid non-professional family caregiver for an elderly or disabled person -- and the resulting stress can be devastating. Caring for chronically ill relatives and friends often leads to stressful psychological, behavioral, and physiological effects that can contribute to impaired immune function, coronary heart disease, and a higher mortality rate.
Transcendental Meditation relieves stress in caregivers
A recent study involving 23 caregivers, most of whom were taking care of a family member with Alzheimer's or other chronic medical conditions, found that over a two-month period practice of the Transcendental Meditation technique helped to reduce the stress associated with caregiving.
Published in International Archives of Nursing and Health Care, (Volume 1, Issue 2) this pilot study found improvements in perceived stress, spiritual well-being, and mood, as assessed by standard instruments.
In addition, qualitative evaluation of participants suggested improvements in energy level, feeling of calmness and resilience, and reduced anxiety and other psychosocial stress.
Outcomes included perceived stress using Cohen's Perceived Stress Scale, Total Mood Disturbance using the Profile of Mood States (POMS), spiritual well-being using the FACIT scale, and levels of stress and perceived physical health using the Caregiver Self-Assessment Questionnaire.
"The vast majority of caregivers today are family members and nonprofessionals," said Dr. Sanford Nidich, lead author of the study and professor of education at Maharishi University of Management. "Based on prior research studies, it appeared that the Transcendental Meditation program may improve the psychological health of this highly stressed population. Our research found significant and meaningful reductions in anxiety, depression, fatigue, and perceived stress, and an increase in spiritual well-being -- meaningfulness in life and faith in the future."
Importance of taking care of one's self
Surveys show that over 90% of caregivers are family or unpaid professionals caring for family members or relatives. Not only are these caregivers not trained for providing this service, they also aren't aware of the importance of also taking care of their own well-being. They can quickly become overwhelmed by the situation, and often become less patient and irritable.
"Family and professional caregivers experience a tremendous amount of psychological and physical stress that impacts their physical health and quality of life," explained Dr. Charles Elder, a physician and researcher at Kaiser Permanente Northwest, Portland, Oregon. "It is very important that they learn how to take care of themselves for the sake of their own personal health and happiness. This pilot study shows that Transcendental Meditation can be a value-added support that caregivers are looking for and need."
Calmer and more patient
The participants in the study were satisfied overall with their practice of the Transcendental Meditation technique and its benefits, including less psychological distress. One noted how it helped her be more calm and kind.
"I started the Transcendental Meditation technique two years ago... the timing was perfect," said one participant who was caring for her 93-year-old mother with late-stage Alzheimer's. "I found it pretty easy and it made a lot of difference to me. I just felt calmer, I was much kinder to my mother, I didn't get as frustrated with her...."
She went on to say that Transcendental Meditation helped her feel more balanced.
"It's so hard when they can't do anything. They are like children and it is so frustrating because... after a while you hit times where you just want to yell at them and it was so hard not to.... Then [through TM practice] I found that I didn't get like that as often. I found that I was more equalized, more balanced about it all. It was a very helpful tool."
Immediate benefit for anxiety
Another participant experienced so much anxiety taking care of her husband who had suffered strokes and an automobile accident that she went to the emergency room three times.
"I was a caregiver; it was heavy duty... I ended up in the emergency room three times and each time it was diagnosed as anxiety…. They were panic attacks that were so much like heart attacks. I know that it was due to the stress of my caregiving role. I worried about him constantly. I was always afraid of what would happen to him. TM helped me by just calming my thoughts… [It] calmed me down and I could get through the day much easier. Since I have been doing TM I haven't had one anxiety attack... [T]his was the biggest benefit. I noticed less anxiety straight away."
###
This study was funded by the David Lynch Foundation.
Nidich S, Nidich RJ, Salerno J, Hadfield B, Elder C (2015) Stress Reduction with the Transcendental Meditation Program in Caregivers: A Pilot Study. International Archives of Nursing and Health Care 1:011
About the Transcendental Meditation Technique
Transcendental Meditation (TM) is a simple, natural technique practiced 20 minutes twice each day while sitting comfortably with the eyes closed. The TM technique is easy to learn and enjoyable to practice, and is not a religion, philosophy, or lifestyle. Unlike other forms of meditation, TM practice involves no concentration, no control of the mind, no contemplation, no monitoring of thoughts. It automatically and effortlessly allows the active thinking mind to settle down to a state of deep inner calm. For more information visit http://www.tm.org.
---
Journal
International Archives of Nursing and Health Care