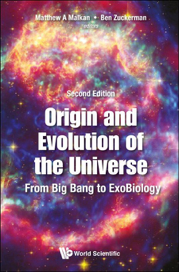 In March 1995, Ben Zuckerman and Matt Malkan hosted a memorable Symposium at UCLA, on "The Origin and Evolution of the Universe". It attracted overflow audiences from diverse elements of the Los Angeles community, including students, faculty, researchers and members of the interested general public. The speakers then prepared and extended their presentations for publication of the First Edition of "The Origin and Evolution of the Universe". In the subsequent 25 years, the subject has changed so dramatically, that the editors decided it is now high time for a thorough update.
Discoveries and advances have unfolded at such a remarkable pace, exceeding even the most optimistic expectations. In 1995, supernovae had not yet been used to establish a cosmic distance scale accurate enough to determine that the Universal expansion is — surprisingly — accelerating. The remarkable detection of gravitational waves from merging black holes and neutron stars by LIGO was still decades in the future. And essentially no planets beyond our solar system were known to exist, and certainly none that were anything like our Earth.
Fortunately, Malkan and Zuckerman were able to obtain complete updates from six initial contributors, who are active leaders in their scientific specializations. Their topics range broadly, from Chapter 1, on The Big Bang, by Edward Wright, to Chapter 6 (on Life in the Universe), by Chris McKay. Chapters 2 through 5 include the latest discoveries about the Origin and Evolution of Galaxies (by Alan Dressler), the Origin of the Elements (by Virginia Trimble), the Evolution and Death of Stars (by Alex Filippenko), and the Birth of Stars and Planetary Systems (by Fred Adams).
The book aims to bring lay readers with an interest in science, as well as professional scientists, up to speed on the key discoveries that are part of the panorama of cosmic evolution. It is lavishly illustrated with many color images and a comprehensive Glossary.
The book has received warm endorsements from three Nobel Laureates in Physics.
"These are fascinating essays about the nature of the world around us by people who write well and understand what they are writing about."

P James E Peebles Nobel Laureate in Physics, 2019

"This book presents a clear, highly readable view of science's best understanding of how things in the Universe came to be the way they are. Each chapter is written by a leading expert in that sub-field. Together they cover nearly all major advances made in the past century, in fields from cosmology to exobiology."

Joseph H Taylor Jr. Nobel Laureate in Physics, 1993

"An exhilarating tour of the Universe from true experts. For those who thirst to know how we know what we know about our place in the Universe, reading this book will be a richly rewarding experience."

Adam G Riess Nobel Laureate in Physics, 2011

Origin and Evolution of the Universe: From Big Bang to ExoBiology retails for US$48 / £40 (paperback) and US$88 / £75 (hardcover) and is also available in electronic formats. To order or know more about the book, visit http://www.worldscientific.com/worldscibooks/10.1142/11447.

###

About the Editors

Matthew A Malkan is Professor of Astronomy at the University of California at Los Angeles since 1992. His research interests lie in the primary sources of energy in the universe as well as the evolution of galaxies and their massive black holes. He has published over 400 refereed articles in peer-reviewed journals, and has worked extensively on astronomy related film and television shows, both behind and in front of the camera.

Ben Zuckerman is a Professor in the Department of Physics & Astronomy at UCLA. His major scientific interests have been the birth and death of stars and planetary systems. He has maintained a continuing interest in the question of the prevalence of life in the Universe and, beginning way back in the mid-1970s, developed and regularly taught a course on "Life in the Universe". He has co-edited six books including Extraterrestrials, Where Are They? and Human Population and the Environmental Crisis.

About World Scientific Publishing Co.

World Scientific Publishing is a leading international independent publisher of books and journals for the scholarly, research and professional communities. World Scientific collaborates with prestigious organisations like the Nobel Foundation and US National Academies Press to bring high quality academic and professional content to researchers and academics worldwide. The company publishes about 600 books and over 140 journals in various fields annually. To find out more about World Scientific, please visit http://www.worldscientific.com.

For more information, contact Yang Liu at yliu@wspc.com
---