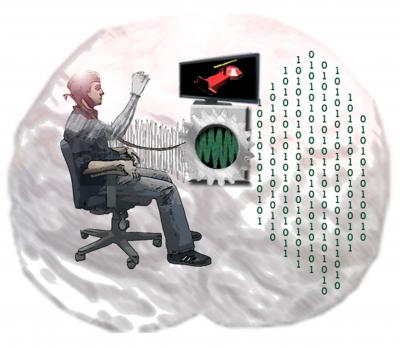 Scientists have designed a novel, noninvasive system that allows users to control a virtual helicopter using only their minds, as reported in the online journal PLoS ONE on Oct. 26. The researchers, led by Dr. Bin He of University of Minnesota, created an EEG-based, noninvasive brain-computer interface that allowed users to accurately and continually navigate a virtual helicopter simply by thinking about where they wanted to craft to go.
The task required users to direct their helicopter through randomly positioned rings in three-dimensional space (videos of the task available); these targets were reached successfully 85% of the time.
Much of the previous work in this field required invasive treatments that allowed for measurement of intracranial activity, but this new approach employs EEG in the form of a cap on the user's head. This noninvasive technique records a particular brain wave called the sensorimotor rhythm, which in turn can be characterized and calibrated to control the movements of the on-screen helicopter.
According to lead research Dr. He, "this work demonstrates for the first time that one can accomplish real-time, continuous 3-dimensional control of a flying object in a virtual world from noninvasive EEG-based brain-computer interface. Such ability used to be limited in cases where invasive recordings are used, thus the work opens avenues to noninvasive bio-navigation, or neuroprosthetics."
###
Citation: Doud AJ, Lucas JP, Pisansky MT, He B (2011) Continuous Three-Dimensional Control of a Virtual Helicopter Using a Motor Imagery Based Brain-Computer Interface. PLoS ONE 6(10): e26322. doi:10.1371/journal.pone.0026322
Financial Disclosure: This work was supported in part by Natinal Science Foundation CBET-0933067, National Institutes of Health RO1EB006433, and RO1EB007920. The funders had no role in study design, data collection and analysis, decision to publish, or preparation of the manuscript.
Competing Interest Statement: The authors have declared that no competing interests exist.
Disclaimer: This press release refers to upcoming articles in PLoS ONE. The releases have been provided by the article authors and/or journal staff. Any opinions expressed in these are the personal views of the contributors, and do not necessarily represent the views or policies of PLoS. PLoS expressly disclaims any and all warranties and liability in connection with the information found in the release and article and your use of such information.
About PLoS ONE
PLoS ONE is the first journal of primary research from all areas of science to employ a combination of peer review and post-publication rating and commenting, to maximize the impact of every report it publishes. PLoS ONE is published by the Public Library of Science (PLoS), the open-access publisher whose goal is to make the world's scientific and medical literature a public resource.
All works published in PLoS ONE are Open Access. Everything is immediately available—to read, download, redistribute, include in databases and otherwise use—without cost to anyone, anywhere, subject only to the condition that the original authors and source are properly attributed. For more information about PLoS ONE relevant to journalists, bloggers and press officers, including details of our press release process and our embargo policy, see the everyONE blog at http://everyone.plos.org/media.
---