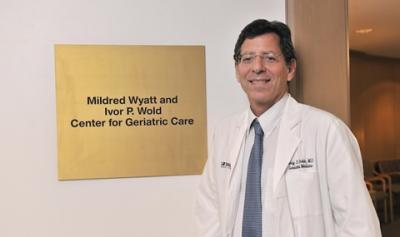 DALLAS – Aug. 8, 2013 – The Donald W. Reynolds Foundation, an advocate for teaching geriatrics to clinicians since 1996, has awarded a $1 million, four-year grant to the Geriatrics section of the Department of Internal Medicine at UT Southwestern Medical Center that emphasizes the burgeoning role of interprofessional education.
The Next Steps award, the second such grant to UT Southwestern by the Nevada-based Reynolds Foundation, is one of 10 grants approved by trustees under its Aging and Quality of Life program.
"These are very competitive grants," said Dr. Craig Rubin, chief of geriatrics and principal investigator of the UT Southwestern Aging and Geriatrics Education (UT SAGE) program. "The Reynolds Foundation decided a couple of years ago that it would fund a new round of grants open to the institutions that had previously received its support."
The UT SAGE commitment features a collaborative effort with the School of Health Professions and other professionals from nursing, social work, and pharmacy to develop a curriculum that emphasizes patient safety and patient-centered care for the elderly.
The curriculum will include virtual interprofessional experiences that use educational technology as well as face-to-face patient experiences.
"The major emphasis is on undergraduate medical training that will enhance interprofessional training and physicians' exposure to other disciplines," said Dr. Rubin, professor of internal medicine.
Faculty from the various professions will present at geriatric grand rounds, and a nationally known non-physician visiting professor will speak annually on geriatrics issues to highlight the critically important role all members of a health care team play in the care of the older patient.
Kim Hoggatt Krumwiede, associate professor of health care sciences in the UT Southwestern School of Health Professions, called the Next Steps grant the fruit of a tree planted long ago by UT SAGE.
"The program has been hugely successful," said Ms. Hoggatt Krumwiede, who heads the Interprofessional Development, Education, and Active Learning (IDEAL) program for the health professions school. "UT SAGE had ideas for its previous grants and delivered above and beyond expectations. This collaborative effort between the schools will have benefit for all UT Southwestern medical and health professions students."
The successful grant proposal cited the supportive atmosphere between UT SAGE and Convergence, a campus-wide day of interprofessional learning and collaboration that brings together students from UT Southwestern Medical School, the Graduate School of Biomedical Sciences, and the School of Health Professions.
Two years ago, Convergence day focused on Geriatrics. Future Next Steps activities will build on the fundamental skills competencies established by Convergence.
In announcing the Next Steps grant awardees, the Reynolds Foundation cited a UT SAGE plan to "develop and implement an innovative electronic health record case-based inter-professional resource for inclusion in medical and health professions curricula. SAGE will also incorporate non-physician health care professionals in its Chief Resident Immersion Training program."
"We're hoping that chief residents, in their leadership roles, will develop quality improvement projects that address issues important for the care of vulnerable older adults and will positively influence the attitudes, knowledge, and skills of residents and medical students in caring for the elderly," Dr. Rubin said.
Co-principal investigators on the grant are Dr. Lynne Kirk, professor of internal medicine and of family and community medicine, and Dr. Amit Shah, associate professor of internal medicine.
With this latest grant, the Reynolds Foundation has provided about $60 million in funding for various research efforts at UT Southwestern.
###
About UT Southwestern Medical Center
UT Southwestern, one of the premier academic medical centers in the nation, integrates pioneering biomedical research with exceptional clinical care and education. The institution's faculty has many distinguished members, including five who have been awarded Nobel Prizes since 1985. Numbering more than 2,700, the faculty is responsible for groundbreaking medical advances and is committed to translating science-driven research quickly to new clinical treatments. UT Southwestern physicians provide medical care in 40 specialties to nearly 90,000 hospitalized patients and oversee more than 1.9 million outpatient visits a year.
This news release is available on our home page at utsouthwestern.edu/home/news/index.html
To automatically receive news releases from UT Southwestern via email, subscribe at utsouthwestern.edu/receivenews
---