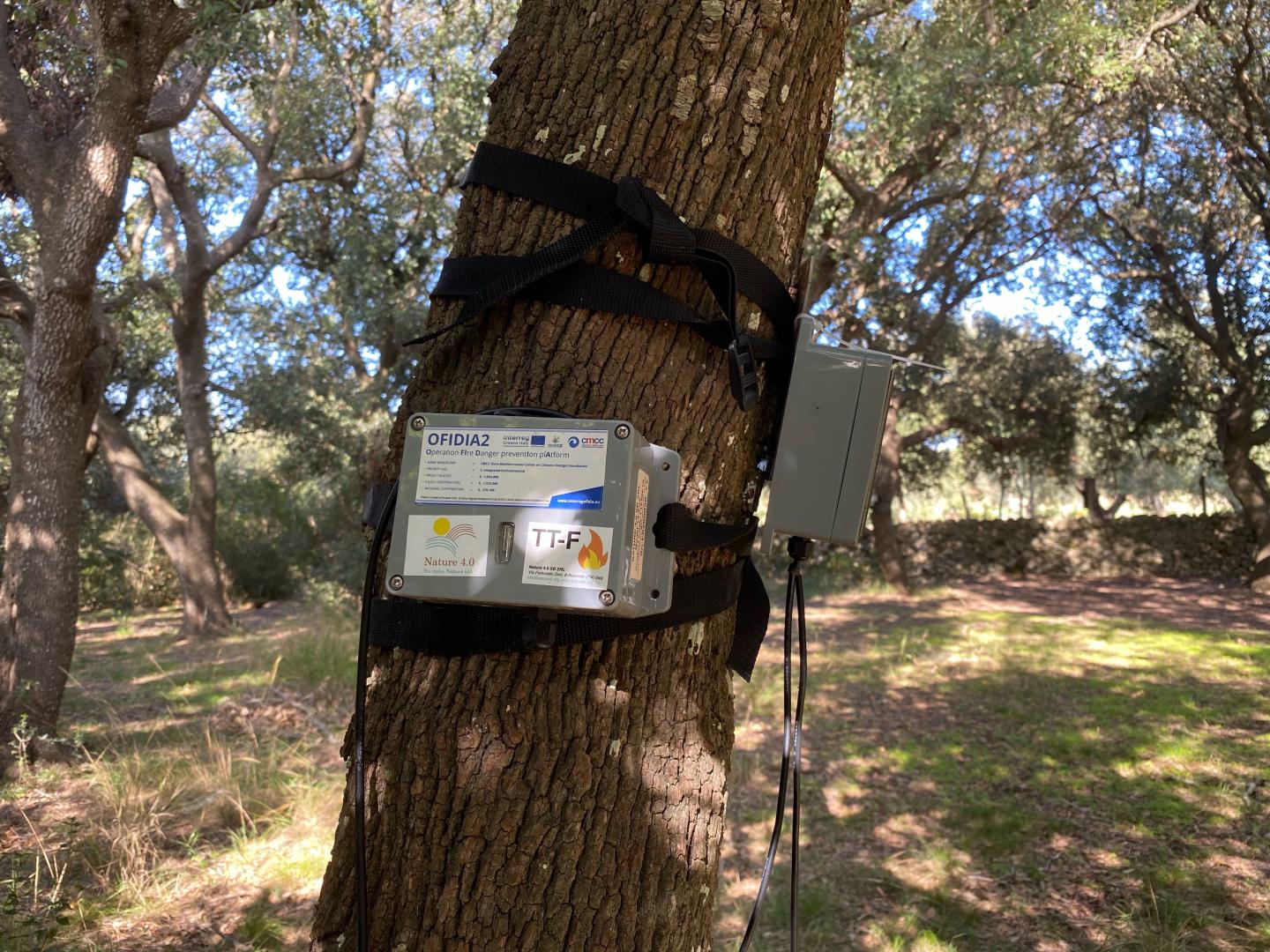 The regions of Puglia and Epirus (Greece) now have new innovative tools for fire danger prevention and operational fire-fighting decisions. The major achievements of the project Ofidia 2 - Operational Fire Danger preventIon plAtform 2 funded by the European Territorial Cooperation Operational Programme "Greece-Italy 2014 - 2020", were presented and discussed on May 25, 2021 during the final online workshop titled "Wildfire monitoring and prevention: science, innovation and cross-border cooperation towards informed decisions for firefighting".
The event involved institutional representatives, policy and decision makers, stakeholders, researchers, experts, spokespersons of the civil society and school representatives committed to fire danger forecasting and prevention activities.
The project
OFIDIA2 is a fire danger prevention platform for near real-time fire danger forecasting and monitoring. The project provides sensor data and weather forecasts in Puglia and Epirus to support operational fire-fighting decisions, including a fire-behavior projection model and a dedicated control room for the management of wildfires. Lead Partner of the project is the CMCC Foundation; the project partners are Decentralized Administration of Epirus-Western Macedonia, Forest Directorate (DAEWM), University of Ioannina, Puglia Region - Civil Protection Section; associated partners: Municipality of Lecce, ARIF (Regional Agency for Irrigation and Forest Activities).
OFIDIA2 primarily capitalizes on the OFIDIA project of the "2007-2013" programme, yet it covers substantially larger areas in terms of patrolling and monitoring in both regions. The maintenance of the natural environment is crucial due to the competitive advantages that it offers to the aforementioned regions in terms of biodiversity, tourist attraction, sustainable development and protection from natural catastrophes. OFIDIA2 proposes a pragmatic approach to improve the operational capacity of the stakeholders to detect and fight forest wildfires. The system performs "real time" monitoring through sensor data and provides weather forecasts in the two regions; it includes a specially developed fire-behavior projection model and a new wildfires control room at Puglia Civil Protection. The network offers real-time environmental monitoring to predict the risks of fire development and to adopt successful control strategies. With the help of HD video cameras, wireless sensors networks and drones, the stakeholders can effectively patrol high-danger and remotely located areas.
More information on the OFIDIA2 project website
Achievements
1. Big Data Infrastructure:
Decision Support System for wildfire monitoring and prevention

Weather parameters, fire behavior and fire danger indices

High Performance Computing and data management facilities

High resolution weather modelling and fire danger forecasting
2. Forest Fires Monitoring & Patrolling:
Weather stations and wireless sensors networks*

HD video cameras, drones and off-road vehicles
*The system for fire danger monitoring is based on the real time observation of the trees ecophysiology and meteorological parameters by means of advanced wireless IoT sensors called TreeTalkers Fire. The system allows for data acquisition, processing and storage, and the monitoring dashboard is meant to help stakeholders make informed decisions on fire mitigation and air pollution. 120 sensors have been installed at 4 nature protected areas in Puglia, covering over 100 hectares of woods.
TreeTalkers consist of a number of capacitive, infra-red and optical sensors able to capture important pre-alarm parameters about the health of the plant and the surrounding site, including fire detection hazard and alarm parameters, and to act when the fire is in progress. Real time monitoring is also ensured by the video cameras installed in the woods and by the drones used during wildfires. This information is extremely useful to the Civil Protection in the control room to check fire progress and adopt necessary firefighting measures.

The installation and operation of an autonomous, wireless camera network in the areas of Epirus and Western Macedonia also allows effective remote patrolling of forests, along with special support vehicles and drones for surface and aerial surveillance during wildfires.
3. Wildfire Control Room at Puglia Civil Protection for fire hazard forecasting and monitoring
4. FireAware crowdsensing mobile App to send an alert notification to the Civil Protection in case of a potential fire hazard, including images and the distance from fire
5. Cross-border Education and Lifelong Learning through awareness-raising campaigns on fire danger prevention and biodiversity protection
PARTNERS' QUOTES
Prof. Giovanni Aloisio ­- CMCC Foundation (Project coordinator) and University of Salento: "The project OFIDIA2 has successfully come to an end, showing that the close collaboration among academia, regional bodies and stakeholders committed to wildfire prevention can effectively contribute to achieving useful results in terms of prevention and environmental protection. The use of Supercomputing infrastructures and cutting-edge technologies allowed us to create smart solutions to the critical issue of wildfires that affect large areas of forest in Puglia and Epirus regions every year. Awareness-raising activities at school were also organized within the project, to involve young citizens and draw their attention to the importance of fire prevention."
Prof. Stergios Anastasiadis - University of Ioannina, Greece: "In the OFIDIA2 project, we have developed an innovative platform for the precision fire-danger forecasting and effective firefighting decision making. The Laboratory of Meteorology and the Computer Systems Laboratory of the University of Ioannina with valuable feedback from the Fire Corps of Epirus designed and implemented flexible tools to estimate the fire danger using weather forecasts based on the advanced WRF model, real-time sensors, and historical weather and wildfire data. Our innovative platform includes the "forecast-with-a-click" feature that provides detailed operational forecasts for any location in Epirus and the cross-border areas of Greece including part of Southern Italy."
Prof. Riccardo Valentini - CMCC Foundation (Strategic Advisor): "The Project OFIDIA2 is an excellent opportunity to prove how useful modern IoT technologies can be when addressing environmental issues and risk assessment. Nowadays, automation and robotics are widely used in traditional industrial sectors whereas only a few applications are available for environmental monitoring. The sensors network set up in OFIDIA2 uses trees as "monitoring spots" that provide real time data about the plant water status while monitoring flame conditions through innovative sensors. In this way, the system is able to deal with the assessment of risk "prevention" and "fire alarm" reporting at the same time. Packets of data are transmitted on an hourly basis to the server and can be processed in real time. Thanks to the pilot project OFIDIA2, the digital world enters the world of Nature and this enables us to address the ecological transition required by our Planet with new application tools."
Kostas Papageorgiou - Decentralized Administration of Epirus - Western Macedonia (DAEWM): "The Decentralized Administration of Epirus-Western Macedonia has installed an autonomous wireless HD camera network that is capable of real time, 24/7 ground surveillance covering an area of more than 15.000 sq. km forest land across the Greek - Albania borders. The signal is transmitted via wifimax in the control rooms of Fire Corps and Forest Service. It is designed to aid early fire detection and immediate response to avoid catastrophic wild fires during the fire season. Two off road vehicles to assist the camera network needs for support and maintenance were also purchased, along with two drones for aerial surveillance and other electronic equipment to upgrade the control room capabilities."
Lucio Pirone - Civil Protection Section at Puglia region: "In the OFIDIA2 project, the Civil Protection selected 4 wooded areas where the vegetation is highly subject to the onset of wildfires. We contributed to setting up a number of weather stations and video cameras in these areas, along with a wireless network of 120 innovative sensors that were specially designed for the project. We also purchased two Parrot Bluegrass drones for monitoring activities. In addition, the project provided the means for setting up a control room at the premises of the Civil Protection Section in Modugno (Bari), that is devoted to wildfire management activities. The Civil Protection can actually make use of the decision support system developed within the project to monitor focus areas and act based on the fire danger risk and fire behavior indices produced by 72 hours forecasting models covering the entire Puglia region."
###
---