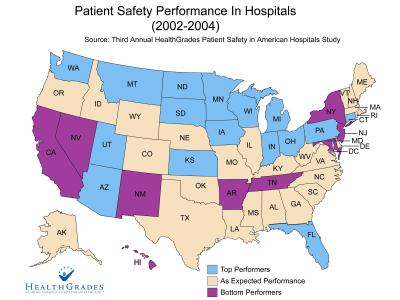 Patient safety incidents in American hospitals grew from 1.18 million to 1.24 million among the 40 million hospitalizations covered under the Medicare program, and incidents varied widely from state to state, and among the best and worst hospitals, according to a
study released today
by HealthGrades, the leading healthcare ratings company.
"Overall we see the number of patient safety incidents in American hospitals continuing to increase, at an enormous cost, and we still see a large gap between the incidence rates at the nation's top-performing and worst-performing hospitals," said Dr. Samantha Collier, HealthGrades vice president of medical affairs. "But we do find the results of serious attempts to grapple with this issue in the success of top-performing hospitals and in progressive states like Minnesota."
The third HealthGrades Patient Safety in American Hospitals study, the largest annual study of its kind, also finds:
Differences Among Hospitals
Medicare patients going to hospitals ranked among the top 15 percent in terms of patient safety incidents had, on average, 43 percent lower incidence of patient safety incidents compared to bottom-ranked hospitals
If all hospitals performed at the level of the top 15 percent, 280,134 fewer patient safety incidents and 44,153 fewer deaths among Medicare patients would have occurred, saving $2.45 billion during the years 2002 through 2004
Of the 304,702 deaths that occurred among patients who developed one or more patient safety incidents, 250,246 were potentially preventable
Medicare beneficiaries experiencing one or more patient safety incidents had a one-in-four chance of dying during their hospitalization, a rate that is unchanged since HealthGrades' first study
Number and Cost of Patient Safety Incidents
Approximately 1.24 million total patient safety incidents occurred among the nearly 40 million hospitals under the Medicare program over the years 2002, 2003 and 2004. That compares with 1.18 million over the previous three-year period, and 1.14 million over the years 2000, 2001 and 2002
These patient safety incidents were associated with $9.3 billion in excess costs during the years 2002 to 2004
State Rankings and Differences
Wide and highly significant gaps in patient safety incidence levels were discovered between the top-performing states and those at the bottom over the years 2002, 2003 and 2004
Minnesota, Wisconsin, Iowa, Michigan and Kansas ranked as the top states for hospital patient safety
New Jersey, New York, Nevada, Tennessee and the District of Columbia ranked last
Medicare patients in the best state, Minnesota, had an almost 30 percent overall lower relative risk of developing one or more of the patient safety incidents, compared with the worst state, New Jersey
Trends in Patient Safety Incidents
The patient safety incidents with the highest prevalence continue to be failure to rescue, decubitus ulcer and post-operative sepsis
Failure to rescue improved over the study period, while post-operative sepsis worsened by almost 25 percent
State Rankings The study ranked the nation's states in terms of the prevalence of patient safety incidents in each states' hospitals and are grouped as performing better, as expected, or worse than expected to a statistically significant degree:
Performed Better Than Expected
1. Minnesota
2. Wisconsin
3. Iowa
4. Michigan
5. Kansas
6. Indiana
7. Ohio
8. Pennsylvania
9. South Dakota
10. North Dakota
11. Montana
12. Utah
13. Florida
14. Washington
15. Connecticut
16. Arizona
Performed As Expected
17. West Virginia
18. Idaho
19. Georgia
20. Maine
21. Illinois
22. Massachusetts
23. Colorado
24. Oklahoma
25. Wyoming
26. Oregon
27. Rhode Island
28. Louisiana
29. North Carolina
30. Missouri
31. Alabama
32. South Carolina
33. Delaware
34. Mississippi
35. Vermont
36. Alaska
37. New Hampshire
38. Texas
39. Virginia
40. Kentucky
41. Nebraska
Performed Worse Than Expected
42. California
43. Hawaii
44. Arkansas
45. Maryland
46. New Mexico
47. District of Columbia
48. Tennessee
49. Nevada
50. New York
51. New Jersey
Minnesota ranked first overall in this year's state ranking by HealthGrades, and in this state are progressive efforts to improve patient safety. While twenty-five states now have some form of mandatory reporting of medical errors, Minnesota was the first state, in 2003, to legislate mandatory public reporting, using guidelines from the National Quality Forum. Minnesota's Safest in America program allows competitive hospitals to work together to share data, highlight best practices and implement evidence-based, community-tested solutions. Of the eight non-children's hospital systems participating in the Safest in America collaborative, four have hospitals that ranked in the top 15 percent in the national according to this study.
"Two of the patient-safety incidents found in the study to be among the most prevalent are failure to rescue and post-operative sepsis," continued Dr. Collier. "Failure to rescue is the inability to save a hospitalized patient's life when that patient has acquired in the hospital a complication, such as when a patient admitted for a total knee replacement develops pneumonia and dies. An example of post-operative sepsis is when an otherwise previously healthy patient is admitted for a total knee replacement and develops an overwhelming bacterial bloodstream infection requiring potent antibiotics and other treatment resulting in a longer hospital stay and possibly death. Both of these are areas of focus for the most progressive hospitals, who have developed successful ways of minimizing or eliminating deaths from these incidents."
###
Distinguished Hospital Awards and Findings
Based on the study, HealthGrades identified 238 hospitals reaching the top 15 percent in the nation in terms of patient safety, qualifying them to receive the HealthGrades Distinguished Hospital Award for Patient Safety. The award was designed to highlight hospitals with the best records of patient safety in the nation and to encourage consumers to research their local hospitals' patient safety records before undergoing a procedure. As a category, Medicare patients at Distinguished Hospitals experienced patient safety incidents, on average, 43.27 percent less often than patients at the bottom 15 percent of all hospitals.
Methodology
The study is based on 13 patient safety indicators developed by the Agency for Healthcare Research and Quality (AHRQ), and applied to the most recent MedPar file of Medicare admissions at nearly 5,000 hospitals covering 2002, 2003 and 2004. Teaching hospitals and non-teaching hospitals were evaluated separately, based on a recommendation from AHRQ that hospitals be compared to their peer group. All data was risk adjusted, so that hospitals with sicker patient populations could be compared equally with others.
The 13 AHRQ indicators are:
Death in low mortality Diagnostic Related Groupings (DRGs)
Decubitus ulcer
Failure to rescue
Foreign body left during procedure
Iatrogenic pneumothorax
Selected infections due to medical care
Post-operative hip fracture
Post-operative hemorrhage or hematoma
Post-operative physiologic and metabolic derangements
Post-operative respiratory failure
Post-operative pulmonary embolism or deep vein thrombosis
Post-operative sepsis
Post-operative wound dehiscence
The complete study and methodology can be found at http://www.healthgrades.com.
About HealthGrades
Health Grades, Inc. (Nasdaq:HGRD) is the leading healthcare ratings organization, providing ratings and profiles of hospitals, nursing homes and physicians to consumers, corporations, health plans and hospitals. Millions of consumers and hundreds of the nation's largest employers, health plans and hospitals rely on HealthGrades' independent ratings and decision-support resources to make healthcare decisions based on the quality of care. More information on the company can be found at http://www.healthgrades.com. HealthGrades® and Distinguished Hospitals for Patient Safety are either registered trademarks or trademarks of Health Grades, Inc.
---