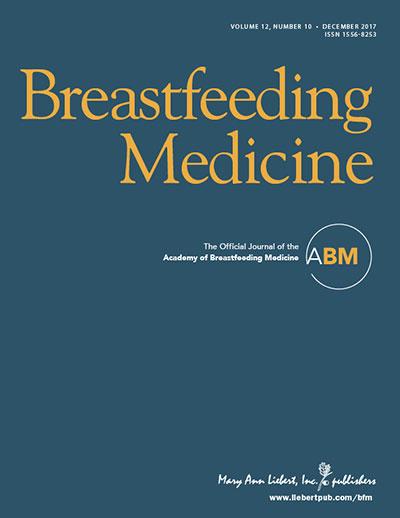 New Rochelle, NY, January 8, 2018-- In response to the increasing informal sharing of human milk, the Academy of Breastfeeding Medicine (ABM) has published guidelines to minimize the risk of this practice while enhancing the health benefits. The position statement is published in Breastfeeding Medicine, the official journal of the Academy of Breastfeeding Medicine published by Mary Ann Liebert, Inc., publishers. The article is available free on the Breastfeeding Medicine website until February 8, 2018.
"Academy of Breastfeeding Medicine's 2017 Position Statement on Informal Breast Milk Sharing for the Term Healthy Infant" discusses strategies to maximize the safety of community-based breast milk sharing, including 1) medical screening of the donor and 2) safe milk handling practices. Donors should have no medical illness where breastfeeding is contraindicated nor on any medication that is incompatible with breastfeeding. Mothers can further reduce the risk of infections by performing home pasteurization of donated milk prior to giving it to her infant; however, pasteurization can decrease some of the beneficial components of human milk. ABM also emphasizes that while informal milk sharing has potential health benefit, "internet-based milk sharing is not recommended under any circumstances."
"Informal breast milk sharing is becoming increasingly common for healthy term infants as 21st century families desire to feed their infants human milk," says Dr. Timothy Tobolic, president of ABM. "Physicians and other health care providers can help mothers and families evaluate the risks and benefits of informal milk sharing."
###
About the Journal
Breastfeeding Medicine, the official journal of the Academy of Breastfeeding Medicine, is an authoritative, peer-reviewed, multidisciplinary journal published 10 times per year in print and online. The Journal publishes original scientific papers, reviews, and case studies on a broad spectrum of topics in lactation medicine. It presents evidence-based research advances and explores the immediate and long-term outcomes of breastfeeding, including the epidemiologic, physiologic, and psychological benefits of breastfeeding. Tables of content and a sample issue may be viewed on the Breastfeeding Medicine website.
About the Academy of Breastfeeding Medicine
The Academy of Breastfeeding Medicine is a worldwide organization of medical doctors dedicated to the promotion, protection, and support of breastfeeding. For over 20 years, ABM has been bringing doctors together to provide evidence-based solutions to the challenges facing breastfeeding across the globe. A vast body of research has demonstrated significant nutritional, physiological, and psychological benefits for both mothers and children that last well beyond infancy. But while breastfeeding is the foundation of a lifetime of health and wellbeing, clinical practice lags behind scientific evidence.
Since its founding in 1993, ABM has been building a global community of medical doctors with diverse backgrounds, experiences, perspectives, and specialties. Through its worldwide membership, peer-reviewed journal, Fellowship in Breastfeeding Medicine, Annual International Meeting, and partnerships with other organizations, ABM has created a network of experts and advocates to drive medicine forward in this crucial area. By building on our legacy of research into this field and sharing it with the broader medical community, we can overcome barriers, influence health policies, and change behaviors.
About the Publisher
Mary Ann Liebert, Inc., publishers (http://www.liebertpub.com/) is a privately held, fully integrated media company known for establishing authoritative peer-reviewed journals in many promising areas of science and biomedical research, including Journal of Women's Health, Childhood Obesity, and Pediatric Allergy, Immunology, and Pulmonology. Its biotechnology trade magazine, GEN (Genetic Engineering & Biotechnology News) was the first in its field and is today the industry's most widely read publication worldwide. A complete list of the firm's 80 journals, books, and newsmagazines is available on the Mary Ann Liebert, Inc., publisher's website.
---
Journal
Breastfeeding Medicine