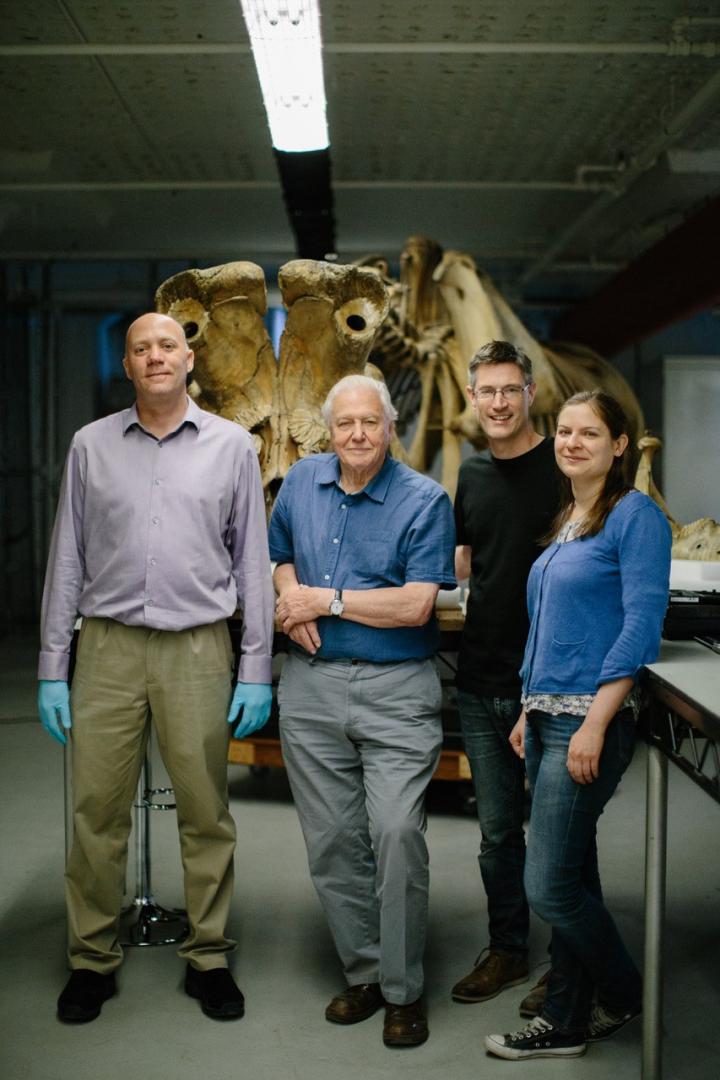 New insights into the life and mysterious death of Jumbo the elephant - a celebrity animal superstar whose story is said to have inspired the film 'Dumbo' - will be revealed in a BBC One documentary hosted by Sir David Attenborough and featuring a University of Leicester archaeologist on Sunday 10 December.
Dr Richard Thomas, from the University of Leicester's School of Archaeology and Ancient History, was invited as lead scientist on the 'Attenborough and the Giant Elephant' documentary.
As part of the project Dr Thomas spent a week in New York analysing Jumbo's skeleton, which offered vital clues into Jumbo's life and controversial death.
Dr Thomas worked with Professor John Hutchinson (Royal Veterinary College) and Dr Holly Miller (University of Nottingham) to build a biography of Jumbo's life - with the hope of resolving the long-standing mystery of how he died.
The documentary will reveal Jumbo's height and body mass, and establish if he was as big as it was claimed.
Detailed macroscopic and chemical analysis of his teeth and bones will also reveal the stresses and strains of captive life and provide insights into how Jumbo might have died.
Dr Richard Thomas, from the University of Leicester's School of Archaeology and Ancient History, said: "Jumbo is perhaps the most famous elephant in the world. His name is now used as an adjective to describe everything from passenger planes to toilet roll. His story is both captivating and tragic. Born in Sudan in 1860 he was captured as a calf and transported to a zoo in Paris, before arriving at London Zoo in 1865 as their first African elephant. Whilst at London he became the pride of the Zoo, often giving walks to children around the city.
"Jumbo had an intimate relationship with his keeper John Scott - under whose care he survived illness and grew to be the 'largest elephant in the world', or so it was claimed.
"Unfortunately, Jumbo became increasingly aggressive as he reached sexual maturity and the zoo took the controversial decision of selling him to Barnum and Bailey's travelling circus. Despite major public protests, a petition, and an outbreak of Jumbo-mania, Jumbo was eventually shipped across the Atlantic, arriving in New York to great fanfare in 1882.
"In America he became centrepiece of the Greatest Show on Earth, a travelling circus that traversed the length of the US and Canada. Unfortunately, Jumbo died in tragic circumstances: contemporary accounts describe that he was hit by a train while crossing the track to reach his carriage, possibly saving a younger elephant in the process; however, a number of stories emerged at the time suggesting that his death may not have been an accident."
As part of the analysis the team were given unique access to Jumbo's skeleton at the American Museum of Natural History.
As well as Jumbo's skeleton, Sir David will also explore the lives of wild elephants to explain Jumbo's troubled mind, and he discovers how our attitude to captive elephants has changed dramatically in recent years.
Dr Thomas added: "Working alongside Sir David Attenborough has unquestionably been the highlight of my professional career. Like many, watching Sir David's documentaries was incredibly formative during my childhood, inspiring my own love of natural history. His knowledge, passion and curiosity for all aspects of our natural world was wonderful to observe first-hand."
'Attenborough and the Giant Elephant' is broadcast on Sunday 10 December between 9.00pm-10.00pm on BBC ONE.
###
More information about the documentary is available here: http://www.bbc.co.uk/mediacentre/proginfo/2017/50/attenborough-and-the-giant-elephant
Image of the team with Sir David Attenborough available here (Credit - Photography: Vik Manchanda, Copyright: Humble Bee Films): https://www.dropbox.com/sh/lbg7dp8innvjctc/AABETnBr2pyCNUh1cKxNdrMWa?dl=0
More pictures are available to download at http://www.bbcpictures.co.uk
---