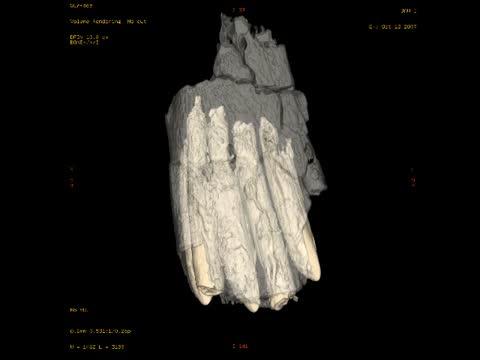 Some of the largest herbivorous dinosaurs replaced their teeth at a rate of approximately one tooth every 1-2 months to compensate for tooth wear from crunching up plants, according to research published July 17 in the open access journal PLOS ONE by Michael D'Emic from Stony Brook University and colleagues from other institutions.
A little like counting tree rings, researchers can estimate rates of tooth formation and replacement in extinct animals by counting lines of deposition of tooth dentin, a layer below enamel that grows throughout an animal's life. In this study, authors estimated tooth replacement rates in Diplodocus and Camarasaurus, two distantly related, different-looking sauropod dinosaurs of similar giant size. Camarasaurus had up to three "baby teeth" lined up in each tooth socket, and replaced about one tooth every 62 days. Each Diplodocus tooth socket held up to five replacement teeth and one functional tooth, and each tooth was replaced once in 35 days. As D'Emic explains, "A nearly 100-foot-long sauropod would have had a fresh tooth in each position about every one to two months, sometimes less. Effectively, sauropods took a 'quantity over quality' approach to making teeth, opposite the approach taken by large animals —mammals — today."
These sauropod dinosaurs were the largest terrestrial herbivores known, and would have required huge food supplies. Eating large amounts of plant foods likely caused extensive tooth wear, requiring this constant growth and replacement. Differences in the rates at which these species replaced their teeth could reflect differences in their feeding strategies or food choices.
###
Citation: D'Emic MD, Whitlock JA, Smith KM, Fisher DC, Wilson JA (2013) Evolution of High Tooth Replacement Rates in Sauropod Dinosaurs. PLoS ONE 8(7):e69235. doi:10.1371/journal.pone.0069235
Financial Disclosure: Funding was provided by the Scott D. Turner Award (University of Michigan) to MDD. The funders had no role in study design, data collection and analysis, decision to publish, or preparation of the manuscript.
Competing Interest Statement: The authors have declared that no competing interests exist.
PLEASE LINK TO THE SCIENTIFIC ARTICLE IN ONLINE VERSIONS OF YOUR REPORT (URL goes live after the embargo ends): http://dx.plos.org/10.1371/journal.pone.0069235
Disclaimer: This press release refers to upcoming articles in PLOS ONE. The releases have been provided by the article authors and/or journal staff. Any opinions expressed in these are the personal views of the contributors, and do not necessarily represent the views or policies of PLOS. PLOS expressly disclaims any and all warranties and liability in connection with the information found in the release and article and your use of such information.
About PLOS ONE: PLOS ONE is the first journal of primary research from all areas of science to employ a combination of peer review and post-publication rating and commenting, to maximize the impact of every report it publishes. PLOS ONE is published by the Public Library of Science (PLOS), the open-access publisher whose goal is to make the world's scientific and medical literature a public resource.
All works published in PLOS ONE are Open Access. Everything is immediately available—to read, download, redistribute, include in databases and otherwise use—without cost to anyone, anywhere, subject only to the condition that the original authors and source are properly attributed. For more information about PLOS ONE relevant to journalists, bloggers and press officers, including details of our press release process and our embargo policy, see the everyONE blog at http://everyone.plos.org/media.
---