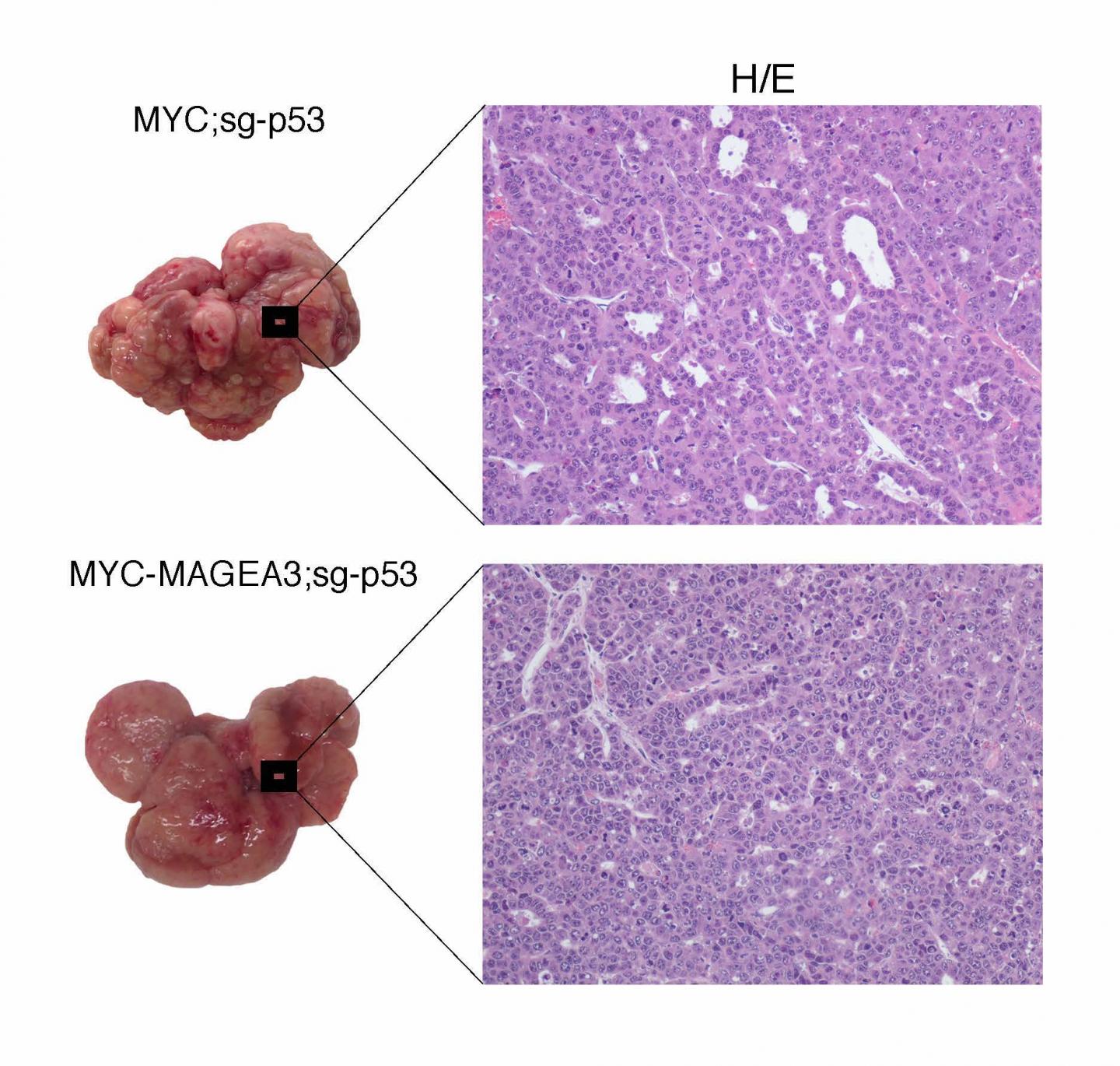 Drugs targeting the gene MAGEA3 may help block the growth of hepatocellular carcinoma (HCC), the most common type of primary liver cancer and one of the leading causes of cancer deaths in the country. That's one conclusion of a new study analyzing the genetics of HCC tumors published June 24th in the journal PLOS Genetics by Augusto Villanueva of the Icahn School of Medicine at Mount Sinai and colleagues.
Scientists have previously discovered several genes that drive the growth of HCC tumors, yet treatment benefit from approved drugs is still limited. In the new study, Villanueva and colleagues collected 44 tumor biopsies from 12 HCC patients. The researchers used RNA sequencing to study which genes were more highly expressed in high-grade regions of a tumor compared to low-grade regions of the same tumor.
One family of genes--cancer testis antigens (CTAs) -was recurrently over-expressed in the most aggressive regions of tumors. CTAs, most of which are located on the X chromosome, are usually expressed in male germ cells within the testes and are believed to play roles in spermatogenesis as well as protecting germ cells from stressors and cell death. Villanueva's team found that CTAs, and especially MAGEA3, are associated with poor prognosis in HCCs. Moreover, when the group blocked the expression of MAGEA3 in isolated HCC cells, the cells could no longer proliferate and eventually died. When the group overexpressed MAGE3 in the liver cells of mice prone to HCC, the animals died of cancer more quickly. Future studies are needed to replicate the results in larger patient populations and probe whether MAGEA3 itself, or its downstream targets, are more effective to target therapeutically.
"The study uncovered the role of cancer testis antigens, specifically MAGEA3, in liver cancer progression," Villanueva adds. "It demonstrates how selective inhibition of MAGEA3 has anti-tumoral effects on experimental models of this disease. Overall, the study provides the proof-of-principle to test MAGEA3 inhibition in early phase clinical trials for patient with primary liver cancer."
###
Peer-reviewed; Experimental study; People
In your coverage please use this URL to provide access to the freely available article in PLOS Genetics: http://journals.plos.org/plosgenetics/article?id=10.1371/journal.pgen.1009589
Citation: Craig AJ, Garcia-Lezana T, Ruiz de Galarreta M, Villacorta-Martin C, Kozlova EG, Martins-Filho SN, et al. (2021) Transcriptomic characterization of cancer-testis antigens identifies MAGEA3 as a driver of tumor progression in hepatocellular carcinoma. PLoS Genet 17(6): e1009589. https://doi.org/10.1371/journal.pgen.1009589
Funding: JvF was supported by the German Research Foundation (FE1746/1-1). IL was supported by a grant from the Swiss National Science Foundation (http://www.snf.ch/en/Pages/default.aspx), from Foundation Roberto & Gianna Gonella and Foundation SICPA (https://www.sicpa.com/sustainability/switzerland-institution-research-paraplegia). MRdG was supported by Fundación Alfonso Martín Escudero Fellowship (https://fundame.org/) and Damon Runyon-Rachleff Innovation Award (DR52-18). EB was supported by Damon Runyon-Rachleff Innovation Award (DR52-18). AL was supported by Damon Runyon-Rachleff Innovation Award (DR52-18), R37 Merit Award (R37CA230636), and DoD Translational Team Science Award (CA150272P2) and Icahn School of Medicine at Mount Sinai (https://icahn.mssm.edu/). The Tisch Cancer Institute and related research facilities are supported by P30 CA196521. AV is supported by the DoD Translational Team Science Award (CA150272P3). JML was supported by European Commission (EC)/Horizon 2020 Program (HEPCAR, Ref. 667273-2), EIT Health (CRISH2, Ref. 18053), Accelerator Award (CRUCK, AEEC, AIRC) (HUNTER, Ref. C9380/A26813), National Cancer Institute (P30-CA196521), U.S. Department of Defense (CA150272P3), Samuel Waxman Cancer Research Foundation (https://www.waxmancancer.org), Spanish National Health Institute (SAF2016-76390) and the Generalitat de Catalunya/AGAUR (SGR-1358). TGL is supported by the Spanish Association for the Study of the Liver (https://ww2.aeeh.es/). The funders had no role in study design, data collection and analysis, decision to publish, or preparation of the manuscript.
Competing interests: I have read the journal's policy and the authors of this manuscript have the following competing interests: AL has received grant support from Pfizer and Genentech, and lecture fees from Exelixis for unrelated projects. MRdG has received grant support from Genentech for unrelated projects. AV has received consulting fees from Guidepoint and Fujifilm; advisory board fees from Exact Sciences, Nucleix and NGM Pharmaceuticals. JML has received grant support from Bayer HealthCare Pharmaceuticals, Eisai Inc, Bristol-Myers Squibb, Boehringer-Ingelheim and Ipsen and consulting fees from Bayer HealthCare Pharmaceuticals, Merck, Eisai Inc, Bristol-Myers Squibb, Celsion Corporation, Eli Lilly, Roche, Genentech, Glycotest, Nucleix, Can-Fite Biopharma, AstraZeneca, and Exelixis.
---