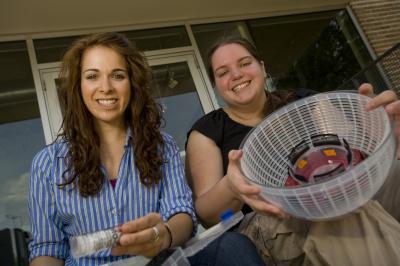 Doctors in the African nation of Malawi may be able to save more lives among gravely ill infants because of a device developed by Rice University freshmen taking a course in developing new technologies to respond to global health challenges.
Called Appropriate Design for Global Health, the curriculum module has been chosen by the journal Science to receive the Inquiry-Based Instruction (IBI) Prize.
Science's IBI Prize was developed to showcase outstanding materials, usable in a wide range of schools and settings, for teaching introductory science courses at the college level. The materials must be designed to encourage students' natural curiosity about how the world works, rather than to deliver facts and principles about what scientists have already discovered. Organized as one free-standing "module," the materials should offer real understanding of the nature of science, as well as providing an experience in generating and evaluating scientific evidence. Each month, Science publishes an essay by a recipient of the award, which explains the winning project. The essay about Appropriate Design for Global Health, by Rebecca Richards-Kortum, Lauren Vestewig Gray, and Maria Oden, will be published on April 27.
"We're trying to advance science education," says Bruce Alberts, editor-in-chief of Science. "This competition provides much-needed recognition to innovators in the field whose efforts promise significant benefits for students and for science literacy in general. The publication in Science of an article on each laboratory module will help guide educators around the globe to valuable free resources that might otherwise be missed."
The life-saving device developed by Rice University freshmen this semester responds to a problem presented by a pediatric physician who works in a Malawi hospital. Often faced with dangerously dehydrated infants, the doctor reported he was reluctant to start intravenous fluids because nurses at his hospital can be charged with 50 or 60 babies and often cannot handle shutting off the gravity-flow intravenous line from the one-liter sacks of fluid before fatal over-hydration could occur. Pouring off, and thereby wasting, fluid in the one-liter bags beyond what an infant could tolerate was not practical in a system starved for resources. Instead, the students' invention employs a kitchen scale that can be set to tip when the proper amount of fluid has been administered, tripping a mousetrap-like device that clamps off the intravenous line's plastic tubing. Two of the freshmen who worked on the classroom team to develop the system will travel to Malawi this summer to demonstrate it and get feedback on how well it satisfies the hospital's needs.
"Students presented with this kind of opportunity are so motivated, and they just work so hard," says Richards-Kortum, a professor of bioengineering at Rice and one of the creators of Appropriate Design for Global Health, and its umbrella program, Beyond Traditional Borders. "It's so much fun to watch them get to the point where they have something that can really make a difference."
Richards-Kortum's own undergraduate experience was at the University of Nebraska, which she entered knowing only that she wanted to study something involving math. "I honestly didn't even know what engineering was," she says. There, she ended up majoring in physics and working in a lab, where she discovered she wanted to do research that could be readily applied to solve problems.
"For me, that was very motivating," she says, explaining that her love of applied research led her to study biomedical engineering at MIT.
It was when Richards-Kortum was working on developing better screening for the detection of cervical cancer that she transitioned from a First World context to a global perspective. When she was asked to develop a cervical cancer screening project for women in Nigeria, she was taken aback by the urgency of the need there, as well as the challenges to meeting that need.
"I felt like until then I had not really seen where the problem was," she says.
When Richards-Kortum was invited to Malawi to work on a project involving children with HIV by Dr. Mark Kline, of Baylor College of Medicine, she saw that the need for new technologies to address global health concerns could present an exciting educational opportunity for undergraduate students in the United States.
In addition to the intravenous shutoff system for infants, projects by students who have participated in Appropriate Design for Global Health or Beyond Traditional Borders have resulted in 58 technologies. One student team invented a hand-powered centrifuge made with a $35 salad spinner, which laboratory testing has shown is as accurate as a commercially available centrifuge. Another team designed a simple clip that fits into an oral syringe to guarantee proper dosing of medications for children and pregnant women with HIV. The clips are being used throughout Swaziland, and have been adapted for use by end-stage cancer patients in Malawi who require a precise amount of morphine every four hours, often in extremely simple settings where there is not even any electricity to turn on lights at night.
The students who enroll in the Appropriate Design module are generally sophomores and represent a wide range of majors: bioengineering, biosciences, social sciences, and even the humanities, although some of the humanities students are headed to medical school and have strong science backgrounds. Richards points out, however, that many of the projects have been developed by teams with no scientists or engineers. She says that the design challenges that students consider don't necessarily require technical knowledge. If, however, a team encounters a difficult technical issue for which they need help, she and her colleagues include a "short course" within the module to clarify understanding on that particular point. So far, the approach has been extremely successful.
"The success of Appropriate Design for Global Health should encourage others to start thinking of education as an avenue to solve problems," says Melissa McCartney, editorial fellow at Science.
In the same way that Richards-Kortum was drawn to research that could solve real-world problems, she says she wants to cultivate that inclination in students, whom she has found to be especially service-oriented in recent years. "They want to use their talents to help other people."
Richards-Kortum says she hopes winning the IBI Prize and having an essay published in Science will bring about more programs like hers. "I would like opportunities like this to be more available to students in order to capture their idealism and enthusiasm, and to keep them involved in engineering when they might not otherwise continue."
###
The American Association for the Advancement of Science (AAAS) is the world's largest general scientific society and publisher of the journal Science (www.sciencemag.org) as well as Science Translational Medicine (www.sciencetranslationalmedicine.org) and Science Signaling (www.sciencesignaling.org). AAAS was founded in 1848 and includes some 261 affiliated societies and academies of science, serving 10 million individuals. Science has the largest paid circulation of any peer-reviewed general science journal in the world, with an estimated total readership of 1 million. The non-profit AAAS (www.aaas.org) is open to all and fulfills its mission to "advance science and serve society" through initiatives in science policy, international programs, science education, public engagement, and more. For the latest research news, log onto EurekAlert!, www.eurekalert.org, the premier science-news Web site, a service of AAAS. See www.aaas.org.
---