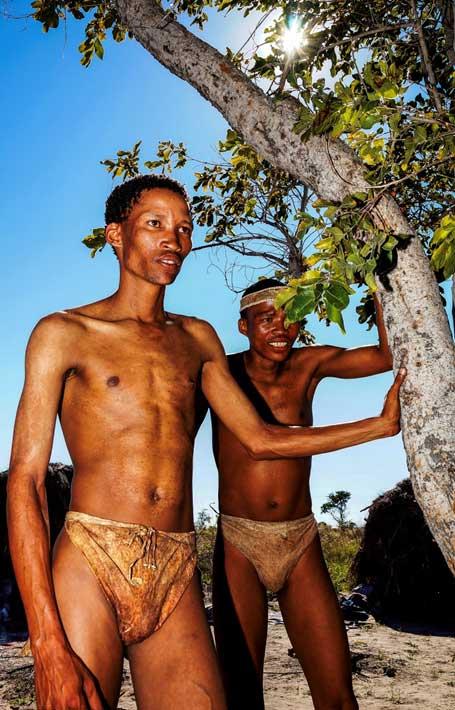 It's tempting to believe that people these days aren't getting enough sleep, living as we do in our well-lit houses with TVs blaring, cell phones buzzing, and a well-used coffee maker in every kitchen. But new evidence reported in the Cell Press journal Current Biology on October 15 shows that three ancient groups of hunter-gatherers--living in different parts of the world without any of those trappings of modern life--don't get any more sleep than we do.
Those traditional people sleep a little under 6.5 hours a night on average. They don't take regular naps. They don't go to sleep at dark, either. In other words, their sleep habits don't look so different from ours, although they usually do wake up before the sun rises.
"The short sleep in these populations challenges the belief that sleep has been greatly reduced in the 'modern world,'" says Jerome Siegel of the University of California, Los Angeles. "This has important implications for the idea that we need to take sleeping pills because sleep has been reduced from its 'natural level' by the widespread use of electricity, TV, the Internet, and so on."
To get a handle on how people slept before the modern era, Siegel and his colleagues looked to three traditional human hunter-gatherer societies: the Hadza of Tanzania, the San of Namibia, and the Tsimane of Bolivia. The researchers recorded the sleeping habits of 94 individuals around the clock to collect data representing 1,165 days in all.
What they found was a surprising similarity across those three groups. "Despite varying genetics, histories, and environments, we find that all three groups show a similar sleep organization, suggesting that they express core human sleep patterns, probably characteristic of pre-modern-era Homo sapiens," Siegel says.
Group sleep time averaged between 5.7 and 7.1 hours, with between 6.9 and 8.5 hours between the beginning and end of the sleep period. Those amounts are at the low end of durations reported in "industrial societies."
Hunter-gatherers sleep an hour more in the winter than they do in the summer. Although they lack electric lights, none of the groups went to sleep with the sun. On average, they stayed up a little over three hours after the sun went down and woke up before sunrise.
It appears that their sleep time may have more to do with temperature than with light. Those ancient groups all went to sleep as the temperature fell and slept through the coldest part of the night.
There is one important way in which hunter-gatherers aren't like us: very few of them suffer from chronic insomnia--a common complaint in the US. That raises an interesting possibility, the researchers say.
"Mimicking aspects of the natural environment experienced by these groups might be effective in treating certain modern sleep disorders, particularly insomnia, a disorder affecting more than 20 percent of the US population," Siegel says.
###
The authors were supported by the National Institutes of Health, the National Institute on Aging, the National Research Foundation of South Africa, and the National Science Foundation.
Current Biology, Yetish et al.: "Natural Sleep and Its Seasonal Variations in Three Pre-industrial Societies" http://dx.doi.org/10.1016/j.cub.2015.09.046
Current Biology (@CurrentBiology), published by Cell Press, is a bimonthly journal that features papers across all areas of biology. Current Biology strives to foster communication across fields of biology, both by publishing important findings of general interest and through highly accessible front matter for non-specialists. For more information please visit http://www.cell.com/current-biology. To receive media alerts for this or other Cell Press journals, contact press@cell.com.
---