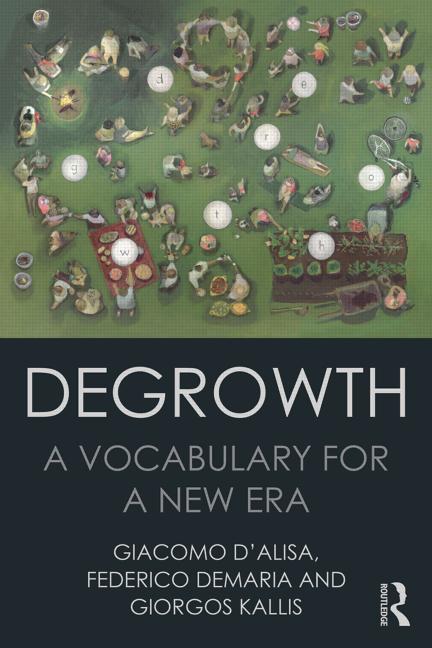 Economic growth is harming the planet, it is incapable of eradicating poverty and it is not making us happier. However, there is no need to worry: there are alternatives and social movements working to end the obsession of continuous growth. This is the provocative message Giacomo D'Alisa, Federico Demaria and Giorgos Kallis, three ICTA-UAB researchers, wish to convey through a new book titled Degrowth: A Vocabulary for a New Era, recently published in English by Routledge.
"In an era of economic crisis, growth seems indispensable. With this book, we wish to distinguish recession from degrowth. We aim to change the way we think and speak of the economy and of our role in it", the authors explain.
Degrowth involves new ways of organising society to live prosperously without being obsessed with growth. The book offers comprehensive explanations of this theory and aims to become a reference in this concept, which combines the disciplines of political ecology, ecological economics, environmental sciences and sociology.
It includes 51 entries written by renowned experts in the field, which expose the limits and pitfalls of growth as well as concrete social and policy alternatives through a set of key words used in current political debates with the aim of reaching specific degrowth objectives at local, national and global levels. Entries are written by an international set of scholars, including leading academics such as Juliet Schor, Tim Jackson, Serge Latouche, Joan Martinez-Alier and Arturo Escobar, as well as several researchers from ICTA.
The research cases included in the book received financial support from ENTITLE, the European network of political ecology, an EU Seventh Framework Programme project coordinated by the ICTA-UAB. This network is one of the first initiatives in the world in training and research on political ecology. The institute also includes a research group that has grown to be the world´s reference in the field of degrowth.
The book will soon be available in Spanish, French, German, Portuguese and Greek.
Support from Renowned Academics
Several prestigious academics have noted that Degrowth: A Vocabulary for a New Era is destined to become a benchmark on debates about constructing a New Economy. Manuel Castells, Professor in Sociology and director of the Internet Interdisciplinary Institute of the Open University of Catalonia, referred to the book as "a revolutionary attempt to understand the economy as if humans and nature matter". David Graeber, of the London School of Economics, commented that nothing in our times "could be more important than the movement - of thought, and of action - that this volume on Degrowth represents." Activist-scholar Silvia Federici of Hofstra University in New York congratulated the authors for producing a volume which "offers a map to the world of alternatives to capitalism".
###
Image: http://www.uab.cat/uabdivulga/img/ICTA-UAB-DegrowthCOVER.jpg
Contact researcher:
Federico Demaria
Tel: +34 622 135 090
federico.demaria@uab.cat
http://www.uab.cat/uabdivulga/img/ICTA-UAB-Degrowth.pdf
http://vocabulary.degrowth.org/
http://vimeo.com/110013401
---