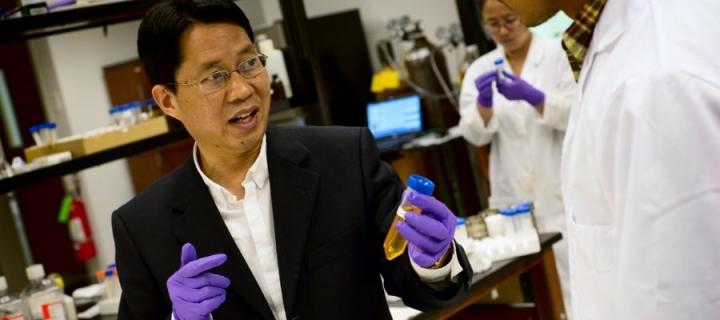 The International Association of Advanced Materials (IAAM) has selected a physicist and renowned cancer researcher at The University of Texas at Arlington as a fellow in recognition of his original and significant research in the fields of materials science, engineering and technology.
Wei Chen, UTA physics professor, specializes in developing nanomaterials for highly selective cancer treatments and bioimaging techniques.
According to the IAAM, awarding fellow status serves as a way to recognize and honor far-reaching involvement and contributions of a scientist who has spent at least two decades working in the sphere of advanced materials.
"I am deeply passionate about my work in uncovering methods to more effectively treat and eradicate cancer in ways that cause less complications for patients," Chen said. "To be recognized with this distinguished honor is an affirmation of the value of this work I am privileged to conduct with esteemed colleagues. I look forward to the doors and opportunities for new, meaningful collaborations this could open."
Chen's designation as an IAAM fellow comes on the heels of his publication of a series of high-impact studies in collaboration with a number of international, multi-institutional research teams.
Chen's research has helped develop a number of breakthroughs and proposals for new cancer treatment concepts in recent years. He has uncovered new photosensitive nanoparticles that can be injected into deep-seated tumors and activated to kill tumor cells without damaging the healthy cells around them. His work includes the following:
* In 2006, he pioneered the concept of self-lighting nanoparticle photodynamic therapy using X-rays, establishing the field of X-ray-induced photodynamic therapy for the first time. The study was published in the Journal of Nanoscience and Nanotechnology and has been cited 521 times.
* In 2010, Chen's team studied copper-sulfide nanoparticles as heating agents for photothermal therapy for the first time. The article on the research published in Nanomedicine has been cited 445 times and ranked in the top 0.31% of articles between 2010 to 2014.
* In 2014, Chen and his team invented copper-cysteamine, or Cu-Cy, a nanoparticle that can be activated by light, microwaves, X-ray or ultrasound to kill multiple kinds of cancer.
* In 2016, Chen lead a team that was the first to demonstrate the use of microwaves to trigger cell death in deeply situated, solid tumors.
* In 2018, Chen was awarded U.S. and international patents on his Cu-Cy nanoparticle.
* In 2019, Chen and a team of international collaborators advanced the idea of using titanium dioxide nanoparticles stimulated by microwaves to trigger the death of cancer cells.
* In 2020, Chen was recognized as a senior member of the National Academy of Inventors for demonstrating remarkable innovation producing technologies that have the potential for a significant impact on the welfare of society.
"To be designated as a fellow of IAAM is a well-deserved recognition of Wei's tireless scholarship," College of Science Dean Morteza Khaledi said. "His continued achievements reflect on UTA as an integral piece of our global research community, of which Wei is at the forefront. I look forward to the invaluable impacts his research will bring to fruition."
###
---