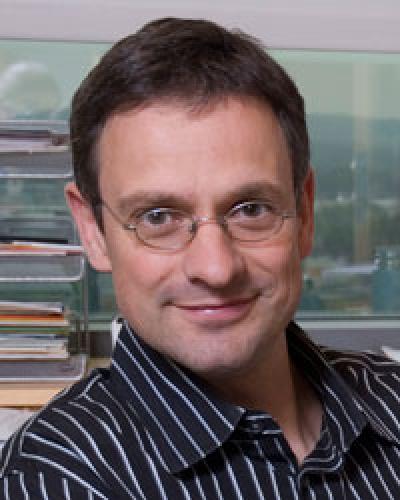 BETHESDA, Md., April 7, 2011 – The American Society for Biochemistry and Molecular Biology has named Job Dekker, an associate professor at University of Massachusetts Medical School, the winner of the nonprofit's Young Investigator Award. Dekker will present his award lecture, titled "Three-dimensional Folding of Genomes," at 2:55 p.m. Tuesday, April 12, at the Experimental Biology conference at the Walter E. Washington Convention Center in Washington, D.C.
Dekker, a member of UMMS's program in gene function and expression in the department of biochemistry and molecular pharmacology, studies chromosome structure, and he is credited with developing early in his career a suite of extremely powerful methodologies to probe the 3-D structure of chromosomes at remarkably high resolutions. Since then, he has developed a method of using deep sequencing that allows analysis of millions of chromosome interactions in parallel.
When nominating Dekker, UMMS professor and department chairman C. Robert Matthews emphasized that the methods have brought previously invisible aspects of chromosomes into view, opening an entirely new field of study.
"Job Dekker embodies all that one might expect in the next generation of leaders in science," Matthews said. "Job sees the big picture, he is very creative, he is ambitious and he gets things done."
Tom Misteli, a senior investigator and the chief of the National Cancer Institute's cell biology of genomes arm, echoed Matthews' sentiments in support of Dekker's award: "[He] is an extraordinary scientist in many ways. He is ingenious, persistent to a fault, creative and a big thinker. While many have shied away from tackling the big question of how genomes are organized in vivo, Job Dekker fearlessly and relentlessly developed a method to pursue the answer to a very big question. His work has changed how we study gene expression, and the methods he has developed will shape the way we study genomes for many years to come."
Dekker received his bachelor's and doctoral degrees from the University of Utrecht, the Netherlands, in 1993 and 1997, respectively. He joined UMMS after a stint as a postdoctoral fellow at Harvard University from 1998 to 2003.
His pioneering approach has garnered considerable recognition and awards, including selection as a W. M. Keck Foundation Distinguished Young Scholar in 2007.
The ASBMB young investigator award recognizes outstanding research contributions to biochemistry and molecular biology by those who have no more than 15 years postdoctoral experience. It consists of a plaque, a $5,000 prize and travel expenses to present a lecture at ASBMB's annual meeting in April in Washington, D.C.
Dekker's award lecture will be at 2:55 p.m. Tuesday, April 12, in the convention center's Ballroom C.
###
About Experimental Biology 2011
Six scientific societies will hold their joint scientific sessions and annual meetings, known as Experimental Biology, from April 9-13, 2011, in Washington, D.C. This meeting brings together the leading researchers from a broad array of life science disciplines. The societies include the American Association of Anatomists (AAA), American Physiological Society (APS), American Society for Biochemistry and Molecular Biology (ASBMB), American Society for Investigative Pathology (ASIP), American Society for Nutrition (ASN), and American Society for Pharmacology and Experimental Therapeutics (ASPET).
More information about EB2011 for the media can be found on the press page: http://experimentalbiology.org/content/PressInformation.aspx.
About the American Society for Biochemistry and Molecular Biology
The ASBMB is a nonprofit scientific and educational organization with more than 12,000 members worldwide. Most members teach and conduct research at colleges and universities. Others conduct research in various government laboratories, at nonprofit research institutions and in industry. The Society's student members attend undergraduate or graduate institutions. For more information about ASBMB, visit www.asbmb.org.
---