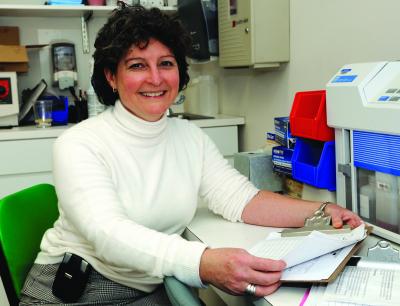 BOSTON – July 1, 2013 -- Joslin scientists report that salsalate, a drug used to treat arthritis, lowers blood glucose and improves glycemic control in type 2 diabetes. These findings, which were published today by the Annals of Internal Medicine, provide additional evidence that salsalate may be an effective drug to treat type 2 diabetes.
The scientists became interested in studying salsalate, an anti-inflammatory drug, after research conducted by Steven Shoelson, M.D., Ph.D., Head of the Section on Pathophysiology and Molecular Pharmacology and Professor of Medicine at Harvard Medical School, identified inflammation as a factor in the development of type 2 diabetes.
Stage 1 of TINSAL-T2D (Targeting Inflammation Using Salsalate in Type 2 Diabetes) evaluated varying doses of salsalate in 108 participants with type 2 diabetes for 14 weeks. This study was reported in the Annals of Internal Medicine in 2010. The current findings are based on Stage 2 of TINSAL-T2D, which evaluated 286 participants with type 2 diabetes for 48 weeks. The subjects' blood glucose was inadequately controlled on current diabetes medications. Participants were randomized into salsalate and placebo groups.
After 48 weeks of treatment, the mean hemoglobin A1c level (a measurement of average blood glucose control over the past six to twelve weeks) was 37 percent lower in the salsalate group compared to the placebo group. The decrease in fasting glucose concentration was 15 mg/dl greater in the salsalate group than the placebo group. Patients in the salsalate group required fewer additional diabetes medications to control their blood sugar than patients in the placebo group.
"It's exciting that salsalate is effective in lowering blood sugar," says Allison Goldfine, M.D., lead author and Head of the Section of Clinical, Behavioral and Outcomes Research, and an Associate Professor of Medicine at Harvard Medical School. "Salsalate may have an important role in diabetes treatment and may also help us learn more about how inflammation contributes to the development of type 2 diabetes."
The salsalate group also showed improvements in markers associated with coronary risk: a 9 percent reduction in triglycerides and a 27 percent increase in adiponectin, a potentially cardioprotective protein from adipocytes. Uric acid, which is associated with cardiometabolic conditions and progression of renal disease, decreased 18 percent in the salsalate group. "The reductions in these cardiovascular risk factors paralleled improved glycemia," says Dr. Goldfine. However, the salsalate group also exhibited modest increases in LDL cholesterol and urine albumin, and had a slight increase in weight, which can indicate negative effects on heart or kidney function.
Salsalate's anti-inflammatory effects were evidenced by reductions in circulating white blood cells, neutrophils and lymphocytes, which are elevated in obesity and metabolic syndrome, but all remained within normal range.
The next step in determining whether salsalate is a safe drug for use as a diabetes medication and can receive FDA approval is to assess its effects on the progression of heart disease. Dr. Goldfine is currently leading a study, TINSAL-CVD, which is evaluating how salsalate affects coronary artery plaque volume in participants with established coronary artery disease. The results should be available in two years. "The study will help us better understand the risk/benefit ratio of using salsalate to treat diabetes," says Dr. Goldfine.
###
TINSAL-T2D was funded by the National Institutes of Health.
About Joslin Diabetes Center
Joslin Diabetes Center, located in Boston, Massachusetts, is the world's largest diabetes research and clinical care organization. Joslin is dedicated to ensuring that people with diabetes live long, healthy lives and offers real hope and progress toward diabetes prevention and a cure. Joslin is an independent, nonprofit institution affiliated with Harvard Medical School.
Our mission is to prevent, treat and cure diabetes. Our vision is a world free of diabetes and its complications. For more information, visit http://www.joslin.org.
About Joslin Research
Joslin Research comprises the most comprehensive and productive effort in diabetes research under one roof anywhere in the world. With 30-plus faculty-level investigators and an annual research budget of $36 million, Joslin researchers focus on unraveling the biological, biochemical and genetic processes that underlie the development of type 1 and type 2 diabetes and related complications.
Joslin research is highly innovative and imaginative, employing the newest tools in genetics, genomics and proteomics to identify abnormalities that may play a role in the development of diabetes and its complications. Joslin Clinic patients, and others with diabetes, have the option of participating in clinical trials at Joslin to help translate basic research into treatment innovations.
Joslin has one of the largest diabetes training programs in the world, educating 150 M.D. and Ph.D. researchers each year, many of whom go on to head diabetes initiatives at leading institutions all over the globe. For more information, visit http://www.joslinresearch.org.
---
Journal
Annals of Internal Medicine