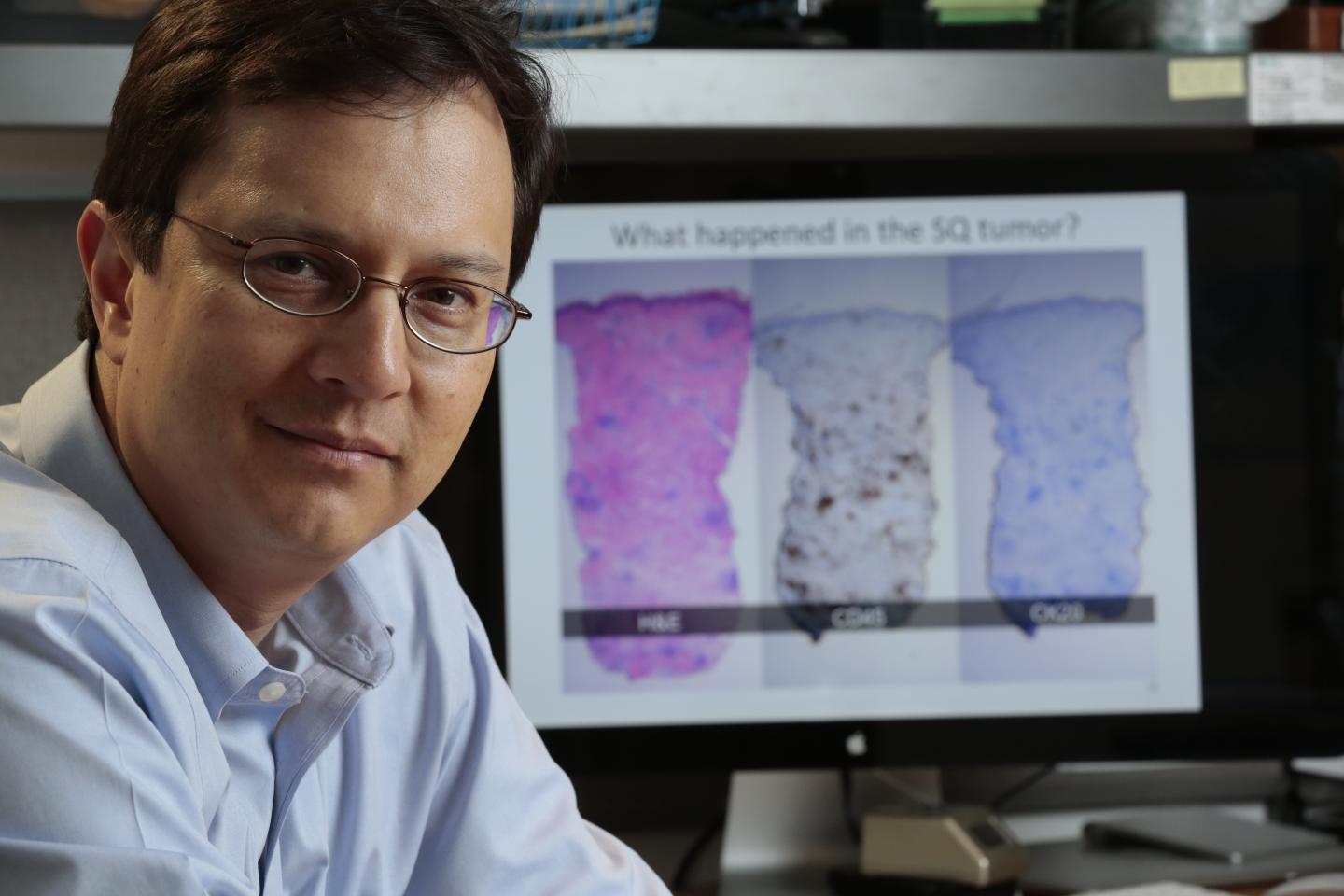 SEATTLE - Researchers at Seattle's Fred Hutchinson Cancer Research Center and the University of Washington say a new study suggests ways to improve immune therapy for certain cancers including a virus-associated form of Merkel cell carcinoma, a rare, aggressive skin cancer.
Merkel cell carcinoma, or MCC, is 35 times less common than melanoma, but on average, it is about three times more likely to be deadly. There are currently no therapies approved by the Food and Drug Administration for this cancer. About 80 percent of the 2,000 new cases diagnosed in the U.S. each year are caused in part by a virus - Merkel cell polyomavirus - that is often present on normal skin without consequence.
Previous studies have linked a weaker immune system with poorer survival in patients with the disease. In this study, researchers at UW and Fred Hutch, a leading center developing experimental, genetically engineered T-cell therapies, conducted an unprecedented in-depth analysis of the immune system's "killer" (CD8) T cells that respond to a specific part of the Merkel cell polyomavirus.
The immune system's effectiveness is determined by many factors, including how well T cells can infiltrate a tumor and bind to the "foreign" proteins, or antigens. More specifically, T cells seek out and attach to antigens using their highly diverse T-cell receptors. In this multicenter study, the researchers focused on T cells that target a piece of the virus referred to as "KLL".
"We found that a surprisingly low number of patients - only about 20 percent - had T cells specific for the 'KLL' region of the virus. This suggests that about 80 percent of patients aren't making T cells that recognize this very prominent target," said Dr. Paul Nghiem, affiliate investigator of the Clinical Research Division at Fred Hutch, and professor of medicine, Division of Dermatology at the University of Washington School of Medicine.
Nghiem, senior author of an article published online Jan. 16 in Cancer Immunology Research, said the study is important because an increase in the KLL-specific T cells infiltrating the tumor is associated with a striking improvement in patient survival.
First author Natalie Miller, an MD/PhD student in Nghiem's research lab, performed in-depth analysis on blood and tumors from 12 patients who had T cells that could recognize KLL.
"T cells that recognize this part of the virus are incredibly diverse. In fact, among these 12 patients, there were 397 unique ways for the T cells to recognize this single short piece of the virus; only one T-cell receptor was shared between two patients," Miller said. "In addition, T cells from patients with better outcomes tended to stick to the viral target more tightly. This suggests that while nature has created many ways for the immune system to fight this cancer, some ways are better than others. Our hope is that these 'better' T-cell receptors can be turned into a therapy for patients who do not have them."
At diagnosis, virus-associated MCC is typically treated with surgery and radiation, and although 95 percent of patients appear to be cancer-free, the disease returns in about half of cases, Nghiem said. The cancer often responds to chemotherapy, but the response is short-lived, with most tumors progressing about three months after treatment begins.
In April, Nghiem's group published findings of a phase 2 clinical trial of the immunotherapy drug pembrolizumab, reporting that the "checkpoint inhibitor" helped to revive "exhausted" T cells, providing significant and lasting responses in more than half of patients.
With their new findings, the research team expects to propose the launch of a clinical trial in which T cells engineered with the most effective tumor tracking and attacking receptors would be transferred to patients who are unable to mount an effective immune response of their own.
"Like Merkel cell carcinoma, cancers that have a viral component provide a variety of potential targets for immunotherapy. We're eager to find out if transgenic T cell therapy can 'reprogram' lymphocytes to eliminate tumors in combination with checkpoint inhibition," Nghiem said.
###
The study was supported by grants from the National Institutes of Health and other sources including the Adaptive Biotechnologies Young Investigator Award, Kelsey Dickson Team Science Courage Research Team Award, Prostate Cancer Foundation Award, ARCS Fellowship, the David & Rosalind Bloom Endowment for MCC Research, the Michael Piepkorn Endowment Fund, the UW MCC Patient Gift Fund, and the Deutsche Forschungsgemeinschaft (SFB TR36).
Nghiem, corresponding author, is a leading expert on MCC and a pioneer of immunotherapy for the disease. His research has shed light on the importance of the immune response to Merkel cell polyomavirus. A practicing physician, he treats patients with MCC and other skin cancers at Seattle Cancer Care Alliance, Fred Hutch's clinical care partner. He is a consultant for EMD Serono Inc. and receives funding from Bristol-Myers Squibb to perform biomarker studies in MCC clinical trials.
At Fred Hutchinson Cancer Research Center, home to three Nobel laureates, interdisciplinary teams of world-renowned scientists seek new and innovative ways to prevent, diagnose and treat cancer, HIV/AIDS and other life-threatening diseases. Fred Hutch's pioneering work in bone marrow transplantation led to the development of immunotherapy, which harnesses the power of the immune system to treat cancer with minimal side effects. An independent, nonprofit research institute based in Seattle, Fred Hutch houses the nation's first and largest cancer prevention research program, as well as the clinical coordinating center of the Women's Health Initiative and the international headquarters of the HIV Vaccine Trials Network. Private contributions are essential for enabling Fred Hutch scientists to explore novel research opportunities that lead to important medical breakthroughs. For more information visit fredhutch.org or follow Fred Hutch on Facebook, Twitter or YouTube.
FUNDING: NIH F30-CA192475-02, NIH K24-CA139052, NIH R01-CA162522-05, NIH R01-CA CA176841, NIH R01-AI094109, Adaptive Biotechnologies Young Investigator Award, Kelsey Dickson Team Science Courage Research Team Award, Prostate Cancer Foundation Award #15CHAS04, ARCS Fellowship, Environmental Pathology/Toxicology Training Grant T32ES007032-36, NIH Center for Aids Research (CFAR) AI027757, National Cancer Institute (NCI) Cancer Target Discovery and Development (CTD2) U01 CA176270, the David & Rosalind Bloom Endowment for MCC Research, the Michael Piepkorn Endowment Fund, the UW MCC Patient Gift Fund, and the Deutsche Forschungsgemeinschaft (SFB TR36).
The content is solely the responsibility of the authors and does not necessarily represent the official views of the National Institutes of Health.
---
Journal
Cancer Immunology Research