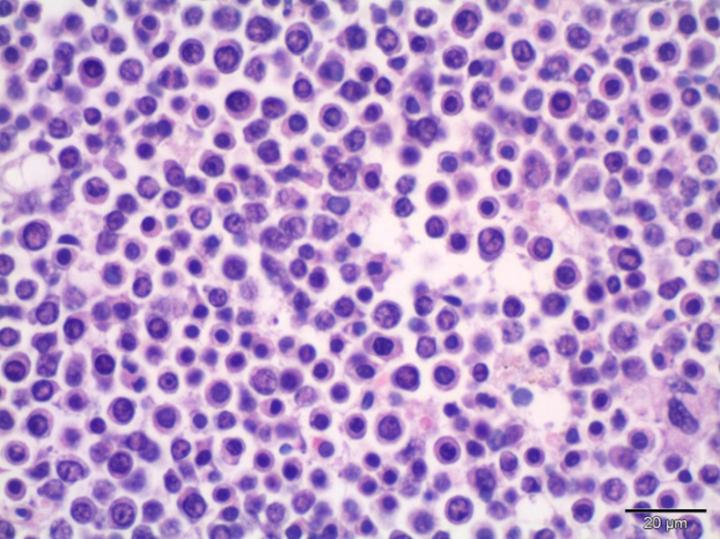 MIAMI, May 5, 2016 -- Researchers at Sylvester Comprehensive Cancer Center at the University of Miami Miller School of Medicine have developed an animal model that allows them to better understand the mechanisms that lead to the development of multiple myeloma, a hematologic cancer of plasma cells, and the amyloidosis that sometimes accompanies it. The study was published in the journal Scientific Reports.
"Multiple myeloma is the second most common hematologic malignancy in the U.S. and it is a very complex disease," said Stephen D. Nimer, M.D., director of Sylvester and senior author of the study. "So far, there have not been animal models of malignant plasma-cell diseases that allow us to study their stepwise progression and fully understand the complex cellular mechanisms. Now that we have a proper model of the disease, we'll be able to more effectively study multiple myeloma as well as potential treatments."
Multiple myeloma affects more than 30,000 Americans each year and is slightly more prevalent in men than in women. While considered incurable, multiple myeloma is treatable and the five-year survival rate is approximately 47 percent. In patients with multiple myeloma, abnormal plasma cells accumulate in the bone marrow where they interfere with the production of normal blood cells. Multiple myeloma can also lead to kidney failure, bone destruction, and a predisposition for infection.
The new animal model of multiple myeloma was generated when a team of researchers from Sylvester and Memorial Sloan Kettering Cancer Center in New York crossed two genetically modified mice: mice lacking the Mef gene and mice with a Rad50 gene mutation (Rad50s). Mef, also called Elf4, is a transcription factor -- originally cloned in the Nimer lab -- that is known to both promote and suppress the formation of cancers. Rad50 is a component of a sensor of DNA damage induced by various stresses and it regulates the DNA damage response pathways in cells.
"In this study, we found that 70 percent of the generated mice died from multiple myeloma or other plasma-cell neoplasms with various symptoms related to multiple myeloma," said Takashi Asai, M.D., Ph.D., associate scientist at Sylvester and first author of the study. "We also found that the phenotype of these mice is not linked to activation of a specific oncogene, or inactivation of a specific tumor suppressor, other than Mef."
"Although outcomes for multiple myeloma patients have greatly improved, it remains an incurable disease, despite the availability of newer treatments," said Nimer. "Several animal models of multiple myeloma have been reported, including models of human myeloma cells. However, these models imperfectly mimic the human disease. Developing more-reliable and accurate animal models that help us better understand myeloma and test new treatments will take us to the next level on the long and challenging road to a cure."
###
This research was supported by NIH grants RO1 DK52208, R37GM59413 and RO1 GM56888, a grant from the Geoffrey Beene Foundation, and support from the Mel Stottlemyre Multiple Myeloma Fund and the Norma and Gordon Smith Cancer Research Foundation.
About Sylvester Comprehensive Cancer Center
Sylvester Comprehensive Cancer Center, part of UHealth -- the University of Miami Health System and the University of Miami Miller School of Medicine, is among the nation's leading cancer centers, and South Florida's only Cancer Center of Excellence. With the combined strength of more than 115 cancer researchers and 130 cancer specialists, Sylvester discovers, develops and delivers more targeted therapies leading to better outcomes - providing the next generation of cancer clinical care - precision cancer medicine - to each patient. Our comprehensive diagnostics coupled with teams of scientific and clinical experts who specialize in just one type of cancer, enable us to better understand each patient's individual cancer and develop treatments that target the cells and genes driving the cancer's growth and survival. At Sylvester, patients have access to more treatment options and more cancer clinical trials than most hospitals in the southeastern United States. To better serve current and future patients, Sylvester has a network of conveniently located outpatient treatment facilities in Miami, Kendall, Hollywood, Plantation, Deerfield Beach and Coral Springs, with plans to open in Coral Gables in 2016. For more information, visit sylvester.org.
---
Journal
Scientific Reports