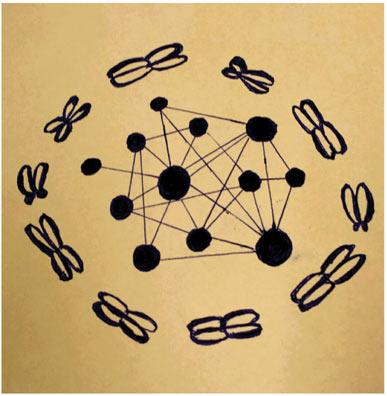 Various -omics studies have unexpectedly highlighted the importance of molecular cytogenetics and cytogenomics when synthesizing molecular data. It is known that system thinking is crucial for biological understanding, especially in this big-data age. However, a key question remains: what biological identity defines a genomic system?
Professor Henry Heng's team, from the medical school at Wayne State University, has published a perspective article titled A Systems Biology Perspective on Molecular Cytogenetics to address the issue. In this article, they applied the genome theory to explain why cytogenetics/cytogenomics needs a systems biology perspective, while systems biology itself needs a cytogenetic/cytogenomic based platform, since genome context (karyotype) represents a new type of genomic coding. Such 'systems inheritance,' differing from gene defined 'parts inheritance,' is the genetic blueprint.
Thus, systems biology should not exclusively focus on parts collection, but study how to predict system behavior at the proper genomic levels: the understanding of lower-level parts has very limited power to understand the emergence at higher system levels when the entire system is highly complex.
This understanding is of importance for current genomic research. In current cancer genome sequencing, for example, despite a wealth of accumulated gene mutation data, key features of genome-level alterations such as karyotype heterogeneity have been largely ignored. If any altered genomes represent a newly emergent system, the research focus should be at the genome level. Indeed, genome chaos has been commonly observed in all types of cancer.
Therefore, the future of cytogenetics needs a new genome-based conceptual framework: the genome theory. The integration of cytogenetics/cytogenomics with systems biology will mutually benefit both fields.
###
For more information about the article, please visit http://benthamscience.com/journals/current-bioinformatics/volume/12/issue/1/page/4/
Reference: Heng, HQH.; et al (2016). A Systems Biology Perspective on Molecular Cytogenetics. Current Bioinformatics ., DOI: 10.2174/1574893611666160606163419
---
Journal
Current Bioinformatics