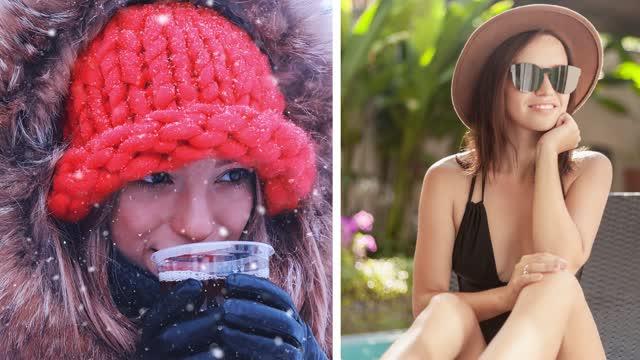 PITTSBURGH, Oct. 29, 2018 - Where you live could influence how much you drink. According to new research from the University of Pittsburgh Division of Gastroenterology, people living in colder regions with less sunlight drink more alcohol than their warm-weather counterparts.
The study, recently published online in Hepatology, found that as temperature and sunlight hours dropped, alcohol consumption increased. Climate factors also were tied to binge drinking and the prevalence of alcoholic liver disease, one of the main causes of mortality in patients with prolonged excessive alcohol use.
"It's something that everyone has assumed for decades, but no one has scientifically demonstrated it. Why do people in Russia drink so much? Why in Wisconsin? Everybody assumes that's because it's cold," said senior author Ramon Bataller, M.D., Ph.D., chief of hepatology at UPMC, professor of medicine at Pitt, and associate director of the Pittsburgh Liver Research Center. "But we couldn't find a single paper linking climate to alcoholic intake or alcoholic cirrhosis. This is the first study that systematically demonstrates that worldwide and in America, in colder areas and areas with less sun, you have more drinking and more alcoholic cirrhosis."
Alcohol is a vasodilator - it increases the flow of warm blood to the skin, which is full of temperature sensors - so drinking can increase feelings of warmth. In Siberia that could be pleasant, but not so much in the Sahara.
Drinking also is linked to depression, which tends to be worse when sunlight is scarce and there's a chill in the air.
Using data from the World Health Organization, the World Meteorological Organization and other large, public data sets, Bataller's group found a clear negative correlation between climate factors - average temperature and sunlight hours - and alcohol consumption, measured as total alcohol intake per capita, percent of the population that drinks alcohol, and the incidence of binge drinking.
The researchers also found evidence that climate contributed to a higher burden of alcoholic liver disease. These trends were true both when comparing across countries around the world and also when comparing across counties within the United States.
"It's important to highlight the many confounding factors," said lead author Meritxell Ventura-Cots, Ph.D., a postdoctoral researcher at the Pittsburgh Liver Research Center. "We tried to control for as many as we could. For instance, we tried to control for religion and how that influences alcohol habits."
With much of the desert-dwelling Arab world abstaining from alcohol, it was critical to verify that the results would hold up even when excluding these Muslim-majority countries. Likewise, within the U.S., Utah has regulations that limit alcohol intake, which have to be taken into account.
When looking for patterns of cirrhosis, the researchers had to control for health factors that might exacerbate the effects of alcohol on the liver--like viral hepatitis, obesity and smoking.
In addition to settling an age-old debate, this research suggests that policy initiatives aimed at reducing the burden of alcoholism and alcoholic liver disease should target geographic areas where alcohol is more likely to be problematic.
###
Additional authors on this study include Ariel Watts, B.S., Neil Shah, M.D., Peter McCann, M.D., and A. Sidney Barritt IV, M.D., all of the University of North Carolina at Chapel Hill; Monica Cruz-Lemini, M.D., Ph.D., of the Universidad Nacional Autónoma de México at Juriquilla; Jose Altamirano, M.D., of Hospital Quirónsalud in Barcelona; Juan Abraldes, M.D., from The University of Alberta; Nambi Ndugga, M.P.H., of Harvard; and Anant Jain, M.D., Samhita Ravi, and Carlos Fernández-Carrillo, M.D., Ph.D., all of Pitt.
This research was supported by National Institute on Alcohol Abuse and Alcoholism awards U01AA021908 and U01AA020821, the Mexican National Council for Science and Technology and the Spanish Association for the Study of the Liver.
About the University of Pittsburgh Schools of the Health Sciences
The University of Pittsburgh Schools of the Health Sciences include the schools of Medicine, Nursing, Dental Medicine, Pharmacy, Health and Rehabilitation Sciences and the Graduate School of Public Health. The schools serve as the academic partner to the UPMC (University of Pittsburgh Medical Center). Together, their combined mission is to train tomorrow's health care specialists and biomedical scientists, engage in groundbreaking research that will advance understanding of the causes and treatments of disease and participate in the delivery of outstanding patient care. Since 1998, Pitt and its affiliated university faculty have ranked among the top 10 educational institutions in grant support from the National Institutes of Health. For additional information about the Schools of the Health Sciences, please visit http://www.health.pitt.edu.
About UPMC
A $19 billion world-renowned health care provider and insurer, Pittsburgh-based UPMC is inventing new models of patient-centered, cost-effective, accountable care. UPMC provides more than $900 million a year in benefits to its communities, including more care to the region's most vulnerable citizens than any other health care institution. The largest nongovernmental employer in Pennsylvania, UPMC integrates 85,000 employees, 40 hospitals, 600 doctors' offices and outpatient sites, and a 3.4 million-member Insurance Services Division, the largest medical insurer in western Pennsylvania. As UPMC works in close collaboration with the University of Pittsburgh Schools of the Health Sciences, U.S. News & World Report consistently ranks UPMC Presbyterian Shadyside on its annual Honor Roll of America's Best Hospitals. UPMC Enterprises functions as the innovation and commercialization arm of UPMC, and UPMC International provides hands-on health care and management services with partners around the world. For more information, go to UPMC.com.
Contact: Erin Hare
Office: 412-864-7194
Mobile: 412-738-1097
E-mail: HareE@upmc.edu">HareE@upmc.edu">HareE@upmc.edu">HareE@upmc.edu">HareE@upmc.edu">HareE@upmc.edu">HareE@upmc.edu">HareE@upmc.edu">HareE@upmc.edu">HareE@upmc.edu">HareE@upmc.edu">HareE@upmc.edu">HareE@upmc.edu">HareE@upmc.edu">HareE@upmc.edu">HareE@upmc.edu">HareE@upmc.edu">HareE@upmc.edu">HareE@upmc.edu">HareE@upmc.edu">HareE@upmc.edu">HareE@upmc.edu">HareE@upmc.edu">HareE@upmc.edu">HareE@upmc.edu">HareE@upmc.edu">HareE@upmc.edu">HareE@upmc.edu">HareE@upmc.edu">HareE@upmc.edu">HareE@upmc.edu">HareE@upmc.edu
Contact: Madison Brunner
Office: 412-578-9193
Mobile: 412-432-8390
E-mail: BrunnerM@upmc.edu">BrunnerM@upmc.edu">BrunnerM@upmc.edu">BrunnerM@upmc.edu">BrunnerM@upmc.edu">BrunnerM@upmc.edu">BrunnerM@upmc.edu">BrunnerM@upmc.edu">BrunnerM@upmc.edu">BrunnerM@upmc.edu">BrunnerM@upmc.edu">BrunnerM@upmc.edu">BrunnerM@upmc.edu">BrunnerM@upmc.edu">BrunnerM@upmc.edu">BrunnerM@upmc.edu">BrunnerM@upmc.edu">BrunnerM@upmc.edu">BrunnerM@upmc.edu">BrunnerM@upmc.edu">BrunnerM@upmc.edu">BrunnerM@upmc.edu">BrunnerM@upmc.edu">BrunnerM@upmc.edu">BrunnerM@upmc.edu">BrunnerM@upmc.edu">BrunnerM@upmc.edu">BrunnerM@upmc.edu">BrunnerM@upmc.edu">BrunnerM@upmc.edu">BrunnerM@upmc.edu">BrunnerM@upmc.edu
---