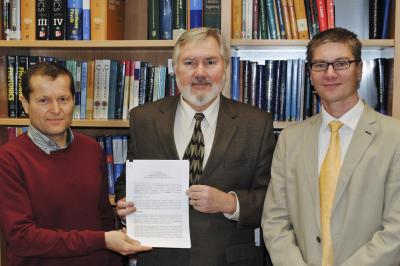 Palo Alto-based Lyncean Technologies, Inc., today announced its first sale of a Compact Light Source, a miniature synchrotron X-ray source employing state-of-the-art laser-beam and electron-beam technology.
A Lyncean "Compact Light Source" (CLS) was purchased by researchers from the newly-formed Center for Advanced Laser Applications (CALA) in Germany, a joint project of the Ludwig Maximilians University of Munich (LMU) and the Technical University Munich (TUM). The device will be fully built and tested in Lyncean's facility in Palo Alto, Calif. and delivered to Munich in early 2014.
"Today is a milestone for us," said Ronald Ruth, Lyncean's founder and Chairman of the Board. "We feel we have an innovative tool, especially as X-rays are playing a growing role in areas like structural biology, medical science, nanotech and fuel cell research. We've been fortunate to have had so much support developing the technology, but putting a CLS in the hands of scientists has always been the ultimate goal."
With its first sale to a team of researchers, Lyncean expects a growing demand by scientists and students at the forefront of biomedical X-ray imaging research. Prof. Franz Pfeiffer, Chair for Biomedical Physics at TUM, leads a group of X-ray scientists pioneering new imaging techniques that reveal striking details in soft tissue that have been difficult to detect using conventional methods. He's eager to see the new X-ray source put to use.
"The field of X-ray imaging is evolving rapidly, and with this novel source, we are adding a powerful tool to our facility," Dr. Pfeiffer said. "I expect having our own CLS here in Munich will significantly boost the research projects in our excellence cluster Munich-Centre for Advanced Photonics (MAP)."
Lyncean has been collaborating with Dr. Pfeiffer's group informally since 2007, when an impromptu visit one afternoon led to an experiment and later publication that was featured on the cover of the Journal of Synchrotron Radiation in January 2009, [doi:10.1107/S090904950803464X]. Subsequent experiments using the CLS prototype operating at Lyncean have produced a variety of joint publications, primarily with a medical emphasis, highlighting the machine's ability to improve tumor detection and early diagnosis of lung disease (a study that was just published in the Proceedings of the National Academy of Sciences [doi: 10.1073/pnas.1206684109]).
"Because the CLS is a new breed of X-ray source, with unique properties, we work with X-ray scientists to understand their applications," Dr. Ruth said. "The TUM collaboration is a good example of how we can successfully adapt our source for a particular application, in this case biomedical imaging."
The US National Institutes of Health provided funding for CLS development in order to help address the growing demand of life-science users who rely on synchrotrons for structural biology research. In addition to the CLS, Lyncean has also developed X-ray applications such as protein crystallography and power diffraction using focused beams from special X-ray optics. Researchers, though, use a wide variety of experimental techniques when applying synchrotron radiation to their own problems. The CLS, like a large synchrotron facility, is designed to perform a breadth of X-ray applications spanning fields from biology and chemistry to nanotechnology and materials science.
###
Lyncean Technologies, Inc. is located in Palo Alto, California and was founded in 2001 by Stanford Professor Ronald Ruth, Jeffrey Rifkin, M.A. and Rod Loewen, Ph.D. The Compact Light Source concept is based on research performed earlier by Prof. Ruth, Dr. Zhirong Huang and Dr. Rod Loewen at the SLAC National Accelerator Laboratory and Stanford University. For more information visit http://www.lynceantech.com.
More information about the Biomedical Physics Research Group, the Center for Advanced Laser Applications (CALA), and the Excellence Cluster Munich-Centre for Advanced Photonics (MAP): http://www.e17.ph.tum.de/
http://www.munich-photonics.de/
---