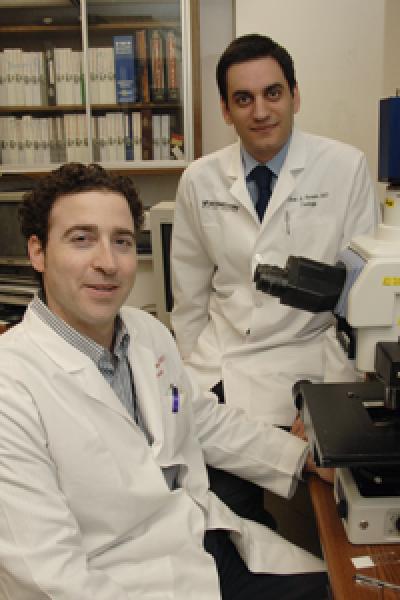 DALLAS -- Feb. 1, 2007 -- A set of molecular biomarkers might better predict the recurrence of bladder cancer than conventional prognostic features such as the stage or grade of the malignancy at the time it is discovered, UT Southwestern Medical Center researchers have found.
Once a patient undergoes surgery for the removal of their bladder and lymph nodes -- the standard treatment for muscle-invasive bladder cancer -- researchers say a routine tissue analysis could easily test for the presence of mutated proteins, or biomarkers, that they found to help ascertain the chances that the cancer will return.
The findings, which researchers say could one day alter the postoperative treatment offered to patients who test positive for the mutated biomarkers, are available online and in an upcoming issue of The Lancet Oncology.
"Our goal is to identify patients who have a higher chance of cancer recurrence," said Dr. Jose Karam, the study's lead author and a medical resident at UT Southwestern. "If we can identify key biomarker alterations in these patients, we might be able to predict who will benefit from treatments such as chemotherapy."
In the study, UT Southwestern scientists investigated the association of the proteins Bcl-2, caspase-3, P53 and survivin with the recurrence of cancer after surgery. The proteins are known to regulate apoptosis, or programmed cell death.
Apoptosis is a way for the body to safely dispose of dead cells, and it plays a role in preventing cancer. If cells don't die when they are supposed to, they can continue dividing and change into a tumor.
"We are trying to identify tumors that are more aggressive and more likely to spread," said Dr. Yair Lotan, assistant professor of urology at UT Southwestern and an author of the study. "Even after we've removed a diseased bladder and lymph nodes from a patient, more than 20 percent of patients have disease elsewhere in their body."
Researchers collected archival tissue from 226 patients who underwent surgery for bladder cancer -- the fourth most common cancer in men and the ninth most common cancer in women -- between January 1987 and December 2002. They tested the tissue for the protein biomarkers and found that patients who showed mutations in all four biomarkers had a significantly increased rate of mortality from cancer after surgery. Patients who showed no mutations in the four biomarkers had a 90 percent chance of survival at five years compared to less than 20 percent if they had four mutated markers.
Dr. Shahrokh Shariat, the study's senior author and a urology resident at UT Southwestern, said the findings suggest that mutations in the biomarkers indicate a malfunction in programmed cell death, leading to increased chances of cancer recurrence and mortality.
Dr. Karam noted that while the findings are still preliminary and need to be scientifically validated before being applied in the clinic, the results could change the treatment patients receive.
"Patients who have alterations on all four biomarkers might benefit from adjuvant chemotherapy even if the cancer appears to be confined to their bladder.
Otherwise, their chances for survival are likely to be poor," said Dr. Karam. "Likewise, those who show none of the biomarkers might not need unnecessary chemotherapy."
###
Other UT Southwestern researchers involved in the study were Dr. Arthur Sagalowsky, professor of urology and surgery; Dr. Claus G. Roehrborn, chairman of urology; Dr. Shahrokh F. Shariat, medical resident; and Dr. Raheela Ashfaq, professor of pathology. Researchers from the University of Montreal also participated.
The study was supported by the National Institutes of Health and the Austrian Programme for Advanced Research and Technology.
About UT Southwestern Medical Center
UT Southwestern Medical Center, one of the premier medical centers in the nation, integrates pioneering biomedical research with exceptional clinical care and education. Its more than 1,400 full-time faculty members -- including four active Nobel Prize winners, more than any other medical school in the world -- are responsible for groundbreaking medical advances and are committed to translating science-driven research quickly to new clinical treatments. UT Southwestern physicians provide medical care in 40 specialties to nearly 89,000 hospitalized patients and oversee 2.1 million outpatient visits a year.
The UT Southwestern Harold C. Simmons Comprehensive Cancer Center combines the highest standards of individual care with innovative programs for cancer diagnosis, treatment and prevention based on UT Southwestern's internationally recognized research coupled with the most sophisticated equipment and advanced technologies available. The expertise of the physicians in the Simmons Cancer Center extends to virtually every cancer in every age group, from breast, urologic, gynecologic, lung, gastrointestinal, head and neck, brain, and skin to lymphomas, leukemia, and marrow transplantation.
This news release is available on our World Wide Web home page at http://www.utsouthwestern.edu/utsw/cda/dept37389/files/341426.html
To automatically receive news releases from UT Southwestern via e-mail, subscribe at www.utsouthwestern.edu/receivenews
Dr. Yair Lotan - http://www.utsouthwestern.edu/findfac/professional/0,2356,59883,00.html
---
Journal
The Lancet Oncology