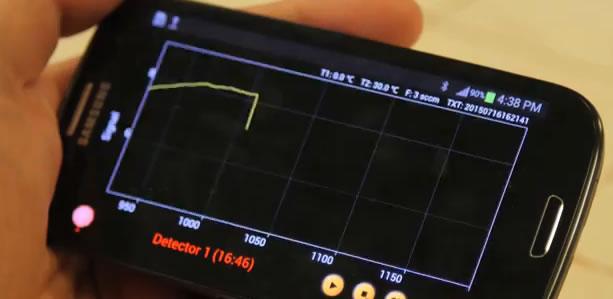 Making people safer from explosive devices is the aim of a University of Queensland research project awarded funding under a scheme supporting original research that will have positive impacts on Queensland.
The project is one of 19 awarded to UQ today under the Queensland Government's Advance Queensland Research Fellowships Scheme, which will fund projects over three years, up to $100,000 per year.
Dr Paul Shaw, of UQ's School of Chemistry and Molecular Biosciences (SCMB), is a sensor team leader working on a sensitive, reliable and selective technology for detecting explosives by their vapours.
"Personal security is a matter of increasing concern to our overseas troops and our communities at home," he said.
"Hidden explosives and Improvised Explosive Devices (IEDs) represent a constant danger to large public gatherings, transport hubs and land-based military operations.
"Providing security for major international events such as the G20 Brisbane summit and the upcoming Commonwealth Games in 2018 highlights the important role that detection technologies play in providing security.
"There is also an increasing incidence of home-made explosives being discovered by police officers, which potentially places them at grave risk."
Dr Shaw said a number of technology and operational solutions for detecting IEDs were currently used, notably trained dogs and instruments such as spectrometers.
"However, there is no totally effective 'golden bullet' to this complex problem and each field scenario presents a range of unique challenges," he said.
"Being able to combine selectivity and sensitivity in a device capable of non-contact detection, for example, without resorting to swabbing, has proved very challenging."
Dr Shaw said the broad aim of his project was to develop a compact detector that could detect the vapours released by explosives with both high sensitivity and selectivity.
The project builds on an existing collaboration between COPE and Australian company Arborescent Pty Ltd to develop and commercialise a portable detector for explosives, known as Arbsense,for field use.
The key technology behind Arbsense is a thin layer of a luminescent (light-emitting) molecules known as dendrimers, which are coated onto glass and can detect the vapours from explosives.
Dr Shaw is a postdoctoral research fellow in the School's Centre for Organic Photonics and Electronics (COPE), a joint initiative between SCMB and the UQ School of Mathematics and Physics.
COPE researchers have been working with Arborescent to develop the detector technology for sensing the vapours emitted by hidden explosives and improvised explosive devices.
Arborescent and COPE secured funding in 2009 through the Australian Research Council Linkage program to develop a prototype detector for explosives based on the sensing materials developed at COPE.
This collaboration culminated in the development of the current Arbsense prototype, which features a compact, lightweight detector unit that is controlled wirelessly with a phone-based application.
The technology was a finalist last year in the Eureka Prize for Outstanding Science for Safeguarding Australia.
###
---