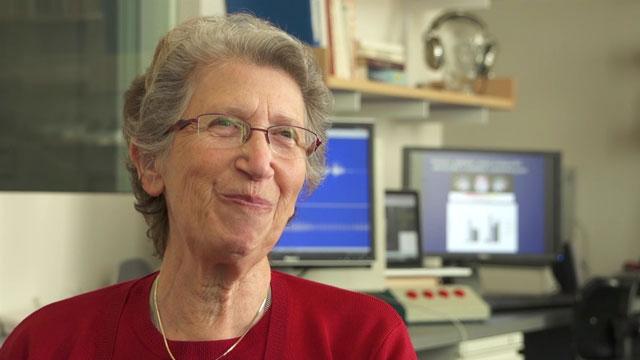 Sheila E. Blumstein, Albert D. Mead Professor of Cognitive Linguistic & Psychological Sciences at Brown University, has been awarded the Silver Medal in Speech Communication by the Acoustical Society of America (ASA) for contributions to understanding how acoustic signals are transformed into linguistic representations. The award was presented at the 168th meeting of the ASA on 29 October 2014 in Indianapolis, Indiana.
The Silver Medal is presented to individuals, without age limitation, for contributions to the advancement of science, engineering, or human welfare through the application of acoustic principles, or through research accomplishments in acoustics.
"I am deeply honored to have received the Silver Medal in Speech Communication from the Acoustical Society of America" said Blumstein. "It has been a lifelong journey of mine to examine and understand how despite the tremendous variability in the acoustic speech signal, we, as listeners, hear a stable percept that allows us to process the sounds of language and map those sounds on to word representations. This has led me to study not only how we process speech but also the underlying neural systems and the effects of brain injury on this processing. Awards such as these, while given to one person, are really because of others, those who were teachers and mentors, those who were students and now colleagues, and those who are currently learning. And so, I also want to thank my fellow 'co-conspirators', who share this award with me."
Sheila Blumstein earned an A.B. in Linguistics at the University of Rochester and a Ph.D. in Linguistics from Harvard University. She joined Brown University as Assistant Professor of Linguistics in 1970 and was named a full professor in 1981. Dr. Blumstein has served in numerous positions at Brown including Dean of the College, Interim Provost, Chair of the Department of Linguistics, Char of the Department of Cognitive and Linguistic Sciences, and Interim President.
Sheila was a Guggenheim Fellow (1977-78), a Radcliffe Institute Fellow (1977-78), and was awarded the Claude Pepper (Javits Neurocience) Investigator Award by the National Institutes of Health (1985-92). She was awarded an Honorary Doctorate and the Susan Colver Rosenberger Medal by Brown University in 2001. She is a Fellow of the Acoustical Society of America, The American Academy of Arts and Sciences, American Philosophical Society, American Psychological Society, Linguistic Society of America, and the American Association for the Advancement of Science.
###
The Acoustical Society of America (ASA) is the premier international scientific society in acoustics devoted to the science and technology of sound. Its 7000 members worldwide represent a broad spectrum of the study of acoustics. ASA publications include the Journal of the Acoustical Society of America--the world's leading journal on acoustics, Acoustics Today magazine, books, and standards on acoustics. The Society also holds two major scientific meetings per year. For more information about the Society visit our website, http://www.acousticalsociety.org
---