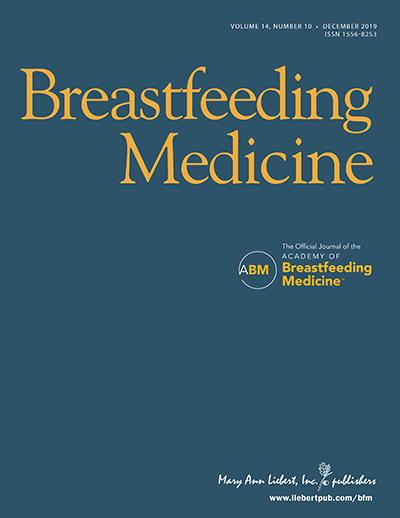 New Rochelle, NY, January 7, 2020--Leading experts representing The Academy of Breastfeeding Medicine (ABM) have released new evidence-based recommendations regarding the benefits and risks of bedsharing for mother-infant pairs who have initiated breastfeeding and are in home settings. The new protocol is published in Breastfeeding Medicine, the official journal of the Academy of Breastfeeding Medicine published by Mary Ann Liebert, Inc., publishers. Click here to read the protocol free on the Breastfeeding Medicine website.
In "Bedsharing and Breastfeeding," Peter Blair and colleagues cite published evidence to support the overall conclusion that close nighttime proximity facilitates breastfeeding duration and exclusivity. Safe bedsharing is possible and the existing evidence does not support the conclusion that bedsharing among breastfeeding infants causes sudden infant death syndrome (SIDS) in the absence of known hazards. Hazardous circumstances include sleeping with an adult on a sofa or armchair; sleeping next to an adult impaired by alcohol, medications, or illicit drugs; tobacco exposure; preterm birth; and never having initiated breastfeeding.
The protocol emphasizes that all parents should be educated on safe bedsharing, with the understanding that bedsharing is very common, and when bedsharing is unplanned, it carries a higher risk than planned bedsharing.
Arthur I. Eidelman, MD, Editor-in-Chief of Breastfeeding Medicine, states: "This is a most welcome balanced statement that emphasizes the positive value of safe bedsharing while properly delineating the clinical and environmental hazards that should be avoided."
"Having conversations about safe bedsharing is important for removing stigma around the topic and for facilitating open and honest dialogue between parents and providers," said Alison Stuebe, MD, president of the Academy of Breastfeeding Medicine.
###
About the Journal
Breastfeeding Medicine, (https://home.liebertpub.com/publications/breastfeeding-medicine/173) the official journal of the Academy of Breastfeeding Medicine, is an authoritative, peer-reviewed, multidisciplinary journal published 10 times per year in print and online. The Journal publishes original scientific papers, reviews, and case studies on a broad spectrum of topics in lactation medicine. It presents evidence-based research advances and explores the immediate and long-term outcomes of breastfeeding, including the epidemiologic, physiologic, and psychological benefits of breastfeeding. Tables of content and a sample issue may be viewed on the Breastfeeding Medicine website.
About the Academy of Breastfeeding Medicine
The Academy of Breastfeeding Medicine (ABM) is a worldwide organization of medical doctors dedicated to the promotion, protection, and support of breastfeeding. Our mission is to unite members of the various medical specialties with this common purpose. For more than 20 years, ABM has been bringing doctors together to provide evidence-based solutions to the challenges facing breastfeeding across the globe. A vast body of research has demonstrated significant nutritional, physiological, and psychological benefits for both mothers and children that last well beyond infancy. But while breastfeeding is the foundation of a lifetime of health and well-being, clinical practice lags behind scientific evidence. By building on our legacy of research into this field and sharing it with the broader medical community, we can overcome barriers, influence health policies, and change behaviors.
About the Publisher
Mary Ann Liebert, Inc., publishers is a privately held, fully integrated media company known for establishing authoritative peer-reviewed journals in many promising areas of science and biomedical research, including Journal of Women's Health, Childhood Obesity, and Pediatric Allergy, Immunology, and Pulmonology. Its biotechnology trade magazine, GEN (Genetic Engineering & Biotechnology News), was the first in its field and is today the industry's most widely read publication worldwide. A complete list of the firm's 90 journals, books, and newsmagazines is available on the Mary Ann Liebert, Inc., publishers website.
---
Journal
Breastfeeding Medicine