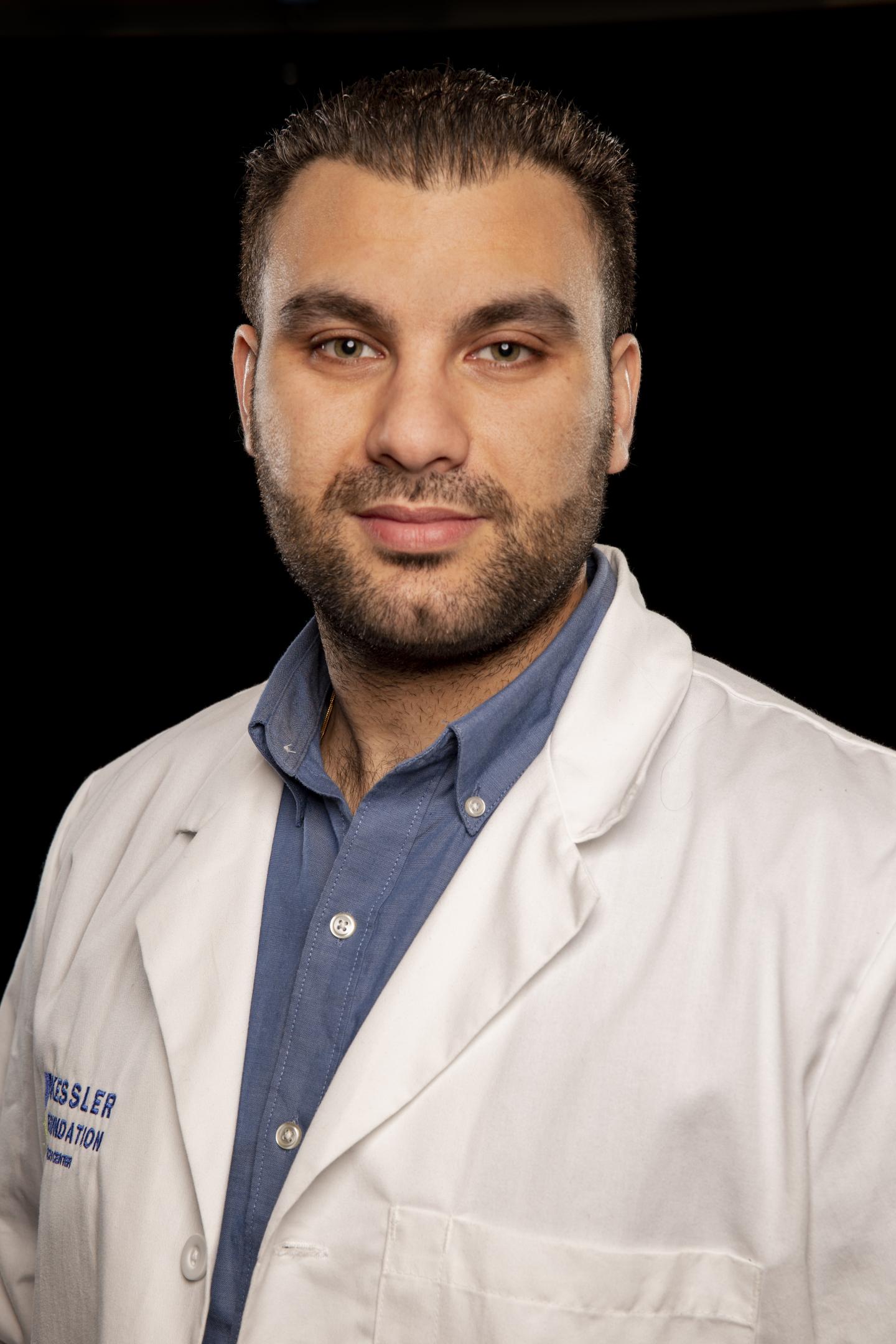 East Hanover, NJ - March 12, 2018 - Ghaith J. Androwis, PhD, research scientist in the Center for Mobility and Engineering Rehabilitation Research at Kessler Foundation, has been awarded a $500,000 grant from the Department of Defense (DOD), Congressionally Directed Medical Research Programs (CDMRP). The award funds a three-year study titled, "Efficacy of Wearable Robotic Orthosis on Improving Upper Extremity Motor Function/Activities of Daily Living in Persons with Spinal Cord Injury."
Approximately 17,500 traumatic spinal cord injury (SCI) cases occur in the United States each year, with high prevalence among active military members and veterans. The Department of Veterans Affairs (VA) is the single largest provider of healthcare for SCI, offering rehabilitative services to 26,000 affected veterans, half of whom also receive SCI specialty care. Individuals with SCI often face upper extremity dysfunction, causing significant disability and increased dependency on families and caregivers. This study will evaluate the efficacy of a wearable robotic device called MyoPro® by Myomo, Inc., to improve upper extremity motor function, activities of daily living, and quality of life in individuals with incomplete SCI (iSCI).
"Although restoration of upper extremity function in people with SCI is a high priority in rehabilitation research and assistive technology, few wearable robotic devices specifically address wrist and hand mobility," explained Dr. Androwis, principal investigator of the study. "The MyoPro brace facilitates elbow, wrist, and hand function with built-in motors and sensors that are driven by the patients' voluntary muscle activity. This study will provide the data needed to expand the options for rehabilitation for veterans, and lay the foundation for the introduction of home-based strategies for improved recovery of hand and arm function in individuals with incomplete SCI."
"We are grateful to the DOD for empowering the Kessler Foundation to conduct research around our MyoPro line of powered orthoses," said Paul R. Gudonis, chief executive officer of Myomo. "Myomo is committed to transforming the lives of veterans with neurological or neuromuscular disease or injury by restoring control and range of motion to their arms and hands, giving them back their independence and reducing their cost of healthcare. It is important to continue to research MyoPro to further document how it can change veteran's lives."
Knowledge gained from this clinical trial will advance patient care as well as orthotic and prosthetic outcomes-related rehabilitation research among individuals with iSCI, including veterans. The data obtained should also help design next generation assistive devices to better aid upper extremity motor function and its recovery in SCI and beyond. Investigators plan to enroll 30 individuals with incomplete SCI in the study, which consists of 18, one-hour interventions using the MyoPro over a period of 6 weeks.
###
This research is supported by funding from the DOD, CDMRP, Orthotics and Prosthetics Outcomes Research Program under award #W81XWH-18-10728. For more information, visit: http://cdmrp.army.mil.
About Myomo
Myomo, Inc. is a wearable medical robotics company that offers expanded mobility for those suffering from neurological disorders and upper limb paralysis. Myomo develops and markets the MyoPro product line. MyoPro is a powered upper limb orthosis designed to support the arm and restore function to the weakened or paralyzed arms of patients suffering from CVA stroke, brachial plexus injury, traumatic brain or spinal cord injury, ALS or other neuromuscular disease or injury. It is currently the only marketed device that, sensing a patient's own EMG signals through non-invasive sensors on the arm, can restore an individual's ability to perform activities of daily living, including feeding themselves, carrying objects and doing household tasks. Many are able to return to work, live independently and reduce their cost of care. Myomo is headquartered in Cambridge, Massachusetts, with sales and clinical professionals across the U.S. For more information, please visit http://www.myomo.com.
About Kessler Foundation
Kessler Foundation, a major nonprofit organization in the field of disability, is a global leader in rehabilitation research that seeks to improve cognition, mobility and long-term outcomes, including employment, for people with neurological disabilities caused by diseases and injuries of the brain and spinal cord. Kessler Foundation leads the nation in funding innovative programs that expand opportunities for employment for people with disabilities. For more information, visit KesslerFoundation.org.
Stay Connected
Twitter | http://www.twitter.com/KesslerFdn
Facebook | http://www.facebook.com/KesslerFoundation
YouTube | http://www.youtube.com/user/KesslerFoundation
Instagram | http://www.instagram.com/kesslerfdn
iTunes & SoundCloud | http://www.soundcloud.com/kesslerfoundation
For more information, contact:
Carolann Murphy, PA; 973-324-8382; CMurphy@KesslerFoundation.org
Rob Gerth; 973-323-3675; RGerth@KesslerFoundation.org
Sarah Karr; 978-518-4817; myomo@matternow.com
---