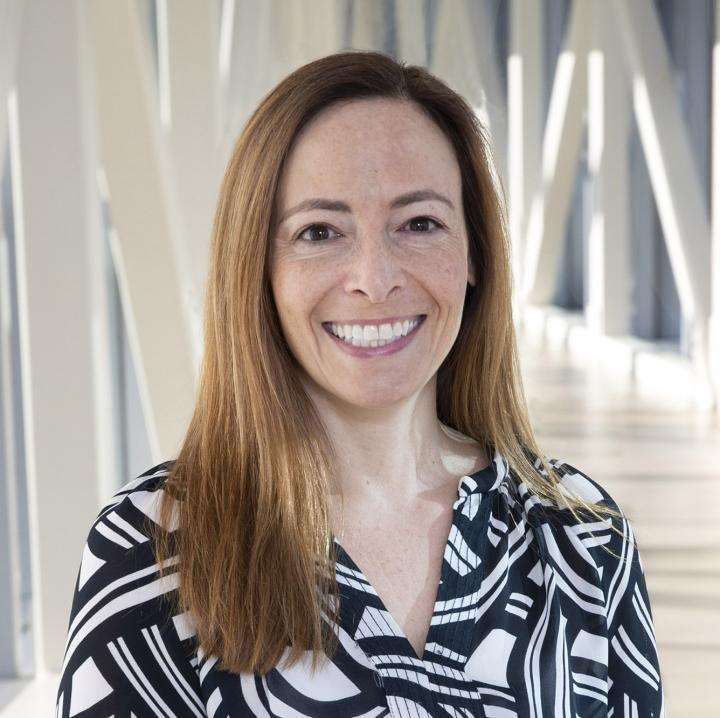 OKLAHOMA CITY -- In 2009, the Food and Drug Administration banned numerous cigarette flavors, from chocolate to cherry to cinnamon, in an effort to decrease their attractiveness to young people. But it did not ban menthol flavoring. Now, the FDA is considering whether to ban the minty flavor, and a researcher at Stephenson Cancer Center at OU Medicine is conducting a study that will help inform that decision.
Tobacco regulatory science researcher Amy Cohn, Ph.D., received a $1.3 million grant from the National Institutes of Health and the FDA Center for Tobacco Products for her study, which will investigate the role of menthol flavoring in smoking habits among young adults. The study will build upon on existing research as the FDA gathers evidence for its proposal to ban menthol flavoring in cigarettes.
"A lot of young people who initiate tobacco use with a cigarette do so with menthol, and one of the hypotheses for this is that the minty, cool sensation of menthol masks the harshness of inhaled cigarette smoke," said Cohn, who is part of the TSET Health Promotion Research Center at Stephenson Cancer Center. "Young people who had their first cigarette with menthol flavoring reported a more positive smoking experience compared to young people who didn't smoke menthol as their first cigarette. That's important because an initial positive experience is linked to ongoing use of tobacco products."
Cohn's study will also help the FDA in another move it is contemplating: bringing very low-nicotine cigarettes to the market with the aim of helping people reduce and ultimately quit smoking. Low-nicotine cigarettes have approximately 0.4 milligrams of nicotine compared to the average cigarette, which contains 10 milligrams of nicotine. While previous studies have shown that low-nicotine cigarettes help people stop smoking, Cohn will specifically investigate whether menthol flavoring in low-nicotine cigarettes contributes to that reduction in smoking, or if it has the opposite effect and entices people to continue smoking.
Cohn uses three primary methods to measure the appeal of different types of cigarettes. In her laboratory, she can analyze smoking behavior, which is a proxy for the influence of a particular tobacco product. She can measure how many puffs people take, the interval between puffs, the volume of the puff and the draw of the puff. Another method involves giving study participants cigarettes, both menthol and regular, to take home and smoke as they wish for a week. They will be surveyed to gather information about how satisfying each type was in comparison to the other, and whether they choose to use other tobacco products instead, as a potential negative unintended consequence of bringing low-nicotine cigarettes to the market.
Study participants will also take part in an "experimental tobacco marketplace," similar to any online shopping experience, in which they shop online according to the availability of various tobacco products, including low-nicotine options. Researchers will manipulate the types of tobacco products available in the marketplace to determine what young people choose to buy when menthol is and is not available in cigarettes and other combustible tobacco products. The marketplace serves as a simulation of tobacco policies, allowing researchers to see how people react to policies before they actually go into effect.
"Menthol cigarettes are disproportionately used by several at-risk populations, including African Americans, young people, Hispanics and women," Cohn said. "There are a lot of hypotheses that a ban on menthol would reduce the public health impact of cigarette smoking, which we know is a very strong risk factor for cancer and other diseases. Our research will help the FDA make decisions in its regulatory efforts."
Research reported in this press release is supported by the National Institute on Drug Abuse, a component of the National Institutes of Health, under the award number 1R01DA050990-01.
###
STEPHENSON CANCER CENTER
Stephenson Cancer Center at OU Medicine was named Oklahoma's top facility for cancer care by U.S. News & World Report in its 2020-21 rankings. As Oklahoma's only National Cancer Institute-Designated Cancer Center, Stephenson Cancer Center is one of the nation's elite centers, representing the top 2% of cancer centers in the country. It is the largest and most comprehensive oncology practice in the state, delivering patient-centered, multidisciplinary care for every type of cancer. As one of the nation's leading research organizations, Stephenson Cancer Center uses the latest innovations to fight and eliminate cancer, and is currently ranked No. 1 among all cancer centers in the nation for the number of patients participating in clinical trials sponsored by the NCI's National Clinical Trials Network. For more information, visit stephensoncancercenter.org.
OU MEDICINE
OU Medicine -- along with its academic partner, the University of Oklahoma Health Sciences Center -- is the state's only comprehensive academic health system of hospitals, clinics and centers of excellence. With 11,000 employees and more than 1,300 physicians and advanced practice providers, OU Medicine is home to Oklahoma's largest physician network with a complete range of specialty care. OU Medicine serves Oklahoma and the region with the state's only freestanding children's hospital, the only National Cancer Institute-Designated Stephenson Cancer Center and Oklahoma's flagship hospital, which serves as the state's only Level 1 trauma center. Becker's Hospital Review named OU Medical Center one of the 100 Great Hospitals in America for 2020. OU Medicine's oncology program at Stephenson Cancer Center and OU Medical Center was named Oklahoma's top facility for cancer care by U.S. News & World Report in its 2020-21 rankings. OU Medicine was also ranked by U.S. News & World Report as high performing in these specialties: Colon Surgery, COPD and Congestive Heart Failure. OU Medicine's mission is to lead healthcare in patient care, education and research. To learn more, visit oumedicine.com.
---