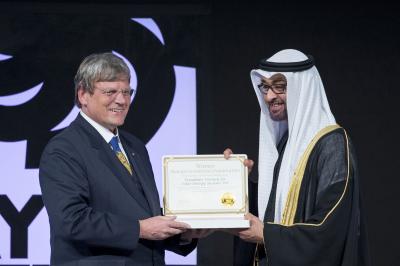 "We are absolutely delighted that the Zayed Future Energy Prize committee has decided to honor Fraunhofer ISE's more than 30 years of work on sustainable energy supply in this way," says Prof. Eicke R. Weber, director of Fraunhofer ISE. "This generous prize will enable us to offer our re- search in support of countries that haven't yet set out to develop a new energy economy. For one thing, we will be able to further refine the energy system analyses and ener- gy supply models that we have developed in-house. These make it possible to achieve a seamless and cost-effective transition to a sustainable supply of energy in other regions, too, and also lay the foundations for technological col- laboration." The prize money will support training pro- grams as well.
Prof. Weber received the award at the World Future Energy Summit in Abu Dhabi from His Highness General Sheikh Mohammed bin Zayed Al Nahyan, Crown Prince of Abu Dhabi. Fraunhofer ISE, now Europe's biggest solar research institute, was one of three finalists in the Non-Governmental Organization (NGO) category. It won out against the UK-based orga- nization Practical Action and the US-based World Resources Institute (WRI).
Renewable energy is a hugely important topic for the Emirate of Abu Dhabi, one of the world's biggest energy producers. As a mark of how seriously it takes its sense of res- ponsibility in this field, each year the Emirate awards the Zayed Future Energy Prize in memory of Sheikh Zayed bin Sultan Al Nahyan, the first president of the United Arab Emirates and Emir of Abu Dhabi. There are prizes for companies, NGOs and educational establishments, as well as for an individual's lifetime achievement.
###
Further information: http://www.zayedfutureenergyprize.com/en/
---