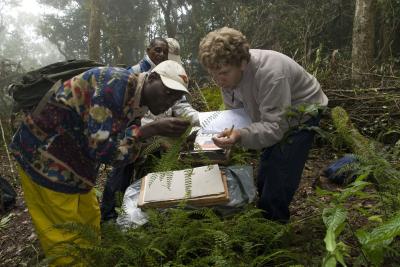 This news release is available in Spanish, Japanese, Arabic and Chinese.
Can the separate international commitments of protecting 17% of the planet's terrestrial surface and of conserving 60% of the world's plant species within these protected areas be met simultaneously by 2020? A new study suggests that they can—but only if researchers and conservationists do more to safeguard particularly hot spots of biodiversity.
According to Lucas Joppa from Microsoft Research in Cambridge, England, and colleagues from the United Kingdom and the United States, the regions of the world that need the most protection, such as Caribbean islands and Mediterranean ecosystems, don't necessarily coincide with national parks and protected lands.
The researchers pored over data from one of the largest biodiversity database in the world, which was compiled by the Royal Botanic Gardens in Kew, England, and analyzed data on about 110,000 different plant species. They used computer models to identify the smallest set of regions that would contain the largest number of plant species and discovered that about 67% of all of the world's plants are unique to just 17% of the globe—and that less than one-sixth of that area is currently protected.
The portion of the planet that the researchers identified as particularly species-rich includes about 75% of all of the world's plant species, as well as most bird, mammal and amphibian species. It's made up of many tropical and subtropical islands, as well as the northern Andes, the Caribbean, Central America, and stretches of Africa and Asia.
The researchers' complete findings are published in the 6 September issue of the journal Science.
"The world has protected a substantial chunk of land, which is good," said Stuart Pimm from Duke University in Durham, NC, a co-author of the Science report. "And the broadly better news is that these protected areas work: Their borders tend to remain intact and they do slow the loss of biodiversity."
"The problem that we know from previous work, however, is that some ecosystems are much easier to protect than others," Pimm explained. "It's easy to protect ice and sand—high mountaintops and remote deserts—but we need to protect more of the places where plant species are concentrated."
This work by Joppa and his colleagues was motivated by two international treaties—the Convention on Biological Diversity's 11th Aichi Target, agreed upon in October 2010, which aspires to protect 17% of the world by 2020 and the Convention's Global Strategy for Plant Conservation, which aims to conserve a full 60% of plant species on protected land. Their findings, which are just in time for Convention meetings in Montreal, Canada, this October, suggest that much more land—and different types of land—needs to be set aside and protected if both of the targets are to be met.
"We're doing well, but we need to do better in order to hit the goals that were set," concluded Pimm. "We need to turn our attentions to these now-quantitatively defined hotspots—and we need protect islands and to engage indigenous people around the world because they are sitting on a lot of plant species."
"We can work with our colleagues in different countries and they can work with political leaders to get more land protected," he said.
###
The American Association for the Advancement of Science (AAAS) is the world's largest general scientific society, and publisher of the journal, Science as well as Science Translational Medicine and Science Signaling. AAAS was founded in 1848, and includes some 261 affiliated societies and academies of science, serving 10 million individuals. Science has the largest paid circulation of any peer-reviewed general science journal in the world, with an estimated total readership of 1 million. The non-profit AAAS is open to all and fulfills its mission to "advance science and serve society" through initiatives in science policy; international programs; science education; and more. For the latest research news, log onto EurekAlert!, the premier science-news Web site, a service of AAAS.
---