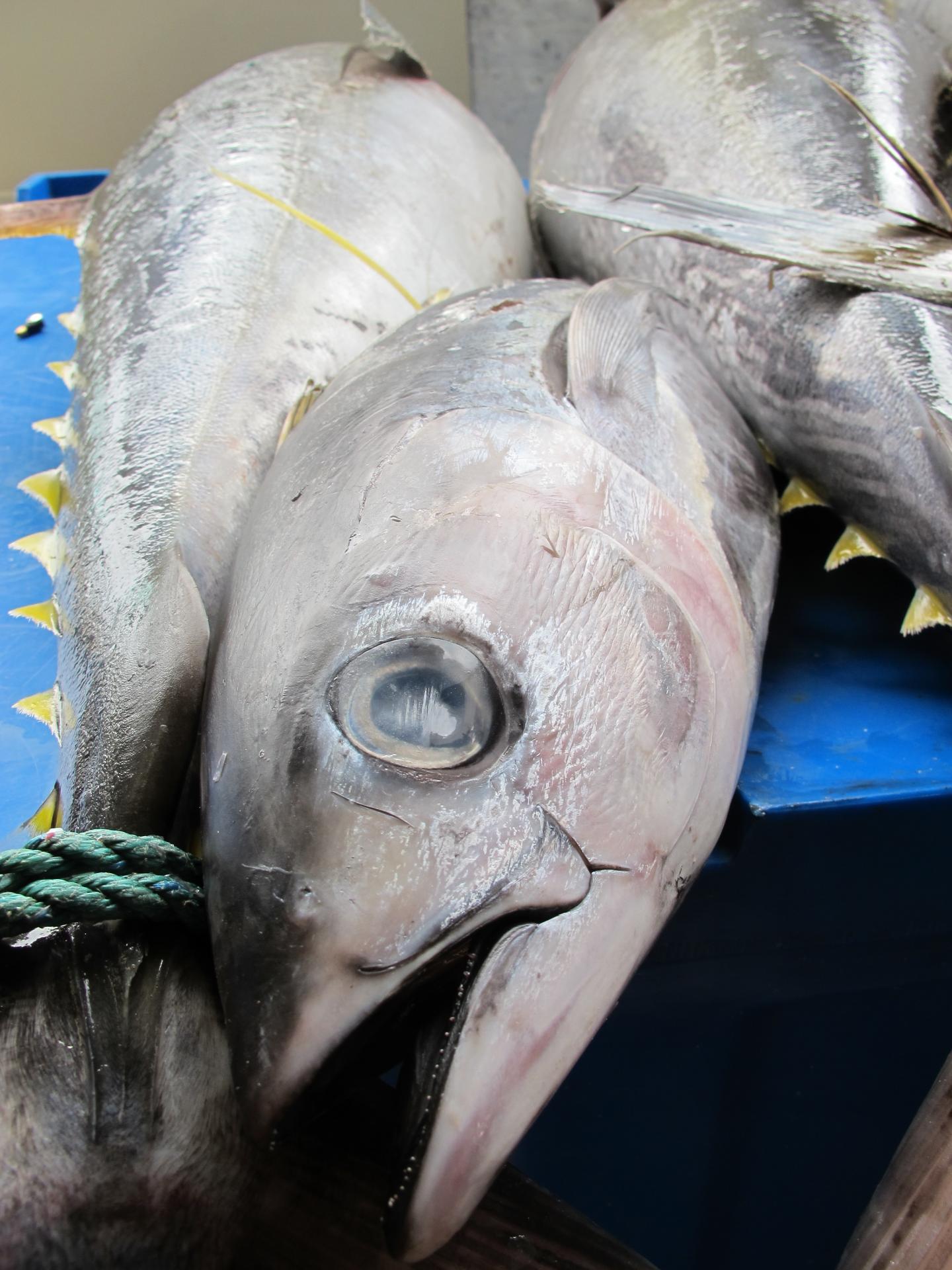 In a new study, environmental pollutants found in fish were shown to obstruct the human body's natural defense system to expel harmful toxins. The Scripps Institution of Oceanography at UC San Diego-led research team suggests that this information should be used to better assess the human health risks from eating contaminated seafood. The study was published in the April 15 issue of the journal Science Advances.
A protein found in cells of nearly all plants and animals, called P-gp, acts as the cell's bouncer by expelling foreign chemicals from the body. P-gp is well known for its ability to transport therapeutic drugs out of cancer cells and, in some cases, rendering these cells resistant to multiple drugs at once.
To determine how effective P-gp is at ridding cells of industrial and agricultural pollutants found in seafood, collectively known as persistent organic pollutants (POPs), the Scripps research team conducted a biochemical analysis of P-gp proteins from humans and mice against POPs. The scientists focused on POPs most commonly found in human blood and urine, and also detected in the muscle tissues of wild-caught yellowfin tuna. The pollutants included older "legacy" compounds such as the pesticide DDT as well as newer industrial chemicals, such as flame retardants.
Working with researchers at UC San Diego's Skaggs School of Pharmacy and Pharmaceutical Science and School of Medicine, the researchers discovered that all 10 pollutants interfered with the ability of P-gp to protect cells. The study was also the first to show how one of the 10 pollutants, PBDE-100, commonly used as a flame retardant in upholstery foam and plastics, binds to the transporter protein. The POP binds to the protein in a similar way as chemotherapeutics and other drugs, but instead of being transported out of the cell, the bound POP ultimately inhibits the protein's ability to perform its defense function.
"When we eat contaminated fish, we could be reducing the effectiveness of this critical defense system in our bodies," said Amro Hamdoun, an associate professor in the Marine Biology Research Division at Scripps, and lead author of the study.
The researchers point out that newborns and fish larvae are two of the most vulnerable populations. Newborns are particularly vulnerable since they are exposed to high concentrations of POPs in breast milk, and have low amounts of the protective P-gp protein. Fish larvae may be at increased risk since the accumulation of pollutants may slow down the animal's defense system to combat other marine pollutants, such as oil hydrocarbons encountered at oil spill sites.
"We show that these inhibitors are found in the fish we eat," said Scripps postdoctoral researcher Sascha Nicklisch, an author of the study.
The Scripps researchers suggest that environmental chemicals should be tested to determine if they impede the effectiveness of the body's natural defense system to expel these, and other foreign chemicals. The U.S. Food and Drug Administration currently recommends similar testing on pharmaceuticals.
"Its unsettling to find that all of the tested persistent environmental pollutants interfered with the P-gp protein's ability to protect cells," said Jacob James, managing director of the Waitt Foundation, who funded the study. "Even more troubling are the results showing that PBDE-100 binds to the P-gp protein, in essence latching onto and poisoning the 'bouncer' whose job it is to throw out the toxins. We can assume that some 'hot' fish carry more than one toxin and that seems like a credible triple threat, as the results with mixtures suggest that multiple toxins do act as 'force multipliers' in degrading cells ability to respond. We are the only species that can influence entire food chains and habitats, we must act more responsibly in the design and use of chemicals in our environment as well as work on economically feasible ways to measure and understand the impacts of those chemicals in seafood, and ourselves."
###
The National Institute of Environmental Health Sciences and the Waitt Foundation funded the study. Researchers from Sekisui XenoTech, LLC also contributed to the research study.
Scripps Communications Office
Scripps Institution of Oceanography
Web: http://scrippsnews.ucsd.edu
Phone: 858-534-3624
Email: scrippsnews@ucsd.edu
Follow us on Twitter: @Scripps_Ocean & @Explorations
Facebook: http://facebook.com/scrippsocean
YouTube: http://www.youtube.com/scrippsoceanography
Instagram: Scripps_Ocean
Pinterest: https://pinterest.com/scrippsocean
About Scripps Institution of Oceanography
Scripps Institution of Oceanography at the University of California, San Diego, is one of the oldest, largest, and most important centers for global science research and education in the world. Now in its second century of discovery, the scientific scope of the institution has grown to include biological, physical, chemical, geological, geophysical, and atmospheric studies of the earth as a system. Hundreds of research programs covering a wide range of scientific areas are under way today on every continent and in every ocean. The institution has a staff of more than 1,400 and annual expenditures of approximately $195 million from federal, state, and private sources. Scripps operates oceanographic research vessels recognized worldwide for their outstanding capabilities. Equipped with innovative instruments for ocean exploration, these ships constitute mobile laboratories and observatories that serve students and researchers from institutions throughout the world. Birch Aquarium at Scripps serves as the interpretive center of the institution and showcases Scripps research and a diverse array of marine life through exhibits and programming for more than 430,000 visitors each year. Learn more at scripps.ucsd.edu and follow us at: Facebook | Twitter | Instagram.
About UC San Diego
The University of California, San Diego is a student-centered, research-focused, service-oriented public institution that provides opportunity for all. Recognized as one of the top 15 research universities worldwide and born of a culture of collaboration, UC San Diego sparks discoveries that advance society, drive economic growth and positively impact the world. Our students, who learn from Nobel laureates, MacArthur Fellows and National Academy members, are committed to public service. For the sixth consecutive year, UC San Diego has been ranked first in the nation based on research, civic engagement and social mobility. We are one campus with multiple pillars of excellence, a top ten public university that is transforming lives, shaping new disciplines and advancing the frontiers of knowledge. Learn more at http://www.ucsd.edu.
---