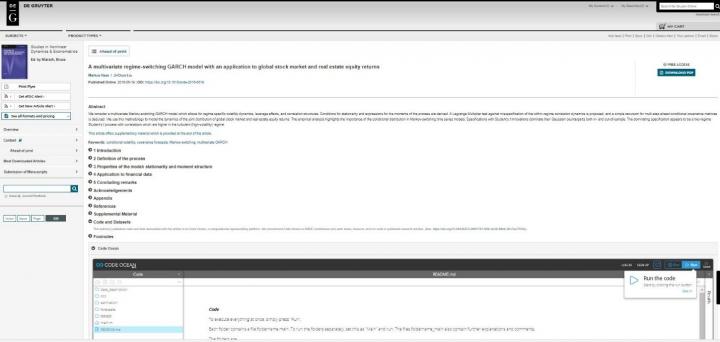 De Gruyter, publisher of more than 700 journals in the humanities, social sciences, law and STM and Code Ocean, a computational reproducibility platform, announce a partnership that enables journal authors to publish and share working code associated with their research so readers can immediately reproduce the results.
Studies in Nonlinear Dynamics and Econometrics (SNDE) is the first journal from De Gruyter to integrate the Code Ocean widget. The widget is agnostic across programming languages, versions, and operating systems, making it useful to researchers in diverse disciplines. Authors can easily share their code, and readers can execute the code and view results using only a standard web browser. An article appearing in SNDE with the embedded Code Ocean widget can found using this DOI.
Dr. Martin Ottmar, Director Publishing Management & Development at De Gruyter said: "Our partnership with Code Ocean offers a robust and simple way for authors to disseminate code and data sets so that other scholars can replicate the results. Researchers can progress their work more rapidly by using the code with their own - or other - data sets, and also by making code a citable research output."
Simon Adar, CEO of Code Ocean said: "It is an honor to be working with De Gruyter, which has a long tradition of publishing in diverse research disciplines. Studies in Nonlinear Dynamics and Econometrics will be our first economics journal to integrate with Code Ocean. Enabling economists and other researchers to easily reproduce results and reuse code and data will advance new research in academia, as well as facilitate more transparency and better decision making in corporations and governments."
De Gruyter will deploy Code Ocean across its journals throughout 2018 and 2019. Upon manuscript acceptance, De Gruyter will invite authors to submit their code in their journal manuscript workflow, creating an efficient way for authors to deposit and archive their code and comply with funder requirements. Upon submission, Code Ocean generates a citable Digital Object Identifier (DOI) to increase author attribution of code as part of their publication record.
###
The full press release can be found here: http://bit.ly/CodeDeG
For more information, contact:
Pierre Montagano, Director of Business Development, Code Ocean
pierre@codeocean.com
+1 215 460 8344
ABOUT DE GRUYTER
De Gruyter publishes first-class scholarship and has done so for more than 260 years. An international, independent publisher headquartered in Berlin -- and with further offices in Boston, Beijing, Basel, Vienna, Warsaw and Munich -- it publishes over 1,300 new book titles each year and more than 900 journals in the humanities, social sciences, medicine, mathematics, engineering, computer sciences, natural sciences, and law. The publishing house also offers a wide range of digital media, including a large number of open access journals and books. The group includes the imprints De Gruyter Akademie Forschung, Birkhäuser, De Gruyter Mouton, De Gruyter Oldenbourg, Sciendo, De Gruyter Saur, De|G Press, Deutscher Kunstverlag (DKV) and the publishing services division Sciendo. For more information, visit: http://www.degruyter.com
ABOUT CODE OCEAN
Code Ocean is a cloud-based computational reproducibility platform that provides researchers and developers an easy way to share, discover, and run code published in academic journals and conferences. Researchers and scientists can link executable code and data to articles published in academic journals and conference proceedings while retaining copyright. Code Ocean assigns Digital Object Identifiers (DOIs) to support citable attribution and partners with publishers to add working code to the research outputs readily available from research articles. Code Ocean, currently a finalist for the ALPSP Awards for Innovation in Publishing 2018, was founded in 2015 with the goal of saving researchers time and advancing science by making the world's scientific code more reusable and reproducible.
---
Journal
Studies in Nonlinear Dynamics and Econometrics