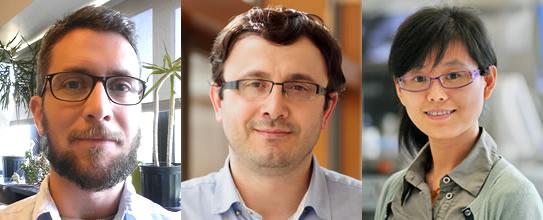 BETHESDA, MD--SEPTEMBER 24, 2015-- Three early career cell biology researchers at Princeton, UC Berkeley, and Baylor have won the American Society for Cell Biology's first-ever ASCB-Gibco Emerging Leaders Prizes. Each will receive $5,000.
Clifford Brangwynne, Assistant Professor at Princeton University, won for discovering that nonmembrane bound cellular compartments can form by liquid-liquid phase separation, which has launched a completely new research field at the interface of biology and physics. Ahmet Yildiz, Assistant Professor at University of California, Berkeley, won for advancing the field of single molecule biophysics, including his work on understanding the mechanism of the motor protein dynein and maintenance of chromosomes' telomeres. Meng Wang, Assistant Professor at Baylor College of Medicine, won for her work on metabolism and aging, especially her discovery that fat metabolism plays an important role in regulating lifespan.
The selection committee said Brangwynne's, Yildiz's, and Wang's research are driving cell biology into exciting and emerging fields. All three are also exceptional mentors and educators, the committee noted. Seven additional Gibco finalists will be invited to attend a special event with leaders in their field at the 2015 ASCB Meeting in San Diego. All 10 winners and finalists will be recognized before the E.B. Wilson Lecture on Tuesday, December 15.
The prizes were underwritten by Gibco, a brand of Thermo Fisher Scientific, that manufactures cell culture reagents designed to deliver reproducibility and performance.
Finalists:
Nels Elde, Assistant Professor at University of Utah, for his research on the evolutionary influence of pathogens on the diversification of cellular processes, including his work revealing the evolutionary battle for iron between pathogens and primates.
Melissa Gardner, Assistant Professor at University of Minnesota, for her research on the molecular mechanisms and forces involved in mitotic spindle assembly, including her discovery that a molecular motor influences mitotic spindle length.
Dmitri Kudryashov, Assistant Professor at Ohio State University, for his work on defensins as immune and therapeutic factors. He discovered the mechanism for how defensins neutralize bacterial toxins.
Kelly Monk, Assistant Professor at Washington University, for her research on the role of G protein-coupled receptors (GPCRs) in myelin development, maintenance, and regeneration. She discovered the mechanism for the essential role of GPCR Gpr126 in myelination.
Guangshuo Ou, Associate Professor at Tsinghua University, for his work on neuroblast development in C. elegans. Recently he uncovered a novel pathway in neuroblast cell migration.
Antonina Roll-Mecak, Investigator at the National Institutes of Health's National Institute of Neurological Disorders and Stroke, for her research on the function of tubulin posttranslational modifications. She revealed how a tubulin-ligase-like protein distinguishes between microtubules and soluble tubulin.
Hari Shroff, Chief at the National Institutes of Health's National Institute of Biomedical Imaging and Bioengineering, for developing optical microscopy techniques that enable the study of living tissues at high resolution, while minimizing deleterious effects, such as photobleaching and photodamage.
###
Contact: John Fleischman, jfleischman@ascb.org
---